The end is near for analogue radio... Part 4, the local radio to do list

Brian Butterworth published on UK Free TV
As we saw from part one, radio started out as a regional services. From this national networks were added. Then from 1969 onwards, local radio was added.

However, running a network of local radio stations, all with their own output, staff, presenter and news has always stretched the budget of individual stations a little bit thin.

This is as true for BBC stations, which share a small proportion, 4.6% of the TV Licence (£114.7m on content, £9.9m on distribution, £27.9 on infrastructure, making £152.5m), as it is for local commercial stations that fund themselves from adverts.



DAB local radio
Almost all of the country does now have a local radio
DAB
service - see
List of all DAB multiplexes
, but there are still some on the "to do very soon" list.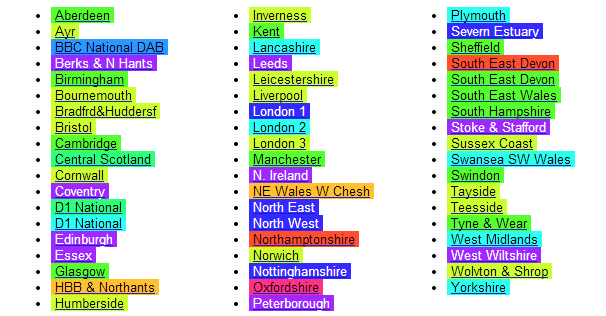 The "missing" services cover 5,583,000 people, which is about 9% of the UK population.
These are:
Cumbria
- 408,000 people
Derbyshire
- 652,000 people, Now
Digital
(East Midlands) Limited
Gloucestershire
- 498,000 people, MuxCo (Gioucestershire) Limited
Hereford and Worcester
- 501,000 people, MuxCo (South Midlands) Limited
Lincolnshire
- 550,000 people, MuxCo Lincolnshire Limited
Mid and West Wales
377,000 people, MuxCo
Wales
Limited
North Yorkshire
- 531,000 people, MuxCo North Yorkshire Limited
Somerset
- 444,000 people, MuxCo Somerset Limited
Suffolk
- 541,000 people
Surrey
about 1.085 million people, MuxCo Surrey and North Sussex Limited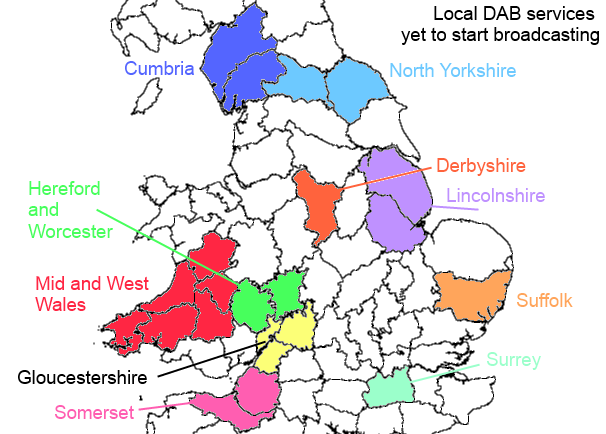 Why can't we have local radio on Freeview?
The
Freeview
service is provided on six
Multiplexes
. Like the DAB multiplexes, these services provide a large number of
channels
together on a single broadcast.
The three "commercial" multiplexes operate a UK wide service, and are therefore unsuitable for local radio. One of the "public service" multiplexes is for high definition TV services only.
This leaves the BBC and Digital 3+4 multiplexes. However, even though these services are "regional", they each cover many "local radio" areas. It would therefore be impracticable to add so many local stations to either
multiplex
.
However,
Local television on Freeview
is coming. These services are designed to provide a
local TV
service to specific local areas. It may be possible for each of these multiplexes to have local radio added to them.
Why can't we have BBC local radio on Freesat or Sky?
The additional cost for the BBC to add the 39 local radio stations not on digital
satellite
(BC
London
94.9 is already there) to the
four DVB-S mode transponders
would probably be marginal.
However, the BBC does have to currently pay
Sky
a large fee to add channels to the Sky EPG, so this would be perhaps unreasonably expensive (see
Government to stop Sky charging public service broadcasters for "retransmission"
).
And whist the BBC owns
Freesat
, it would probably not be worth the bother of up linking 39 radio streams if Sky viewers could not also benefit.
See also
BBC - Annual Report 2012/13 - Expenditure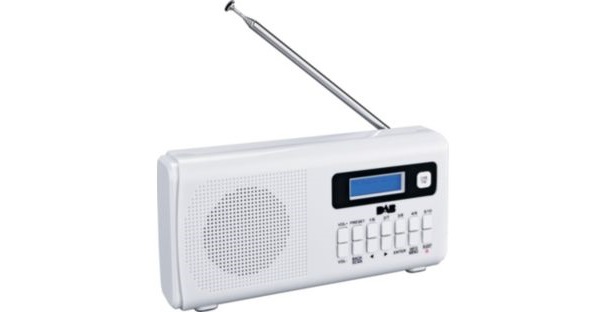 Comments
Wednesday, 4 July 2018

Why is is that although we have DAB great swarthes of the country fail to get service. Travelling from lands end to london, most dab services are patchy. If you take Gold in particular we cannot get it reliably in Penzance. the service in the car is somewhat better but that becomes patchy from Launceston and existent from Exeter to London along the motorway corridor. Surely with technology today we should be able to provide a reliable service.

Alan Francis's 3 posts

Alan Francis: Have you tried other stations? Gold is only available on a few local multiplexes, it does not have national coverage.

StevensOnln1's 3,569 posts
Thursday, 12 July 2018

I find it hard to listen to DAB radio... somehow it tires the ear and often sounds as though it is coming through water... listening to music on DAB is a definite no go. Such a shame that yet another format [analogue] may be ditched for poorer quality DAB. FM sound quality is vastly superior.

Terry Passmore's 18 posts

Terry Passmore:

The BBC have recently said that they will not phase our FM just yet. They have realised that there are problems with DAB reception and that people are not that keen on the sound of digitised music and the lack of stereo.

So we wait to hear what they actually plan.



MikeP's 3,056 posts
Friday, 13 July 2018

Many low-lying rural areas do not get a reliable FM or DAB signal, but *can* receive AM because at lower frequencies propagation allows the "bendy" signal to reach areas other modes do not... A bit of snap-crackl-pop is far preferable to no signal or swishy FM or warbly DAB reception. On Radio5 and local radio, the BBC merrily announces the digital outreach, but neglects to mention AM. Doeth the bell toll? Listening on Freeview ties
one to the TV and aerial socket - not exactly technological progress compared to the trusty transistor radio...
In the event of a major national emergency, power cuts could severly affect FM and DAB public service networks, whereas Radio 5 would cover most of the country (using generators where necessary). Most would have an
AM radio at home or in the car.

Michael's 869 posts
Select more comments
Your comment please