The end is near for analogue radio... Part 4, the local radio to do list

Brian Butterworth published on UK Free TV
As we saw from part one, radio started out as a regional services. From this national networks were added. Then from 1969 onwards, local radio was added.

However, running a network of local radio stations, all with their own output, staff, presenter and news has always stretched the budget of individual stations a little bit thin.

This is as true for BBC stations, which share a small proportion, 4.6% of the TV Licence (£114.7m on content, £9.9m on distribution, £27.9 on infrastructure, making £152.5m), as it is for local commercial stations that fund themselves from adverts.



DAB local radio
Almost all of the country does now have a local radio
DAB
service - see
List of all DAB multiplexes
, but there are still some on the "to do very soon" list.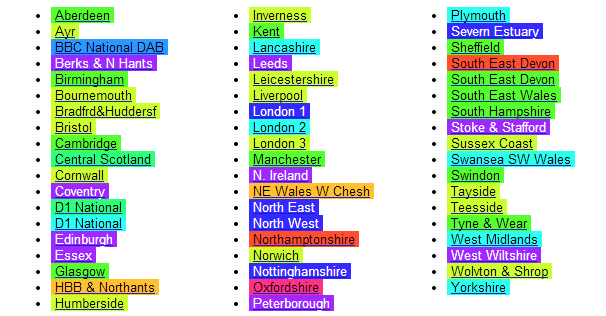 The "missing" services cover 5,583,000 people, which is about 9% of the UK population.
These are:
Cumbria
- 408,000 people
Derbyshire
- 652,000 people, Now
Digital
(East Midlands) Limited
Gloucestershire
- 498,000 people, MuxCo (Gioucestershire) Limited
Hereford and Worcester
- 501,000 people, MuxCo (South Midlands) Limited
Lincolnshire
- 550,000 people, MuxCo Lincolnshire Limited
Mid and West Wales
377,000 people, MuxCo
Wales
Limited
North Yorkshire
- 531,000 people, MuxCo North Yorkshire Limited
Somerset
- 444,000 people, MuxCo Somerset Limited
Suffolk
- 541,000 people
Surrey
about 1.085 million people, MuxCo Surrey and North Sussex Limited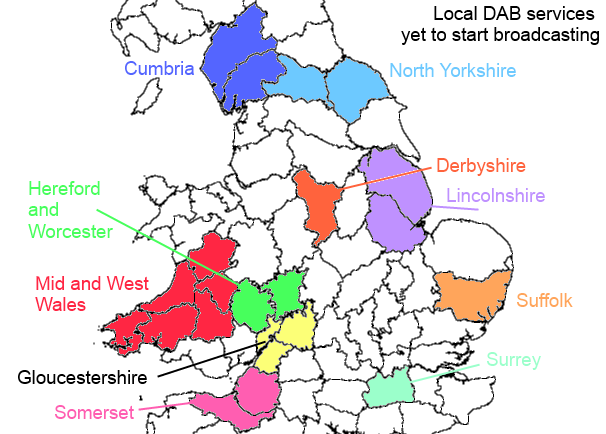 Why can't we have local radio on Freeview?
The
Freeview
service is provided on six
Multiplexes
. Like the DAB multiplexes, these services provide a large number of
channels
together on a single broadcast.
The three "commercial" multiplexes operate a UK wide service, and are therefore unsuitable for local radio. One of the "public service" multiplexes is for high definition TV services only.
This leaves the BBC and Digital 3+4 multiplexes. However, even though these services are "regional", they each cover many "local radio" areas. It would therefore be impracticable to add so many local stations to either
multiplex
.
However,
Local television on Freeview
is coming. These services are designed to provide a
local TV
service to specific local areas. It may be possible for each of these multiplexes to have local radio added to them.
Why can't we have BBC local radio on Freesat or Sky?
The additional cost for the BBC to add the 39 local radio stations not on digital
satellite
(BC
London
94.9 is already there) to the
four DVB-S mode transponders
would probably be marginal.
However, the BBC does have to currently pay
Sky
a large fee to add channels to the Sky EPG, so this would be perhaps unreasonably expensive (see
Government to stop Sky charging public service broadcasters for "retransmission"
).
And whist the BBC owns
Freesat
, it would probably not be worth the bother of up linking 39 radio streams if Sky viewers could not also benefit.
See also
BBC - Annual Report 2012/13 - Expenditure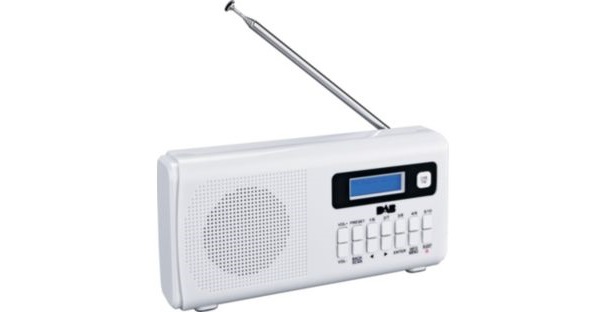 Comments
Saturday, 14 September 2013

michael: I'm interested in your comment

"DTT mis-planning resulted in CCI which Ofcom would neither recognise nor rectify"

could you be more specific please?

Briantist's 38,902 posts
Sunday, 15 September 2013

Briantist reply: Brian Wright: Due to the large number of DAB devices, it was decided to not use DAB+ in the UK for the moment.
So not for the moment, so will we then have less in the future?. Why wait for more wasted DAB technology to be sold and then switch off FM before we change the DAB system. Its madness.
The same reason that 4K TV's have now been introduced into the high street shops.
Apart from Blu-ray DVD's there is nothing broadcast that will show their superiority.

Brian Wright's 77 posts

Brian Wright: It was a reasoned choice that was taken by all those involved.

There were arguments on both sides, as you outline, and the decision was taken as I have said.

What was important was that a decision was made, so everyone knows where they stand.

It's not "madness", it is quite, quite rational.

Briantist's 38,902 posts

Brian Wright: You keep complaining about DAB v DAB+, but since number of DAB radios already sold is huge, changing to DAB+ makes little sense. This point has been made many times, so why bring it up once again?

As for 4K, the situation is quite different. This is a new technology, but there is no reason to think we should wait for anything better - its ready now if the consumer wants it.
In fact our Sony 4K on display has already attracted some orders! Its true that nothing is broadcast in 4K as yet, and there will need to be upgrades in infrastructure to allow streaming of such material, but ultimately this is in the hands of the market.

If you can bring a new technology to a certain price point (and its already not that far behind Full HD in that area), and supply content, then consumers will adopt it, and of course as the market widens, so costs fall, etc. It will require international agreements regarding formats, etc, but we've often seen the market sort such matters out very quickly.

4K servers
Sony 4K Media Server | 4K Ultra HD Media Player | FMP-X1Review | Sony Store
are already on sale in the US, and certain urban area might already have broadband fast enough to stream. Netflix and Korean TV have demonstrated streaming and broadcasting in 4K, and Blu-ray can supply content via 4k upscaling.

Lets see what will happen in the next couple of years, and if/when the technology moves beyond the early adopters. I don't know whats going to happen, but I do know that it will be interesting.

MikeB's 2,579 posts
Tuesday, 17 September 2013

Ho Ho Ho. So analogue is dead is it. Amazon has just reported a masive 745% increase in sale of vinyl records since 2008. Of course playing vinyl can be expensive with the best cartridges selling for several thousand pounds each.

DAB is dead. Long live FM,

Trevor Harris's 367 posts

I understand the some radios sold in the UK have had DAB+ disabled in order to save on licence fees. I suppose it may be possible to upgrade with firmware but it is likely to be chargable. I have seen reports that some UK radios which are ment to support DAB+ have been found not to work in Europe.

Better quality sound is not the only reason for using DAB+ it is the far superior error correction which gives more consistant coverage. In any case the broadcasters are more likely to lower the bit rates even more with DAB+.

The adoption of DAB is the biggest technical mistake the BBC has ever made.

Although DAB+ is much better it is still only suitable for national networks.

Trevor Harris's 367 posts

Trevor Harris: Its true that vinyl is making a comeback, and I'm delighted to see it. Disappearing work: how to make a vinyl record | Money | The Guardian

However, that amazing percentage rise is because there were so few vinyl records sold before 2008. As a format, vinyl had largely died. Its revivial is a result of several factors Second spin: the vinyl revival | Culture | theguardian.com , but its still just 1.4% of the market.

I notice you did not also highlight the fact that the number of legal digital downloads has also continued to rise - 189m in 2012, and rising. Half a million downloads every day, contrasts with 12 million vinyl records sold per year. And of course illegal downloads continue. Although they have dropped by half, they were estimated to be about 186m last year. Thats over 360m downloads in one year, and lets not even start on Spotify et al.

Analogue is not dead, but its not looking particularly healthy.

MikeB's 2,579 posts

Trevor Harris:

"Better quality sound is not the only reason for using DAB+ it is the far superior error correction which gives more consistant coverage."

Reed-Solomon gives slightly more robust error correction but it isn't that big. In tests the indoor coverage difference was found to be around 2%.

It's worth pointing out that 64k AAC+ can sound a bit metallic (with a swishy top end) when played through hi-fi equipment. Most countries using DAB+ are typically using this bit rate. Arguably 128k MP2 using the latest encoders sounds better.

"Although DAB+ is much better it is still only suitable for national networks."

Apart from the local multiplexes (which are the same size as the BBC local stations) Ofcom have carried out a successful trial of small-scale DAB+ in Brighton which is suitable for RSL & community stations broadcasting from one transmitter.

The DAB radios are already out there on the shelves of John Lewis and Currys PC World so why use another technology for which there are no radios commercially available? It's much better for a community station to find a spare frequency in Band III and transmit on DAB (or DAB+).

MikeB is right - analogue isn't looking particularly healthy. The FM share of total listening has fallen from 67% in Q4 2010 to 58% in Q2 2013 (the RAJAR methodology hasn't altered since 2007). That's a big fall in just two and a half years - in some areas digital listening is already over 50% of the total.

Mark's 181 posts

"...massive 745% increase in sale of vinyl records since 2008."

Whopee! Only a question of time before my EMP-impervious, power-outage-despising, hyper-green, zero-electron 78rpm grammophone becomes ultra-desirable tech...

Bump! Ouch! Back down to earth : today's high winds are wrenching at the overhead telephone lines, causing frequent breaks, router crashing and webradio misery. Ain't modern technology full of wonder ?

My crystal-set receives AM and with discriminator circuitry also FM.
I search high and I search low on the internet (when the wind drops) for modifications to receive DAB. Still searching.

Okay, okay, not all of the above is intended to be taken seriously.

michael's 869 posts
Wednesday, 18 September 2013

I gather analogue cassette tapes are also making a comeback.

Yuk.

They should've been put to bed years ago in favour of mini disc, which sadly appears to have died the death.

I find the resurgence of cassette tapes really, really strange. Mini disc was far better. Why it failed is beyond me.

MP3 I suppose.

PJH's 240 posts
Select more comments
Your comment please