The end is near for analogue radio... Part 4, the local radio to do list

Brian Butterworth published on UK Free TV
As we saw from part one, radio started out as a regional services. From this national networks were added. Then from 1969 onwards, local radio was added.

However, running a network of local radio stations, all with their own output, staff, presenter and news has always stretched the budget of individual stations a little bit thin.

This is as true for BBC stations, which share a small proportion, 4.6% of the TV Licence (£114.7m on content, £9.9m on distribution, £27.9 on infrastructure, making £152.5m), as it is for local commercial stations that fund themselves from adverts.



DAB local radio
Almost all of the country does now have a local radio
DAB
service - see
List of all DAB multiplexes
, but there are still some on the "to do very soon" list.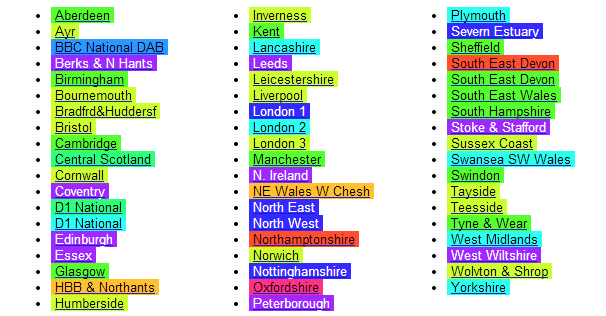 The "missing" services cover 5,583,000 people, which is about 9% of the UK population.
These are:
Cumbria
- 408,000 people
Derbyshire
- 652,000 people, Now
Digital
(East Midlands) Limited
Gloucestershire
- 498,000 people, MuxCo (Gioucestershire) Limited
Hereford and Worcester
- 501,000 people, MuxCo (South Midlands) Limited
Lincolnshire
- 550,000 people, MuxCo Lincolnshire Limited
Mid and West Wales
377,000 people, MuxCo
Wales
Limited
North Yorkshire
- 531,000 people, MuxCo North Yorkshire Limited
Somerset
- 444,000 people, MuxCo Somerset Limited
Suffolk
- 541,000 people
Surrey
about 1.085 million people, MuxCo Surrey and North Sussex Limited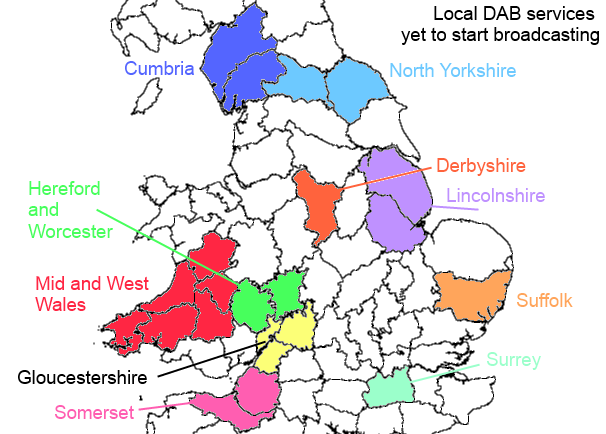 Why can't we have local radio on Freeview?
The
Freeview
service is provided on six
Multiplexes
. Like the DAB multiplexes, these services provide a large number of
channels
together on a single broadcast.
The three "commercial" multiplexes operate a UK wide service, and are therefore unsuitable for local radio. One of the "public service" multiplexes is for high definition TV services only.
This leaves the BBC and Digital 3+4 multiplexes. However, even though these services are "regional", they each cover many "local radio" areas. It would therefore be impracticable to add so many local stations to either
multiplex
.
However,
Local television on Freeview
is coming. These services are designed to provide a
local TV
service to specific local areas. It may be possible for each of these multiplexes to have local radio added to them.
Why can't we have BBC local radio on Freesat or Sky?
The additional cost for the BBC to add the 39 local radio stations not on digital
satellite
(BC
London
94.9 is already there) to the
four DVB-S mode transponders
would probably be marginal.
However, the BBC does have to currently pay
Sky
a large fee to add channels to the Sky EPG, so this would be perhaps unreasonably expensive (see
Government to stop Sky charging public service broadcasters for "retransmission"
).
And whist the BBC owns
Freesat
, it would probably not be worth the bother of up linking 39 radio streams if Sky viewers could not also benefit.
See also
BBC - Annual Report 2012/13 - Expenditure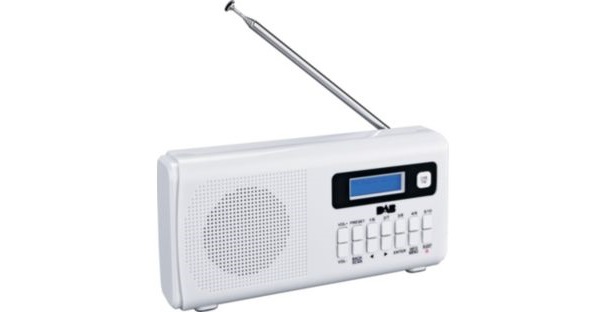 Comments
Wednesday, 18 September 2013

Re cassette tapes. I forgot to mention having to clean the tape heads and pinch roller with iso propyl alcohol and cotton buds from the local chemist, and having to demagnetize the heads periodically with a head demagnetizer.

HiFi it definitely wasn't.

It was a shame about mini disc, which was a great portable music medium.

I notice CD recorders and recordable music CDs have also gone, which is a shame too as all computers are in effect CD recorders. The results I've obtained using a computer as a CD recorder isn't that far off a dedicated CD recorder.

What most people don't realise is that MP3 quality is governed by the bit rate. CDs ripped using the lossless modes such as WMA, W.A.V. or Monkey's Audio are very good indeed, but they take up a lot of memory, unfortunately. I can live with MP3s at 320 kbps, just about.


PJH's 240 posts

Methinks we should focus on the main theme of this DAB thread.
1: Given a strong indoor signal, DAB is the best option for increased choice of stations.
In the final phase of implementation, due to the higher frequencies used, mobile or indoor reception may or may not equal or be better than FM.
2: With the sacrifice of some sound-alike stations, better bitrates would produce better-sounding audio than FM - eg AAC.
3: Where these conditions are not met, DAB wavers.
4 : In terms of indoor portability, where the signal is less than optimal, DAB radios are unsatisfactory.
5 : DAB running costs are higher, requiring static mains operation and/or a costly rechargeable battery pack.
6 : Where a roof aerial is required, DAB dictates static listening, as does DTT radio.
This does not accord well with today's more mobile listening culture.
7 : DAB restricts listening to local stations. Webradio partially compensates for this.
8 : Some low-lying areas will lose local radio when no longer available on MW or FM.
9 : I acquired a cassette player to record my C60s etc to mp3. The darned thing
won't recognise my 78s and 33s, but I will spawn a cunning plan for this :-)

michael's 869 posts

PJH: Why not use lossless FLAC - Wikipedia, the free encyclopedia encoding? 100% identical to having a WAV.

Briantist's 38,907 posts

michael: Seems a fair summary.

When the DAB network is complete, 99% of homes will have indoor reception and 99% of the road network will have mobile reception.

The frequencies won't change, but the increase in the number of transmitters will convert "outdoor" coverage areas to "indoor".

Your second point is correct. However, the "market" has spoken: the public like choice over audio quality.

To be fair, the music rights holders are also happy to have non-perfect output of their material to "fight piracy".

The AAC codec in most markets where DAB+ has been implemented has been used to increase the number of stations, not the bit rates.

DAB does "waver", but so does any transmission system. Digital transmissions systems deal with the imperfections of the real world with forward-error correction.

The DAB network has still to be finished, but outdoor locations should have excellent coverage when complete. The VHF signals are excellent at outdoor coverage.

It's true that running a CPU uses slightly more power than 1930s FM technology. However the vast majority of radio listening is done where a power supply is available (either in-home or car-battery).

The failure of chemistry to keep up with Moore's Law is constant drag on the development of mobile technologies. However, rechargeable batteries are a few pounds - and much more green.

The final network plan should not require anyone to need a rooftop aerial for DAB. The coverage planning is all for "indoor at ground level".

The local radio DAB network is DESIGNED to provide local radio stations to their licensed area only. You can listen online, however.

It's not really "low lying" areas that will have few DAB services, it is more likely to be the unpopulated hills and valleys of Wales, Scotland and the hilly areas of England (Peak District, Dartmoor, Exmoor, Cumbria and so forth).




Briantist's 38,907 posts

PJH: I had forgotten about having to have a "head demagnetizer". I had one that looked for all the world like a "magic wand".

You've not recalled the whole awfulness of "dubbing", which was to make a copy of a cassette which would sound like a muffled version of the source. Or a very muffled version if you used "high speed dubbing".

Whatever the failing of "lossy" encoded digital audio, at least it never gets any worse, even if you copy it a billion times.

(Sorry, I should be staying on-topic!)

Briantist's 38,907 posts

Briantist: perhaps we should also note the development of lower power chips:

KeyStone Semiconductor Readies New Low-Cost FM/DAB Single-Chip KSW8088CS at USD 4.0

Silicon Labs Introduces the First Single-Chip Digital Radio Receivers for Consumer Electronics (NASDAQ:SLAB)

If these chips work out, then both power requirements and unit cost will fall - which will help with the problem of mobile DAB. There is also likely to be an increase in streaming from the net, both at home and via mobile technology.

Hopefully, the thing that we tend to complain about most - sound quality - will improve due to higher bitrates. I'm more than willing to concede that FM is slightly better at the moment, but there should be no reason we cannot have coverage, choice and quality.

'High-Speed Dubbing' = Really Low quality recording

MikeB's 2,579 posts
Thursday, 19 September 2013

@brianist

Your second point is correct. However, the "market" has spoken: the public like choice over audio quality.

Not true. When Ofcom did thier public consultation on lowering bitrates there was overwhelming opposition. Ever since the public have been voting with thier wallets and not buying grotty DAB radios.Talk of the FM switchoff is to scare people into going to DAB.

Trevor Harris's 367 posts

There are some internet stations transmitting FLAC. The only problem is the high bitrates but it is possible over 3G in a good area. With 4G even better. I use FLAC for archiving.

The best audio source is Blu-ray LPCM up to 24bit,192khz sampling frequency, 8 channels, 27.648 mb/s. Now thats what I call quality.

Trevor Harris's 367 posts

Trevor Harris: A strange conflation of the market with Ofcom.

"The market does X" means that, when put on sales the public buys X.

An "Ofcom consultations on Y" is a moot point, and consultations have to guard against capture from interests groups.

Ofcom's duty is to serve the public as a whole.

Briantist's 38,907 posts

Ok found some figures for Ofcoms own survey

What do you see as the main advantage of listening to Digital Radio? (Spontaneous)

Better sound quality 63%
Extra Stations 21%

Which of these do you think would be particular benifit to you? (Prompted)

Better sound quality 57%
Extra stations 36%

There are other surveys which gave similar results.

Trevor Harris's 367 posts
Select more comments
Your comment please