Why does BBC Worldwide not make more profit for the Licence Fee payer?

Brian Butterworth published on UK Free TV
Looking at the current disagreement between the BBC Trust (BBC Trust: Mark Thompson's claims are 'bizarre' - ITV News) and former Director General Mark Thompson ( Mark Thompson: Chris Patten misled parliament over BBC payoffs - Media - The Guardian ) has me thinking.

In particular the revelation the " BBC agreed to fund £687k payoff after executive's move to commercial arm - Media - theguardian.com "

"The BBC agreed to fund a redundancy payoff of nearly £700,000 to a former senior executive using licence fee money, after she moved to BBC Worldwide, the corporation's commercial arm. "

It has always struck me that BBC Worldwide seems to be operated as a plaything of the BBC management. So I have gone though the entire Annual Reports from BBC Worldwide (BBC Worldwide Annual Reviews) and plotted the income and profits. As they date back to 1995, I have adjusted the values using the Retail Prices Index.




It does appear that over the years, BBC Worldwide has tripled the income, but the return to the Licence Fee payer has been poor. Looking at the percentage profit made, you can see: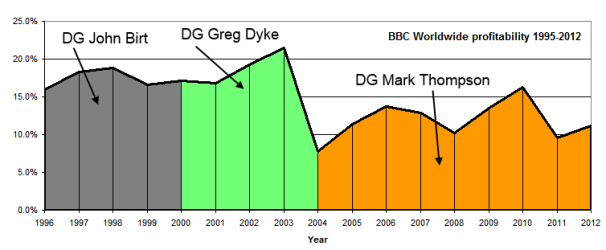 This does rather suggest that BBC Worldwide is performing poorly in terms of the income it makes to reduce the Licence Fee.

If BBC Worldwide had maintained the average performance between 1995 and 2003, which was 18% profit, the BBC would have had an extra income during Mark Thompson director-generalship of £595 million (at 2012 prices).

Which is rather more money than the alleged £30 million wasted on management payoffs.

But what can be done?

The best suggestion I can come up with is to convert BBC Worldwide into a public liability company, with perhaps 51% of the shares remaining with the BBC. You could argue that would provide a much needed cash reserve for the BBC's UK operations, and going forward BBC Worldwide plc might be keener to make a profit with shareholders, rather than BBC managers, keeping a watchful eye.

I would be interested to hear if anyone has any better ideas.
Comments
Tuesday, 18 February 2014
C
Colin Swan
7:57 PM
Dingwall

Briantist The original BBC mission statement - under Lord Reith - has been adopted by UCB in 1986 when they started broadcasting. You can read it on their web-site.
UCB stands for United Christian Broadcasters in case you did not know.
My point about the compulsory TV licence tax is that you must pay for one to watch any TV at all and yet ALL the licence money goes just to BBC where it appears to be spent completely 'willy-nilly' with no accountability at all.
Why should the BBC services not be subscription - then only those who actually wanted to see BBC programmes could watch to their hearts delight!
Then anyone who objected to having to pay for BBC services could just watch the many free channels there are nowadays.

Colin Swan's 12 posts
Colin's:
map
C's Freeview map
terrain
C's terrain plot
waves
C's frequency data
C's Freeview Detailed Coverage

Colin Swan: Why, exactly, is the BBC 'too big for its boots'? Are you saying it should only make amazingly boring and unpopular programmes that nobody wishes to watch? Or should it, as Briantist points out, provide a service for everyone? I think the latter, and I suspect the majority of viewers think so too.

' to uphold the Christian morals of the population' - wouldn't that be an ecumentical question? (sorry, couldn't resist!)

MikeB's 2,579 posts
Wednesday, 19 February 2014
C
Colin Swan
11:59 AM
Dingwall

MikeB: No Mike B the size of the complete BBC organisation has nothing to do with the type of programmes they make but rather that any very large organisation becomes very unmanageable and very un-accountable.
The BBC is financed by us all paying the TV licence Tax whether we want to have any of the BBC's services or not so surely they should be made accountable for the way they spend our money?

Colin Swan's 12 posts
Colin's:
map
C's Freeview map
terrain
C's terrain plot
waves
C's frequency data
C's Freeview Detailed Coverage

Colin Swan: 'any very large organisation becomes very unmanageable and very un-accountable.' - using such logic, you would have to conclude that no organisation could ever be large, because of the risk that it could become 'unmanageable'. And while the BBC may not be perfect (the article at the top of the page says as much), it is generally far more open than most organisations of its size, complexity or area of business. In fact, you cannot move for 'questions' about the BBC's conduct, warrented or not.

When newspaper columists and other 'Very Serious People ' (as Paul Krugman put it) use phrases like unmanageable and very un-accountable', they dont mean that at all. Instead its code for 'you are run by the state, and your pretty good at what you do'.

The BBC (and the size and breadth of the organisation's ouput) offends those that think such things can only and should only be done by the free market. If you are Sky, would you like a vastly slimmed down BBC? Yes. And thats understandable for fairly obvious reasons.

If you ideologically think that the state should be small enough 'to drown in a bathtub' (in Grover Norquist's phrase), then a state broadcaster is an affront, and a popular one, even worse.

Its certainly the case that one former DG has said something about the size of the BBC, but it has been pointed out that his business holdings would benefit from any more outsourcing of BBC production, and that his plan to split the licence fee would benefit another (commercial) broadcaster, which he also used to head. The best comment I read about his idea that the DG job was too complex was someone pointing out that no one could be PM, because the government must be too complicated to run as well.

The debate over the licence fee is an old one, but if you'd read Briantist's article on the Licence Fee 14 reasons why you should stop moaning about paying the TV Licence every day | About UK Free TV | ukfree.tv - 11 years of independent, free digital TV advice , you'd see that it was good value for money, that far more was spent on actual programming than Sky Does the BBC or BSkyB spend more on programmes? | About UK Free TV | ukfree.tv - 11 years of independent, free digital TV advice .

Briantist also included the information that '97 per cent of UK adults (47 million people) consume at least 15 minutes of a BBC service in an average week, and they spend over 19 hours a week on average with the BBC.' The number of people who don't use the BBC in the UK are vanishing small. And its worth pointing out that if you only listen to the radio, you pay nothing at all.

Since there is at present, no practical way to collect a subscription based on what BBC services you use, and such a system would actually add to costs, what do you suggest?

UCB apparently has an audience 'in the hundred's of thousands' New faces of televangelism | Rationalist Association and is mostly funded by donations. Thats not really a viable model for a national broadcaster.

One thing did just occur to me. If you dont use the BBC at all, and therefore dont wish to contribute to it via the licence fee, then that is a legitimate question. But if you dont, how do you know that its programmes do not 'uphold the Christian morals of the population'?

MikeB's 2,579 posts

When the BBC makes a mistake, including perceivably wasting money, it did so in pursuit of provision of a Public Service. When a commercial broadcaster makes a similar mistake it did so in pursuit of profit for itself and shareholders.

I view such mishaps accordingly. With the BBC I recognise that its mistake was not done due to its own greed.


The BBC, as a Public Service Broadcaster, makes many different types of programmes for different interests. The notion that only people who wish to pay the BBC should do so would mean that productions which have a smaller audience would either not get made or there would be a higher charge per viewer/listener.

Clearly there is a sizeable proportion who can only think in terms of getting as much for themselves at least possible cost. This is the basic law of capitalism. These people have no regard for others. In this case others who will suffer the most are those with a minority interest.

Dave Lindsay's 5,724 posts

Colin Swan: For the record, I know who UCB are and have always found their PR people to be perfectly pleasant.

And whilst UCB do not providing anything that I would be personally be interested in, I have always included them on UK Free TV.

Briantist's 38,908 posts

Colin Swan: Just for amusement, just Google Lord Reith.

"His name is still a byword for high-minded broadcasting. But Lord Reith was an adulterer and family tyrant who was so profligate he left just £75 in his will. Who says so? His own daughter...

The fact that he ended his life practically destitute is a testament to his overweening extravagance and ostentation".

Lord Reith: The Hypocrite who built the BBC | Mail Online

Briantist's 38,908 posts

Briantist: Looking at Reith's Wiki article, you also discover that 'In 1914, Reith left Glasgow for London, largely in pursuit of a 17-year-old schoolboy, Charlie Bowser, a fast friend', who ended up as his postwar assistant in an engineering firm. So certainly just the sort of person to be shocked by his BBC Chief Engineer being found with an actress on a table...

The other thing is that Reith was totally unqualified for the post of General Manager of the British Broadcasting Company - if someone like him was appointed today, I imagine there would be some questions asked as to why. So unqualified, hypocritical, extremely difficult to get on with - yet he did launch the BBC and give it its guiding ethos.

MikeB's 2,579 posts
Thursday, 20 February 2014

MikeB: It's hard to make moral value judgements about times long-past. For example, it's useful to remember that the Daily Mail and Daily Mirror "quite liked" facism at the time.

Don't damn the Daily Mail for its fascist flirtation 80 years ago | Media | theguardian.com is a good source.

Briantist's 38,908 posts

MikeB: Re: the leadership issue...

"The major problem - one of the major problems, for there are several - one of the many major problems with governing people is that of whom you get to do it; or rather of who manages to get people to let them do it to them.

To summarize: it is a well known fact, that those people who most want to rule people are, ipso facto, those least suited to do it.

To summarize the summary: anyone who is capable of getting
themselves made President should on no account be allowed to do the job.

To summarize the summary of the summary: people are a problem."

Briantist's 38,908 posts
Select more comments
Your comment please