Good news for Freesat? Astra 2E satellite launched

Brian Butterworth published on UK Free TV
Good news from SES , Luxemboug today (September 30, 2013)

The ASTRA 2E satellite blasts into space on board an ILS Proton Breeze M booster last night at 3:38am Baikonur time (23:38 CET and 17:38 EDT on September 29).

After a 9-hour, 12-minute mission, the Breeze M upper stage of the Proton rocket successfully released the ASTRA 2E satellite directly into geostationary transfer orbit, from where ASTRA 2E will be deployed at the 28.2/28.5 degrees orbital arc.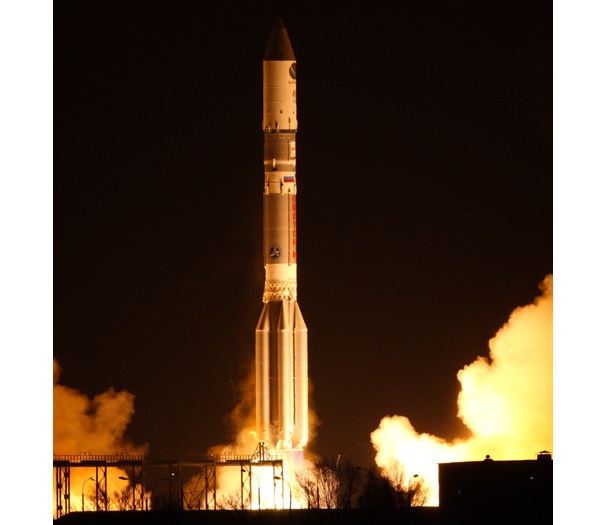 54th SES satellite to be deployed into 28.2/28.5 degrees East orbital arc

The satellite was built for SES by Astrium of France. Based on the highly reliable Eurostar E3000 platform, the spacecraft carries 60 Ku-band transponders, including 12 incremental transponders for delivery of services outside Europe, as well as 4 Ka-band transponders.

It will enable the delivery of next generation broadcast and broadband services in Europe, the Middle East and Africa. ASTRA 2E, which had a launch mass of 6 tonnes, will feature a wingspan of 40m once its solar arrays are deployed in orbit, generating 13 kW of spacecraft power at the end of its 15-year design lifetime.

Romain Bausch, CEO of SES says "We would like to thank Astrium and ILS for the successful ASTRA 2E mission. The 54th satellite in SES' global fleet provides significant capacity expansion at a strategic orbital neighborhood over Europe. In combination with ASTRA 2F which was launched in September 2012, and the upcoming ASTRA 2G due for launch next year, ASTRA 2E is an important part of our fleet renewal programme at the 28.2/28.5 degrees orbital arc. The state-of-the-art new satellites provide more focused and higher power to our broadcast customers, while the Ka-band on board supports the delivery of next-generation satellite broadband services"-
Comments
Monday, 30 September 2013

It does not seem clear to me how much Freesat will benifit. Freesat does not have any transponders of its own. The footprint of this satellite looks to be quite big which makes it less attractive to UK free to air broadcasters.

One possible use will be for Ultra high definition TV. Sky has been building up a library of 4K material for some time. Sky have also been experimenting with thier infrastructure and have found it possibe to pass 4k pictures across 4 HD links. Sky has made no commitment yet but I suspect they are very likely to do so in the next 2 years.

Trevor Harris's 367 posts

hope fully channel 5 hd on freesat before the end of 2013 keep fingers crossed

conor's 60 posts

All of fta channels on FreeView can now migrate to FreeSat with the extra capacity for the UK Footprint

Merliin's 3 posts

Merliin: Channels which on Freeview but are part of a subscription package on satellite will not become free to air via satellite because if they did they would lose subscription revenue. The minimal amount of extra viewers would not give rise to a worthwhile increase in advertising revenue.

KMJ,Derby's 1,811 posts

There is some more information about this satellite on the Astra web site at; Astra 2E Satellite at 28.2° East, channels & frequencies
Gives satelite foot print info and BBC moving to this satellite. (RH163LB)

Mark A.'s 374 posts

KMJ,Derby, Obviously Sky Sports ect will remain encrypted but Discovery Quest,
4 Music,Really,Yesterday,Dave,Movie Mix, can go fta with the extra capacity on FreeSat.

Merliin's 3 posts

Merliin: It's a possibility, but one that UKTV and others have discounted in the past.

I have heard from two Freeview channels that they plan to go on Freesat.

Briantist's 38,906 posts

Trevor Harris: Freesat will benefit if there are more FTA channels.

Just like "Freeview" would benefit from more DTT capacity.

Neither owns the content. It's just the name by which the services are promoted.

This is much in the way that Sky also doesn't own a single satellite, it just "rents" them too.

Briantist's 38,906 posts

Mark A.: It's a close call for UKTV.

There are 2,100,000 "Freesat only" homes ... more or less the same as the number of;Sky only" homes.

However, UKTV gets revenue from SSSL for the 6.2m homes that have both Sky AND Freeview, plus the 2.7m homes with Sky alone.

The UKTV channels do bolster the "basic package" parts of the Sky arrangement - the ones you have to take to get access to the premium tiers.

If, for example, "Dave" went FTA on satellite, the channel would get a boost from being a "high rated" channel in the 2.1m extra homes... it might just be worth the loss of SSSL revenue to UKTV (which is miniscule).

However, Sky won't want the main providers of their basic channels walking away.

Perhaps things have changed, but I always heard that the BBC was keen to "keep a finger in every pie" (meaning advertising, subscription, direct-grant and licence fee income).

Having lost one pie recently, I seems an unlikely moment to bit off another one.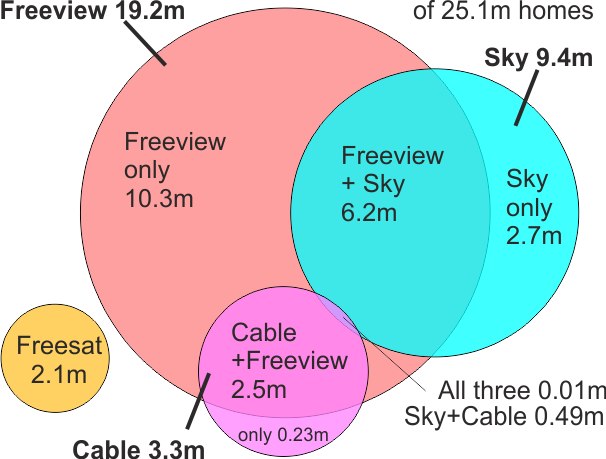 Briantist's 38,906 posts

Briantist Thanks for the feedback

Merliin's 3 posts
Select more comments
Your comment please