Good news for Freesat? Astra 2E satellite launched

Brian Butterworth published on UK Free TV
Good news from SES , Luxemboug today (September 30, 2013)

The ASTRA 2E satellite blasts into space on board an ILS Proton Breeze M booster last night at 3:38am Baikonur time (23:38 CET and 17:38 EDT on September 29).

After a 9-hour, 12-minute mission, the Breeze M upper stage of the Proton rocket successfully released the ASTRA 2E satellite directly into geostationary transfer orbit, from where ASTRA 2E will be deployed at the 28.2/28.5 degrees orbital arc.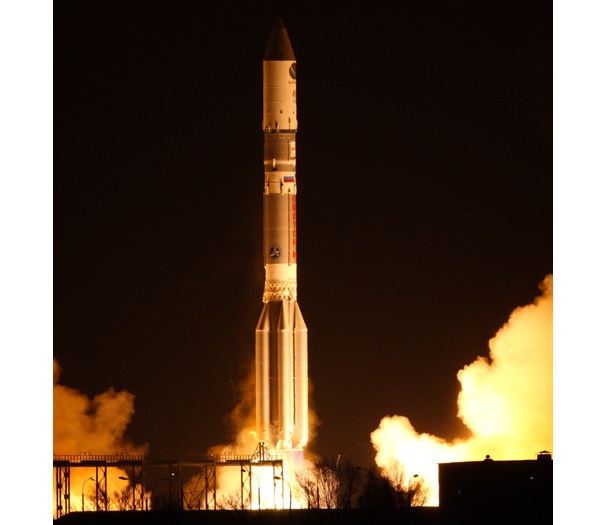 54th SES satellite to be deployed into 28.2/28.5 degrees East orbital arc

The satellite was built for SES by Astrium of France. Based on the highly reliable Eurostar E3000 platform, the spacecraft carries 60 Ku-band transponders, including 12 incremental transponders for delivery of services outside Europe, as well as 4 Ka-band transponders.

It will enable the delivery of next generation broadcast and broadband services in Europe, the Middle East and Africa. ASTRA 2E, which had a launch mass of 6 tonnes, will feature a wingspan of 40m once its solar arrays are deployed in orbit, generating 13 kW of spacecraft power at the end of its 15-year design lifetime.

Romain Bausch, CEO of SES says "We would like to thank Astrium and ILS for the successful ASTRA 2E mission. The 54th satellite in SES' global fleet provides significant capacity expansion at a strategic orbital neighborhood over Europe. In combination with ASTRA 2F which was launched in September 2012, and the upcoming ASTRA 2G due for launch next year, ASTRA 2E is an important part of our fleet renewal programme at the 28.2/28.5 degrees orbital arc. The state-of-the-art new satellites provide more focused and higher power to our broadcast customers, while the Ka-band on board supports the delivery of next-generation satellite broadband services"-
Comments
Monday, 30 September 2013

Briantist Thanks for the feedback

Merliin's 3 posts
Tuesday, 1 October 2013

Trevor Harris: The satellite has a UK (OK, British Isles) footprint transmitting dish. As far as we know, any transponder's output can be routed to any transmitting dish, it's up to the leaseholder for the transponder to decide whether they want a European footprint, a West African footprint or a UK footprint.

The Astra 1N satellite is still supposed to move to 19.2°E at some point, it was only a stop-gap to cover the early retirement of the 2D satellite. (1N's UK footprint isn't really a UK footprint, it's the best that could be achieved by steering one of its dishes - designed for some other purpose.)

You're right that "Freesat" doesn't lease any transponders itself. They would probably benefit from being a broker to allow channels to launch without having to lease a whole transponder from SES - as Sky do. But Freesat is a marketing joint venture between the BBC and ITV plc, and doesn't have much capital of its own.

I note that Arqiva have now signed a deal with SES for a lease on multiple transponders:
SES AND ARQIVA SIGN CAPACITY AGREEMENT FOR THE UK MARKET - SES.com
. I think it's likely that Arqiva will use this to supplement their large investment in Freeview - offering FTA satellite coverage to the channels they already carry on Freeview - and as a hedge against the government deciding to switch off large chunks of Freeview spectrum.

Mike Dimmick's 2,486 posts

when will astra 2e come in to commercial use on freesat

conor's 60 posts
Wednesday, 2 October 2013

Does this mean more channels on freesat... i was told by Sky sales person freesat from sky get more channels than freesat... is this true?

thanks

rob's 171 posts

rob: have a look at the differences:

Detailed comparison Freeview/Sky | ukfree.tv - 11 years of independent, free digital TV advice

Personally, I'm not sure the extra channels on the Sky package are anything to get excited about ('Holiday & Cruise'?), and your paying £25 if you've still using Sky equipment, and £175 as a one off if you dont (and £50 if you move).

I cant see if you can record, but if they charge you a tenner a month for that as well, your talking £150 pa. You can buy a cheap Freesat PVR for that.



MikeB's 2,579 posts
Friday, 4 October 2013

FYI...


SES AND EUTELSAT UPDATE ON OPERATIONS AT 28.5° EAST - SES.com


Luxembourg, Paris, 4 October 2013 - Following the decision of the Arbitral Tribunal constituted under the rules of the International Chamber of Commerce of Paris that concluded the first phase of arbitration in September 2013 and a preliminary injunction by the regional civil court of Bonn, SES (NYSE Euronext Paris and Luxembourg Stock Exchange: SESG) and Eutelsat Communications (NYSE Euronext Paris: ETL) have collaborated in the best interest of customers to ensure a smooth transition of operations on frequencies at 28.5°E under a German filing.

As of October 4, SES is operating and Eutelsat has ceased operating on these frequencies. The transfer was successfully completed in the night of 3-4 October. SES and Eutelsat are in discussions to find a solution regarding the subject matter of the arbitration. -



Briantist's 38,902 posts
Saturday, 5 October 2013

Mike B the sales man say on Sky box as freesat from sky.. has 240 channels free.. while freesat has 150 channels... i am not getting subcripton at all... freesat recorder boxes are over £150... i want brand new... wont have 2nd hand coz i had problems with 2nd user boxes.... plus £120 to install new dish and cables.... that makes freesat set up very expensive around £340 pounds to pay up front.

rob's 171 posts

rob: you've brought up a number of points:

1) the 'salesman' says there are 90 more channels on freesat for sky than on freesat - yes, but are you going to watch any of them? Remember, he's a salesman for Sky - who are ultimately hoping you'll go bank to sky anyway...
2) your getting no subscription - you kind of are. As far as I'm aware (and I did try to check it out) freesat for sky gives you more channels, but you cannot record them on your existing sky box without paying for that function(if someone does know, please tell). Since that's over £10 a month, your paying £120 a year to record - which makes £150 for a freesat recorder look attractive, as I originally pointed out.
3) if you have a sky dish, why do you need to buy a new one? They will leave the dish, and if it has two lnbs, it's a straight swap. This is covered in the modt frequently asked questions - it's the most popular question!
Look at the long term costs, and find out the facts.

MikeB's 2,579 posts

Mike B my dish is very old was up there since 1999 the LNB is knackered and the dish is very rusty
and i cant get up there due to my disability due to car accident.... i feel freesat set up is NOT £150... its more than that in shops plue £120 install fee

rob's 171 posts

rob: No matter how old or rusty your dish might be provided that it hasnt been moved then all you require is the LNB replaced with a quad version (twin types no longer manufactured) and a second cable run from the new LNB to a Freesat PVR, the undermentioned link being to a grade "A" model manufactured by one of the most reliable brands around.

By the way, a complete quad kit only costs around £10.00 or so from a number of e-bay outlets, although obviously someone would have to install same for you.


noHumax FOXSATHDR500-G Freesat twin tuner 500GB PVR (Grade A) - HUMAX UK Direct Sales Website

jb38's 7,179 posts
Select more comments
Your comment please