Good news for Freesat? Astra 2E satellite launched

Brian Butterworth published on UK Free TV
Good news from SES , Luxemboug today (September 30, 2013)

The ASTRA 2E satellite blasts into space on board an ILS Proton Breeze M booster last night at 3:38am Baikonur time (23:38 CET and 17:38 EDT on September 29).

After a 9-hour, 12-minute mission, the Breeze M upper stage of the Proton rocket successfully released the ASTRA 2E satellite directly into geostationary transfer orbit, from where ASTRA 2E will be deployed at the 28.2/28.5 degrees orbital arc.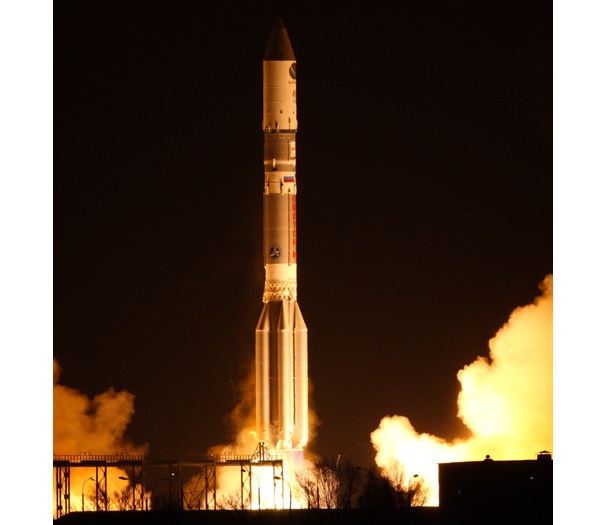 54th SES satellite to be deployed into 28.2/28.5 degrees East orbital arc

The satellite was built for SES by Astrium of France. Based on the highly reliable Eurostar E3000 platform, the spacecraft carries 60 Ku-band transponders, including 12 incremental transponders for delivery of services outside Europe, as well as 4 Ka-band transponders.

It will enable the delivery of next generation broadcast and broadband services in Europe, the Middle East and Africa. ASTRA 2E, which had a launch mass of 6 tonnes, will feature a wingspan of 40m once its solar arrays are deployed in orbit, generating 13 kW of spacecraft power at the end of its 15-year design lifetime.

Romain Bausch, CEO of SES says "We would like to thank Astrium and ILS for the successful ASTRA 2E mission. The 54th satellite in SES' global fleet provides significant capacity expansion at a strategic orbital neighborhood over Europe. In combination with ASTRA 2F which was launched in September 2012, and the upcoming ASTRA 2G due for launch next year, ASTRA 2E is an important part of our fleet renewal programme at the 28.2/28.5 degrees orbital arc. The state-of-the-art new satellites provide more focused and higher power to our broadcast customers, while the Ka-band on board supports the delivery of next-generation satellite broadband services"-
Comments
Saturday, 5 October 2013

rob:
Just checked on Amazon UK and a freesat box is from £65 and a Freesat PVR (recorder) is from £150.
As you already have a dish pointing in the correct direction all you need is a change of LNB, as jb38 states.
Setting up the box is easy once you have read the manual.

MikeP's 3,056 posts
Sunday, 6 October 2013

Does anyone know when UKTV's contract with Sky is due for renegotiation?

Brightonian's 1 post

MikeP: be very carefull when buying from amazon,they sell used products,i ordered a shaver when i received it i found it was used.

sharealam's 225 posts

I just have to wait till next year and borrow a cherry picker and change LNB as i live an 3 story house...... no one will install dish or replace LNB that high... I been told i have to pay more due to "special Heights" charge even more.....I know i am being Ripped off.......

rob's 171 posts

Sharealam:

You can buy used equipment - but most adverts show whether it is new, as most are, or give a link to used items. I have used Amazon for many years and never bought anything used or refurbished as I always check the status of the item.
The old adage is 'buyer beware' so check first before buying.

MikeP's 3,056 posts
Monday, 7 October 2013

Thanks folks. Jb38.. I like to ask you opinion on sat tv cable.. Now for PVR is it best to use single cable for each feed or use. twin shot gun cable..... i am abit wary of twin cables as they are very thin.. ok it looks nice but......whats the quality difference between twin and nice thick single cable?

debate??

Rob

rob's 171 posts

rob: Standard twin coax of the type referred to can indeed result in a slight signal loss even if the cable run is relatively short of say around 5m or so, therefore when taking appearance into account along with performance I would use a high quality version such as Webro WF65CU as this type is suitable for a wide variety of situations.

Cable referred to can be seen by opening the undermentioned link.


15m WF65CU Twin Sky+HD Webro Coax Cable > AerialSat.com

jb38's 7,179 posts
Wednesday, 9 October 2013

rob: Thank you JB38 for your very helpful link.... I am not bothered about the sight of cables.. its only 5 metres outside the rest goes into the loft.. I dont care what the neighbours think... its my house my dish but i will do it in a tidy professional way.. just have to wait till my foot is fully recovered then i be brave enough to go up 3 story house to my dish.... might ask a mate at BT to "borrow a cherry picker" that be saver option
lol

rob's 171 posts
Thursday, 10 October 2013

rob: Well, working on top of an extension ladder tall enough to reach the level of a three story house is certainly "not" for the faint hearted, but with regards to your latter comment, either that or be fortunate enough to have a street lighting maintenance vehicle working in the area and with the driver of being open to persuasion, backed up of course by a suitable bribe!!

Sometimes though its better all round just to "grin and bear it" and pay an installers surcharge for working at an excessive height.

jb38's 7,179 posts
I
Ian from notts
8:16 AM
Nottingham

Rob, MikeB- Just a point from reading your replies, Sky will charge for installation if you do not take up subscription.
This may be up to £175 for dish and cable?
Sky will also charge a sale price for a "Skybox" The HD box costing around £299 for a replacement to a Sky subscriber!
Their £65 call out to subscribers will be a reconditioned box, Sky wont be interested in after sales problems for non subscribers.
The extra channels do depend on what you prefer to watch but ALL the channels from Sky will be in the EPG to tempt you.
Overall I believe the cost of Installing either system will not differ to much on the first outlay

Ian from notts's 253 posts
Ian's:
map
I's Freeview map
terrain
I's terrain plot
waves
I's frequency data
I's Freeview Detailed Coverage
Select more comments
Your comment please