On the tenth day of Christmas Auntie brought to me ... five more HD channels

Brian Butterworth
published on
UK Free TV
It would seem the BBC are going to have five HD channels for many UK homes in plenty of time for Christmas.

Here is the evidence. First, YouView is listing the channels from 7am/7pm on 10 December 2013.




And if you look into space, you can see the channels lined on satellite too.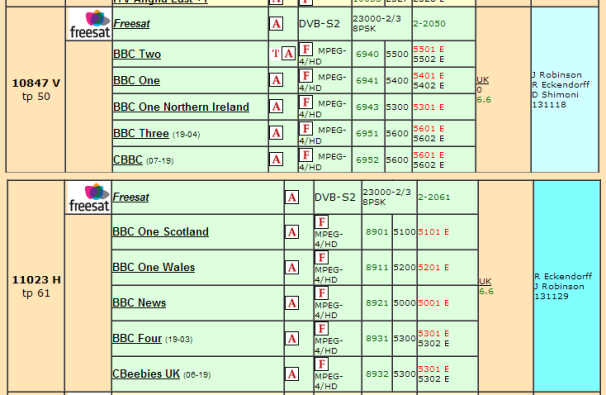 Remember that for Freeview HD viewers, you need to use the Crystal Palace (London), Belmont (Lincolnshire), Black Hill (Central Scotland), Emley Moor (West and South Yorkshire) and Winter Hill (Greater Manchester) transmitters to get BBC FOUR HD, CBeebies HD and BBC News HD.

UPDATE 9/12/13

The channel numbers are:



Sky HD subscribers will get the HD channels on the "usual" channel numbers: CBBCHD on 613 , CBeebies HD on 614 , BBC Three HD on 115 and BBC Four HD 116. (Virgin will get CBBCHD on 710, CBeebies HD on 711, BBC Three HD on 163, BBC Four HD 164 and BBC News HD 604).

See BBC - Blogs - About the BBC - CBBC HD, CBeebies HD, BBC Three HD, BBC Four HD & BBC News HD launch Tuesday 10 December 2013 for more.
Comments
Monday, 9 December 2013

Charles Stuart: Firstly, get the right size - see above! Dont buy too small - my gut says your a 39-42in, and there are no 37in TV's any more anyway. If you measure the width of your 32in its basically 32in - a modern 39in is about 34 and a bit.

I think your right about repair - you can get a free quote, but you can get the excellent 39N575 from LG for £399. Buy LG 39LN575V LED HD 1080p Smart TV, 39" with Freeview HD online at John Lewis - if its £50 repair, then fine - its £150, then probably not.

(I'm not surprised its out of stock - its excellent for the money, and its high on my list if the TV goes). That will give you Full HD, Freeview HD (plus a sat. tuner they dont talk about), Smart and Wifi. Thats standard now. OK - the styling is not quite as crisp as some, but its a great screen. The 42in version is currently £429.95. The LG 620 gives you 200hz and 3D for £529 in a 42in, which is amazing value.

Without any smart or wifi, you can get a decent (but not outstanding) Samsung 42F5000 in Currys for £399 at presen (we just do the 32in version)t, but with just a single year warrenty, and none of extras (get the extras - its worth it).

These prices will wobble coming up to Christmas and just after. Since my employers will give you the difference if the TV goes down in price if it goes down with 28 days of purchase (we've always price-matched), when you buy isn't a big deal to us, but obviously 28th Dec is a good time to buy generally!

Whay your paying is the quality of the panel, which is usually expressed as hertz. This is a minefield, but basically a 100hz (thats what the manufacturer says..) screen is normal these days (and I'm sure that Mike P could explain why this might not mean 100hz!).

As the number goes up, so the panel gets better, the picture gets sharper, and the price increases. Around £399-£529 for a 39-42in 100hz 2D TV with all trimmings, depending on manufacturer. Around £599-699 for 400hz (middle level and good value) - Samsung 6500, Sony W805 (my favourite this year), LG 640, and then £899-£1399 for top level 8oohz Samsung 7000/8000, LG 740, Sony W905 or Panasonic DT/WT65. Dont be afraid of 3D - they just chuck it in with 200hz plus screens - its the better panel your paying for, not the 3D.

Go to a good retailer, who will hopefully ask the sort of questions I've asked, having done some measuring up first. See the difference in quality of each screen, dont get a one year only warrenty (and certainly dont pay for more), recognise that the TV will not have great sound, and bring manuals for other kits that your going to use with it.

I like all four big brands (dont buy a cheap nasty brand), and can pick top ones in all of them, at different levels. Give me a budget, and I'll work to it, but dont be too cheap. I assume your going to have it for at least 5 years (thats our warrenty), so I want it to look decent - the better the picture, the higher the price. That extra £50-100 will give you better picture, etc - which will work out very little extra over the long term. Buy once, buy right.

However, you can get a TV (with more on it) for £469 that would have cost you £799 three years ago, and £1299 five years ago. You will get a lot for money if you buy right.

MikeB's 2,579 posts

More officail news from Auntie

BBC - Media Centre - BBC to launch five new subscription-free HD channels on Tuesday 10 December

"Tony Hall, BBC Director-General, says: I am delighted that were able to launch our new HD channels in time for Christmas, when families gather together to enjoy some of the best TV from the BBC. This year, people will be able to watch even more of our programmes in brilliant quality.

All five new HD channels will broadcast the same programmes as their standard definition equivalents in HD.

Over 50 per cent of homes in the UK are already HD enabled, with reports estimating that the number of HD homes is expected to grow to reach over 20 million (80 per cent of all UK homes) by 2016 and over 23 million homes (90 per cent of all UK homes) by 2019."

Briantist's 38,905 posts

Just done a manual tune for channel 33 on Craigkelly, the new HD channels coming through fine, Al Jazeera HD broadcasting at the moment.

Michael's 358 posts
J
John Martin
3:02 PM
Doncaster

MikeB There may not be a big plan to make us change what we own in your mind. But why are the adverts always get the latest this or that. Or is your phone obsolete. Most things are not obsolete but in young kids minds which most adverts are aimed at they are told it is old they need to replace it. I have a 1080p HD screen 42 inch. I only got it because my St Bernard broke my old non hd tv. But my wife and our children still prefer to watch the non HD channels. So unless super hd shows a really great change to normal HD I will still be using this Television in 5 years. But thanks for your comments anyway

John Martin's 103 posts
John's:
map
J's Freeview map
terrain
J's terrain plot
waves
J's frequency data
J's Freeview Detailed Coverage
C
Charles Stuart
3:20 PM
Bristol

MikeB, thank you for your advice. John Lewis at Cribbs Causeway is only twenty minutes' drive when the M32, M4 and M5 behave themselves. so it's a shop on my list of those to consider. I bought my printer there.

I think that 39" is the limit of the space available, though 42" might fit at a squeeze. My usual TV viewing seat is about 10' from the TV. I'm not too concerned about sound quality, as long as I can hear. I can hear most things but I do have impaired hearing.

Apart from watching live TV, I watch recorded programmes and the occasional DVD. I don't do video games and I'm not greatly into music. What would a smart TV offer me that an ordinary TV doesn't? Though I haven't tried it, I reckon that I'd rather view the Internet on a computer, a tablet or even a phone. I'm not into 3D but I do like good picture reproduction.

Charles Stuart's 159 posts
Charles's:
map
C's Freeview map
terrain
C's terrain plot
waves
C's frequency data
C's Freeview Detailed Coverage

John Martin: You might want to look at http://www.bbc.co.uk/bbct….pdf

Section 6.1.1 TV landscape, d) TV set replacement cycle

"Forecasts for the TV set replacement cycle are based on trends on historic replacement cycles...

Ofcom collected and published data on TV sets sold per year in the UK; this was 6m in 2004, rising to 8.7m in 2007. This implies that on average up to 24% of HH acquired a new set (whether primary or secondary) in 2004, rising to 35% in 2007

Based on discussions with stakeholders, it is assumed that the rate of TV purchases by HHs remains constant at 33% of HH acquiring a new set each year; this implies an average TV replacement cycle of 7 8 years until 2015 "

Briantist's 38,905 posts

John Martin: You are quite right that adverts do tend to feature the latest product. I believe that the three most powerful words in advertising are 'New', 'Free' & 'Young'.

However, that is nothing new, and I suspect that some homind in Olduvai Gorge looked with envy at someone's much nicer and more advanced stone tool!

Actually, your TV is perfectly fine and current, and since nobody is broadcasting in 4K (never mind 8K!) at present (if ever), you should get many years of use out of it. And of course as time goes on, those currently non-HD channels should end up in most cases as HD anyway, which will give an even better viewing experience for your family on your current set.

Charles Stuart: I would be delighted (for fairly obvious reasons) if you popped over to Cribbs Causeway, and they will give you great advice.

Since your 10 feet away from your TV (my gut does sometimes get it right), a 40-42in is perfect. The only reason I included the 39's is that they are around the same size and sometimes slightly cheaper. However, they exist as a sop to those who would have previously bought the now non-existent 37in size, but are slightly smaller than the psychologically important 40in.

Since they are a bit of a niche, you will only get a 100hz screen - perfectly fine TV's (N575, Panasonic E6 and Samsung F5500), but thats really it. You'll get far more choice if you think 40-42, including the slightly larger versions of those models. Remember that the widest 42in is 38in wide, thats only about 3in extra on each side of your current TV.

If you have impaired hearing, you will need to better than the inbuilt speakers, trust me. If you get Panasonic or Sony, you can split the audio signal from the 3.5mm phone jack so that you can hear via headphones, and the rest of the family can listen on the speakers, at volumes comfortable for all (Samsung and LG cant do this).

If you've a sound system, you might be able to use it, but a soundbar would be an excellent option, and be prepared to pay around £170 plus for a decent 120watts one (with wired subwoofer). £250 plus for 240-310 watts with wireless sub. You'll often get a deal if you buy the TV with a soundbar.

Since next year no JL sold TV will not be Smart, and precious few are not right now, I'd just go for it. You are on the net, so I'm sure, if nothing else, you'd like to see something you missed on Iplayer. And on a decent sized screen, rather than on a laptop. And that is standard on your TV, plus lots of other things.

The cost between a 32in with and without smart/wifi is £269 v about £349 (£299 if you willing to just have HD Ready). And you get an extra HDMI port. To add that functionality would probably cost more than the difference in price.

As for 3D - its the picture quality that matters - go and have a look, and see what you think. You are the customer, we are just there to guide.

Brianist: The 7-8 year cycle accords with my experience, with the older TV ending up as a handme down, in a different room, or something for the kids. Its probably closer to 5-6 years at the moment, personally speaking, but close enough.

MikeB's 2,579 posts

MikeB: And then, as with any curved distribution, there is the outlier: The oldest working TV in the UK goes on sale | Mail Online

Briantist's 38,905 posts

Briantist: Indeed! I thought 32 years was good, but...

I notice that its cost in 1936 was equal to about half the annual average wage, and that the owner was unable to get a picture in his area for a decade - puts our reception problems in context.

MikeB's 2,579 posts

Briantist: You say C36 has yet to be cleared. Is there any reason why they can't broadcast COM8 from the 80 sites that broadcast DTT from the outset autumn 1998 using C37 SFN? In an earlier post you mentioned French and Dutch TV. Does anywhere in France and/or Netherlands use C37?

By putting COM8 as C37 SFN, there'd be C31 to C35 left (5 channels) to broadcast COM7 from the same 80 sites. Isn't that more than enough UHF channels?

Nicholas Willmott's 80 posts
Select more comments
Your comment please