On the tenth day of Christmas Auntie brought to me ... five more HD channels

Brian Butterworth
published on
UK Free TV
It would seem the BBC are going to have five HD channels for many UK homes in plenty of time for Christmas.

Here is the evidence. First, YouView is listing the channels from 7am/7pm on 10 December 2013.




And if you look into space, you can see the channels lined on satellite too.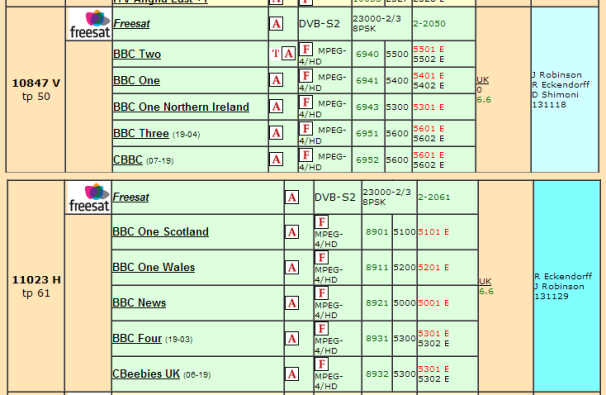 Remember that for Freeview HD viewers, you need to use the Crystal Palace (London), Belmont (Lincolnshire), Black Hill (Central Scotland), Emley Moor (West and South Yorkshire) and Winter Hill (Greater Manchester) transmitters to get BBC FOUR HD, CBeebies HD and BBC News HD.

UPDATE 9/12/13

The channel numbers are:



Sky HD subscribers will get the HD channels on the "usual" channel numbers: CBBCHD on 613 , CBeebies HD on 614 , BBC Three HD on 115 and BBC Four HD 116. (Virgin will get CBBCHD on 710, CBeebies HD on 711, BBC Three HD on 163, BBC Four HD 164 and BBC News HD 604).

See BBC - Blogs - About the BBC - CBBC HD, CBeebies HD, BBC Three HD, BBC Four HD & BBC News HD launch Tuesday 10 December 2013 for more.
Comments
Monday, 9 December 2013

Just a reminder to all that the correct ergonomic viewing distance is 5-6 time the screen diagonal - irrespective of the type of screen. Also the heigh of the screen is important to prevent serious neck problems, it should have the centre of the screen below the eye level of those viewing it, so mounting it up on a wall well above the viewer's seat is not a good idea.

MikeP's 3,056 posts

Don't know if it's been mentioned yet, Sky placeholders have appeared with captions advising programs start at 8:30am.

Currently BBC3 HD on 210, BBC4 HD on 211, BBC News HD on 570, CBeebies HD on 624 and CBBC HD on 633.

I guess they will swap with their SD equivalents when the service starts.

Ian's 17 posts

Ian: yes. They are on freesat and youview too.

Briantist's 38,908 posts

Check out @Briantist's Tweet: https://twitter.com/Brian…1728

Briantist's 38,908 posts
Tuesday, 10 December 2013

On Sky BBC 3 HD is on 115, BBC 4 HD on 116,

CBBC is on 613 and CBeebies 614.

The SD version of BBC 3 is on 210 and BBC 4 211. CBBC SD is on 633 and Cbeebies SD on 624

This is how it currently appears on a Skly HD box. I assume BBC News HD will swop with BBC News SD at some stage ?

No sign of Al Jazeera HD on Sky yet.

PJH's 240 posts

PJH: Yes, as per the article.

There's no mention anywhere of the BBC News HD doing the swap thing.

Briantist's 38,908 posts

Due to swap places early in 2014 apparently:

a516digital: BBC HD channel information: Sky and Virgin Media viewers



PJH's 240 posts

Which would seem logical.

570 is a bit out of the way and at the end of the documentary section rather than news.

PJH's 240 posts

Confused of Nottingham!!!
At my address i can only receive the Nottingham transmitter and understood it would NOT be transmitting the new BBC HD channels
However i am getting perfect reception of BBC3 HD on 105 but despite retuning no BBC4 HD or BBC NEWS HD

Anthony's 3 posts

Anthony: BBC Three HD and CBBC HD are carried on PSB3 multiplex which is the one which carries HD streams of BBC One, BBC Two, ITV and Channel 4. Thus these services are available from all transmitters.

Even if you could receive from Waltham, you won't get BBC Four HD because the new multiplex, COM7, which carries it doesn't come on air from Waltham until next year.

Dave Lindsay's 5,724 posts
Select more comments
Your comment please