On the tenth day of Christmas Auntie brought to me ... five more HD channels

Brian Butterworth
published on
UK Free TV
It would seem the BBC are going to have five HD channels for many UK homes in plenty of time for Christmas.

Here is the evidence. First, YouView is listing the channels from 7am/7pm on 10 December 2013.




And if you look into space, you can see the channels lined on satellite too.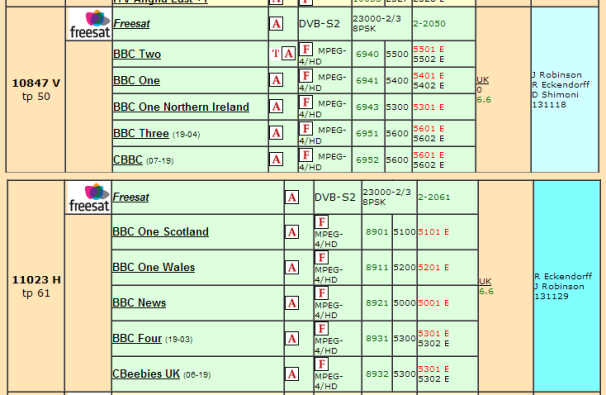 Remember that for Freeview HD viewers, you need to use the Crystal Palace (London), Belmont (Lincolnshire), Black Hill (Central Scotland), Emley Moor (West and South Yorkshire) and Winter Hill (Greater Manchester) transmitters to get BBC FOUR HD, CBeebies HD and BBC News HD.

UPDATE 9/12/13

The channel numbers are:



Sky HD subscribers will get the HD channels on the "usual" channel numbers: CBBCHD on 613 , CBeebies HD on 614 , BBC Three HD on 115 and BBC Four HD 116. (Virgin will get CBBCHD on 710, CBeebies HD on 711, BBC Three HD on 163, BBC Four HD 164 and BBC News HD 604).

See BBC - Blogs - About the BBC - CBBC HD, CBeebies HD, BBC Three HD, BBC Four HD & BBC News HD launch Tuesday 10 December 2013 for more.
Comments
Saturday, 14 December 2013

What I would like to know is:

- why hasn't COM7 launched from Sutton Coldfield at the same time as the other transmitters??

- when might we expect other main transmitters to launch?? 'Sometime in 2014' translates as 'might as well be next Christmas.

Fortunately, I can receive Belmont, so all is well. But Waltham is not available...

Richard's 20 posts

Richard: COM7 from Sutton Coldfield has launched. I wouldn't expect that it would have been delayed in order to start at the same time as other transmitters.

You say you can receive from Belmont, and if you're receiving the new HD mux from Belmont then "if" you could also get the new HD mux from Sutton Coldfield then you would find that none would be available because they're both on C33!

If the information as to when the transmitters are to come on air isn't published, how might it be known? How long is a piece of string?

Dave Lindsay's 5,724 posts
Monday, 16 December 2013

I can't receive SC, I was just puzzled, because it seemed to be missing. But thanks for the tip. ;)

As for releasing launch dates, with the initial HD services, there was a great deal of clarity. I don't see why this can't be the case again, even if it involves setting up SFN's to do so.

Richard's 20 posts
Thursday, 19 December 2013

Are the new channels on lower power?
We are getting at leat 40% lower recieved power as read on a humax PVR box than the worst of all the other channels

we get gauaranteed breakups on BBC3-HD and BBC4-HD at least once an hour

the other channels are poor but these are just annoying

charles's 1 post

charles: Yes, the new HD channel is lower power than the others from the few transmitters which carry it.

BBC Three HD is carried on the same multiplex (same signal) as the existing four HD services and is therefore not on lower power.

Knowledge of your location, preferably in the form of postcode or nearby one such as a shop, would allow an idea of predicted reception to be gained.

Dave Lindsay's 5,724 posts

Only BBC Four could really justify HD over SD, so I am not unduly bothered to be excluded from Auntie's magnanamous Christmas bonanza. But I could spiral into depression were I deprived of the consumer-friendly shopping and the select enrapturing nocturnal services on SD COMs...

Season's Plastic Greetings to all!

michael's 869 posts
Sunday, 29 December 2013

Brian Wright: "Tony Hall, BBC Director-General, says: I am delighted that were able to launch our new HD channels in time for Christmas, when families gather together to enjoy some of the best TV from the BBC. This year, people will be able to watch even more of our programmes in brilliant quality.

Does he know when BBC national news goes to local news. when we will NOT have to change channels from Freeview CH 101 t0 CH I?.Its so annoying when ITV seem to have the problem solved .

Brian Wright's 77 posts
Monday, 30 December 2013

When, oh when, oh when?

I get an almost perfect quality of service on the HD channels but lose service completely at times on the SD, i.e.CH 1, BBC1 North West. My only reason for even visiting CH 1 is for local news, weather and features, so I get the double insult of having to change channels, then finding no signal when I get there.

As said, if ITV don't have a problem with local servicing on HD, then why is it seemingly impossible for the BBC to do the same?

Stephen's 6 posts

Brian Wright, Stephen: It is not the case that ITV offer the "correct" local news in all regions. Indeed, most get that of another region as there are only four or five HD variants.

In your case it happens that there is a ITV HD Granada variant.

The reason that the BBC and ITV don't produce full regional HD streams is because of the additional cost to do so.

The purpose of the HD streams is to allow HD content to be viewed in HD. As the HD content is broadcast nationwide it follows that with separate regional HD streams, they would all be carrying the same thing!

Therefore the cost of having different regional HD streams is not justified although some armchair moaners clearly disagree!

Dave Lindsay's 5,724 posts
Wednesday, 1 January 2014

Dave Lindsay: I have to say that I don't appreciate being called an "armchair moaner" just for posing a question that I'm sure has occurred to many other licence-paying viewers.

From memory, doesn't the splash screen broadcast at the times of regional variation say something a5bout "not yet available in your area", which would clearly imply that there is promise of future availability? Doesn't that also imply that there is currently at least one area that does receive its bespoke variation?

Happy new year to all!

Stephen's 6 posts
Select more comments
Your comment please