On the tenth day of Christmas Auntie brought to me ... five more HD channels

Brian Butterworth
published on
UK Free TV
It would seem the BBC are going to have five HD channels for many UK homes in plenty of time for Christmas.

Here is the evidence. First, YouView is listing the channels from 7am/7pm on 10 December 2013.




And if you look into space, you can see the channels lined on satellite too.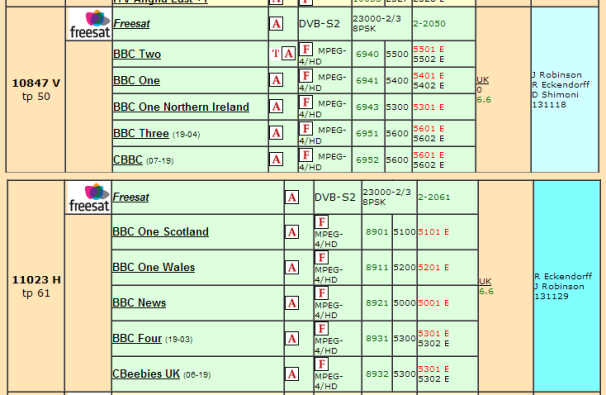 Remember that for Freeview HD viewers, you need to use the Crystal Palace (London), Belmont (Lincolnshire), Black Hill (Central Scotland), Emley Moor (West and South Yorkshire) and Winter Hill (Greater Manchester) transmitters to get BBC FOUR HD, CBeebies HD and BBC News HD.

UPDATE 9/12/13

The channel numbers are:



Sky HD subscribers will get the HD channels on the "usual" channel numbers: CBBCHD on 613 , CBeebies HD on 614 , BBC Three HD on 115 and BBC Four HD 116. (Virgin will get CBBCHD on 710, CBeebies HD on 711, BBC Three HD on 163, BBC Four HD 164 and BBC News HD 604).

See BBC - Blogs - About the BBC - CBBC HD, CBeebies HD, BBC Three HD, BBC Four HD & BBC News HD launch Tuesday 10 December 2013 for more.
Comments
Wednesday, 1 January 2014

Stephen: I don't know whether the BBC has introduced any regions for HD. It's likely to happen at some point, I suppose.

I think that the way to look at the issue is of why ITV has introduced regions rather than why the BBC has not.

ITV makes its living from showing adverts. By having macro regions it allows better targetting of advertising and therefore a better return from advertisers. Even Channel 4 and Channel 5 have different regions so as to show different commercials to different parts of the country.

Therefore macro-regional programming on ITV HD exists only because of the creation of those large regions for advertising purposes. If you think about it, this means that "regional" content accounts for maybe 25% of ITV output (the exact figure depending on the duration of commercials). Regional news content represents a much smaller percentage of airtime.

ITV sells advertising to macro regions, regions and, in some cases, micro-regions:





The new HD services from the BBC and others, which are available on Freeview on a quasi-national basis, will help drive the uptake of Freeview HD receivers.

Dave Lindsay's 5,724 posts

I can think of 1 BBC Region that gets BBC1 HD - N. Ireland. I suppose you could also include Wales, but AIUI, parts of N. Wales are served from England transmitters. I believe that Scotland has 2/3 regions, so BBC1 HD Scotland is not applicable for all.

Ian's 17 posts
Wednesday, 8 January 2014

Brian Wright:
Dave Lindsay, ITV makes its living from showing adverts. By having macro regions it allows better targetting of advertising and therefore a better return from advertisers. Even Channel 4 and Channel 5 have different regions so as to show different commercials to different parts of the country.
Dave when you watch London ITV as I do then the adverts are transmitted before the news & after the news program.There are no "special " adverts for the London local input.
Crystal Palace transmits the London news so the problem lies with the extra local transmitters. I can't see why this has not been sorted ,given we have had HD in the South East for a few years now.
Of course it has no real benefit for viewers who watch TV with a screen size less than 37 inch?


Brian Wright's 77 posts

Brian Wright: I was showing some people 22in TV's this morning, and they had not problem telling the difference between SD and HD - have a look for yourself.

MikeB's 2,579 posts
Sunday, 12 January 2014

Brian Wright:
MikeB.

I agree mike give me HD anytime I just think that most folks viewing from 10feet away don't appreciate the better quality.
The most benefit is not necessarily the extra bandwidth but the much less artefacts 'around the edges .

Brian Wright's 77 posts
Monday, 13 January 2014

Channel 54 from Winter Hill that carries all the HD channels is variable in signal strength;my friends aerial is a good installation and he has a Panasonic HD Viera Plasma 50in TV, when i've autotuned it 54 is variable, it comes and goes, same with manual tuning, any answers?

Anthony's 70 posts
Tuesday, 14 January 2014

I've noticed an unpleasant side effect to the pictures on the HD channels;sometimes in dimly lit or poorly lit scenes of programmes there is an unpleasant strobing/comet tailing effect with a unpleasant after-image shadowing strobe effect (similar to what has been seen in 70's pop videos and tv programmes). Nothing is wrong with my HD tv and reception equipment.

Anthony's 70 posts
Wednesday, 12 February 2014
A
Anthony
1:39 PM
Accrington

I have set up an aerial which picks up Winter Hill at a friends house, horizontally polarised C/D group, BUT channel 54 (on which the HD multiplex is transmitted) is missing all of the channels, only a small number of the 10 that should be received are being picked up at all! Would a better quality Wideband High Gain multi-element aerial (and possibly a booster too) improve my chances of picking all 10 HD channels up on Winter Hill ch54? Or would this be a waste of money? Reception is fine by the way. Some people tell me that 54 is quite tricky to pick up and has slightly lower signal strength than the other mux's from Winter Hill;is this correct?

Anthony's 70 posts
Anthony's:
map
A's Freeview map
terrain
A's terrain plot
waves
A's frequency data
A's Freeview Detailed Coverage

Anthony: Installing a C/D aerial for TV is generally ill-advised these days because in coming years all C/D channels may be given over to mobile operators and C/D transmitters like Winter Hill will have to move to lower channels.

What is being received?

If you have the HD channels broadcast on COM7, which is on C31 then maybe the strength of C54 is OTT. My reasoning for making this suggestion is that C31 is on lower power than the other channels, plus the aerial is less sensitive because it is out-of-group. Reception is a black art, so this may not necessarily be the case, particularly in situations where line-of-sight is obstructed.

Taking the postcode you have associated with your posting it would appear that there are a number of obstructions up to about 3.5 miles out:


Terrain between ( m a.g.l.) and (antenna m a.g.l.) - Optimising UK DTT Freeview and Radio aerial location

Try, as a test, connecting only the inner core of the aerial lead. That is, remove the outer screen, for example from the plug, and plug in the centre conductor. This is in an effort to "loose" a bit of signal. Then try a manual tune on C54.

By the way, if you go to the manual tune screen and enter/select the desired UHF channel but do not press the button to scan/add services and instead wait then you should find that the device acts as a signal meter. Do this before doing the test and after and compare results.

Dave Lindsay's 5,724 posts
Thursday, 13 February 2014
A
Anthony
12:51 PM
Accrington

Anthony: I'll look for a wideband high gain 52-element aerial and set it up at my friend's house using the existing cabling pointing to Winter Hill, that should help matters. Channel 31 isn't used by Winter Hill at all, Winter Hill channels start around 45 and work upwards;Haslingden uses 26, 29 and 31.

Anthony's 70 posts
Anthony's:
map
A's Freeview map
terrain
A's terrain plot
waves
A's frequency data
A's Freeview Detailed Coverage
Select more comments
Your comment please