On the tenth day of Christmas Auntie brought to me ... five more HD channels

Brian Butterworth
published on
UK Free TV
It would seem the BBC are going to have five HD channels for many UK homes in plenty of time for Christmas.

Here is the evidence. First, YouView is listing the channels from 7am/7pm on 10 December 2013.




And if you look into space, you can see the channels lined on satellite too.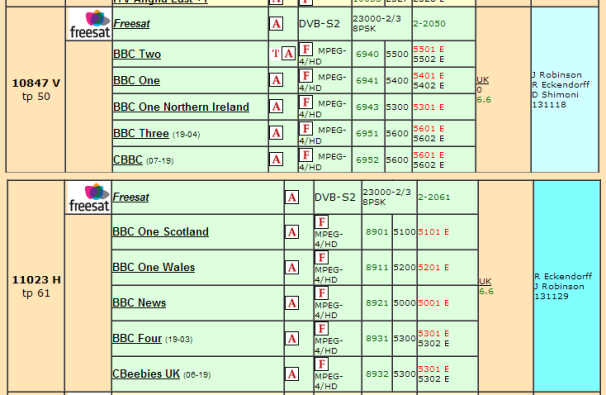 Remember that for Freeview HD viewers, you need to use the Crystal Palace (London), Belmont (Lincolnshire), Black Hill (Central Scotland), Emley Moor (West and South Yorkshire) and Winter Hill (Greater Manchester) transmitters to get BBC FOUR HD, CBeebies HD and BBC News HD.

UPDATE 9/12/13

The channel numbers are:



Sky HD subscribers will get the HD channels on the "usual" channel numbers: CBBCHD on 613 , CBeebies HD on 614 , BBC Three HD on 115 and BBC Four HD 116. (Virgin will get CBBCHD on 710, CBeebies HD on 711, BBC Three HD on 163, BBC Four HD 164 and BBC News HD 604).

See BBC - Blogs - About the BBC - CBBC HD, CBeebies HD, BBC Three HD, BBC Four HD & BBC News HD launch Tuesday 10 December 2013 for more.
Comments
Wednesday, 4 December 2013
J
Jim J (NG14 6**)
9:37 PM
Nottingham

Thanks Briantist,
Out of interest I've just completed a manual tune for mux. Com 7 (Ch 33) (Belmont). I'm receiving 100% both signal strength and quality. Al-Jazeera is broadcasting its programming;
the BBC is showing the 'Coming soon' caption on 74, 105,106 &107 but nothing on 73 (CBBC HD).
Zilch from Waltham on 31

Jim J (NG14 6**)'s 10 posts
Jim's:
map
J's Freeview map
terrain
J's terrain plot
waves
J's frequency data
J's Freeview Detailed Coverage

Jim J (NG14 6**): COM7 from Waltham doesn't come on air until some time in 2014.

On 10th December Sutton Coldfield's COM7 comes on air and it will be co-channel with that of Belmont.

Dave Lindsay's 5,724 posts

Does anyone know if the Sky HD and Freesat HD channels numbers will be the same as the SD ones for these five channels?

Briantist's 38,908 posts

Any idea of the EPG numbers on Sky Brian ?

PJH's 240 posts

PJH: hopefully they still just replace the SD versions!

Briantist's 38,908 posts

BBC News HD has been active (Testing) on Satellite for several days, it's 1080i but looks like upscaled SD. BBC3 HD and BBC4 HD are active in programs testing tonight, previously just test cards and DD5.1 audio test, both do look like 1080i

Ian's 17 posts
Ian's:
map
I's Freeview map
terrain
I's terrain plot
waves
I's frequency data
I's Freeview Detailed Coverage
Thursday, 5 December 2013

Oh ok then but what I really want is Ch 5 HD ! Yes BBC News HD is upscalling at the moment but still looks far better... Looking forward to seeing Click in true HD

Dave's 126 posts
P
P. Kieran Ward
12:41 AM
Belfast

Brian: There are lots of viewers that don't as yet have receivers that have a DVB-T2 tuner so if my understanding is correct, these stations were only to be available in HD, their receivers can't decode the signal.

P. Kieran Ward's 89 posts
P.'s:
map
P's Freeview map
terrain
P's terrain plot
waves
P's frequency data
P's Freeview Detailed Coverage

Dave: Channel 5 doesn't wish to pay for its HD stream to go on Freeview. It's only available on Sky's subscription platform.

Dave Lindsay's 5,724 posts
M
Mike Davison
1:12 AM
Wetherby

CBBC/BBC3, CBEEBIES/BBC4 and BBCNEWS HD alternatives all appear to be in full service from satellite from around 11:30am yesterday 4/12/2013 but only running under numbered labels.

Mike Davison's 127 posts
Mike's:
map
M's Freeview map
terrain
M's terrain plot
waves
M's frequency data
M's Freeview Detailed Coverage
Select more comments
Your comment please