On the tenth day of Christmas Auntie brought to me ... five more HD channels

Brian Butterworth
published on
UK Free TV
It would seem the BBC are going to have five HD channels for many UK homes in plenty of time for Christmas.

Here is the evidence. First, YouView is listing the channels from 7am/7pm on 10 December 2013.




And if you look into space, you can see the channels lined on satellite too.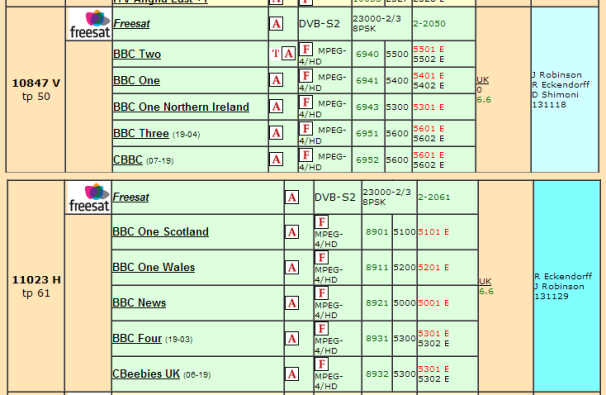 Remember that for Freeview HD viewers, you need to use the Crystal Palace (London), Belmont (Lincolnshire), Black Hill (Central Scotland), Emley Moor (West and South Yorkshire) and Winter Hill (Greater Manchester) transmitters to get BBC FOUR HD, CBeebies HD and BBC News HD.

UPDATE 9/12/13

The channel numbers are:



Sky HD subscribers will get the HD channels on the "usual" channel numbers: CBBCHD on 613 , CBeebies HD on 614 , BBC Three HD on 115 and BBC Four HD 116. (Virgin will get CBBCHD on 710, CBeebies HD on 711, BBC Three HD on 163, BBC Four HD 164 and BBC News HD 604).

See BBC - Blogs - About the BBC - CBBC HD, CBeebies HD, BBC Three HD, BBC Four HD & BBC News HD launch Tuesday 10 December 2013 for more.
Comments
Thursday, 5 December 2013

Mark A.: The standard definition "switch-off" would, based on comments posted on this site, affect Commercial (COM) channels and therefore would not mean the ceassation of BBC Four, CBeebies or BBC News in standard definition.

Dave Lindsay's 5,724 posts

SD will go for sure in a few years. HD will be the new SD with Ultra HD being today's HD at least on Freesat...

Dave's 126 posts

One of the reasons for the apparent short 'life' of smaller screen flat TVs is fashion. It seems people are now being encouraged to fit very large screen TV on a wall mounted high up. That is ergonomically very bad, especially for the neck. The standard recommended is that the viewing distance should be 5-6 times the screen diagonal and the height of the top of the screen be just around or slightly above viewing eye height. Too or too high give neck strain rather similar to whiplash. Too large a screen, or too close, means that the eyes suffer additional strain no matter what the image definition is.
Many modern houses cannot ergonomically accomodate some of the 50 inch screens let alone even bigger ones - there just isn't the room to sit as a proper viewing distance.

MikeP's 3,056 posts

Mark A.: It is worth remembering that changing to DVB-T2 transmissions does not automatically mean that the services will all be HD. Considering the transmission costs alone it could be seen as an advantage to carry up to three SD services instead of one HD service. Shopping channels, for example, are likely to consider this factor when deciding whether to continue with carriage on Freeview

KMJ,Derby's 1,811 posts

Dave: Ultra HD is a very expensive way of distributing a general channel. even on satellite. Whilst some sport and movie subscription channels would no doubt offer a service in due course I personally would rather stay with a cheaper option for watching Emmerdale or catching up on the local news, a view which is likely to be held by many viewers.

KMJ,Derby's 1,811 posts

KMJ,Derby: It will be interesting to see how 4K turns out in terms of market penetration - if the Japanese make a go of Ultra Ultra HD, then who knows? However, they do look lovely....and the Koreans have transmitted tests, so its doable. Price and content will be key.

As for the shopping channels, they look pretty awful now - I suspect that seeing them looking much the same when everything else is in HD is going to be even worse!

MikeP - I couldn't agree more about people mounting too high up on their walls - when customers say that they want to replace the mirror above the fireplace with a TV, I point out that such mirrors are not placed to be viewed sitting down - the nearer the eye level of the viewer, the better.

However, the standard distance recommendation is now nearer 2.5 to 3 times the size of the screen - 3 is the ratio I recommend for my customers for 40in plus screens, and we are pretty conservative. There is no way that I would venture the distance recommended by a well known tech magazine - they think a 55in is fine from 1.8m! I would think twice that distance, if not more. Of course with 4K, you can sit much closer.

In fact customers are buying much larger TV's, with my employers biggest selling TV being a 46in Samsung - five years ago it would have been a 40-42, if not smaller. Being able to wall mount,lower unit cost, the smaller frames 9and therefore overall size), and the trend towards knocking through rooms and converting large spaces have all made a difference. Who knows what will happen by 2018?


MikeB's 2,579 posts

Hi all!

I see that my Thursday 5 December 2013 12:41AM comments created a lot of discussion. While I am not fully competent in all of the workings of today's terrestrial television transmission I read an article about a year ago which indicated that there was a new signal coding system being developed and this system compressed the signal more than today's system. This would allow a greater number of signals to be transmitted on one UHF channel.

If this is the case - this would free up more of the spectrum for other uses.

Can anyone confirm this for me!

I know that TV equipment manufacturers would like for everyone to go out and purchase equipment equipped with a DVB-T2 tuner but most households don't have the finances available in these days of reducing household incomes.

P. Kieran Ward



P. Kieran Ward's 89 posts

P. Kieran Ward: I'm sure there are various coding systems out there, but remember that any new system has to be adopted by at least one country (and hopefully a lot more) as a standard, that internationally that standard has to be recognised, and that manufacturers and broadcasters all agree to use it. Thats a pretty tall order!

If you are making equipment for the UK, you are assured that DVB-T2 is standard. That means that you can make various models for that market, in quantities that make sense financially for you, for retailers, and customers.

In fact TV's have never been cheaper or better equiped, and judging by my departments sales figures, people have no problem buying new TV's or recorders with T2 tuners (we sell perhaps two TV's with DVB-T tuners in them). You can buy a very decent full HD TV with wifi, internet and 100hz screen for less than £300. Its actually an excellent TV anyway (LG N575), and seem to be flying off the shelves.

What is interesting is the recent Ofcom report which showed that we probably now have fewer 2nd TV's in the house than before, with that other panel now more likely to be a tablet computer. Certainly the section that deals with Ipads seems to be very very busy!

MikeB's 2,579 posts
Friday, 6 December 2013

I have nonHD Freevies and Sky HD free only (no card)

IIRC some BBC/ITV channels are not Freesat ih HD.

Will these be on Freesat from Sky?

Do I need to do anything to get them?

PS TV all to pot tonight. Showing archive footage about S Eftika

Steve P's 1,173 posts

I have one question to ask.... is freeview DVB-T and T2 is it compatible with Europe tv standard?

Rob's 171 posts
Select more comments
Your comment please