On the tenth day of Christmas Auntie brought to me ... five more HD channels

Brian Butterworth
published on
UK Free TV
It would seem the BBC are going to have five HD channels for many UK homes in plenty of time for Christmas.

Here is the evidence. First, YouView is listing the channels from 7am/7pm on 10 December 2013.




And if you look into space, you can see the channels lined on satellite too.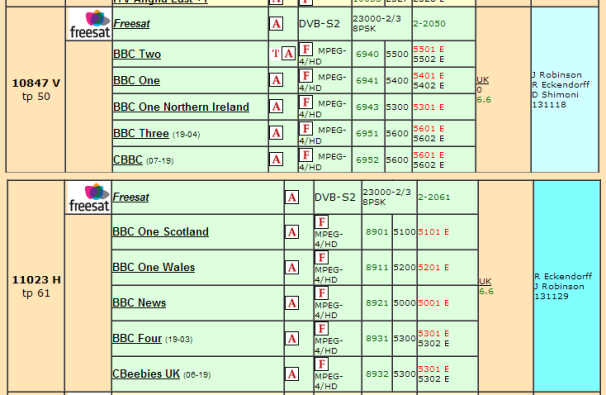 Remember that for Freeview HD viewers, you need to use the Crystal Palace (London), Belmont (Lincolnshire), Black Hill (Central Scotland), Emley Moor (West and South Yorkshire) and Winter Hill (Greater Manchester) transmitters to get BBC FOUR HD, CBeebies HD and BBC News HD.

UPDATE 9/12/13

The channel numbers are:



Sky HD subscribers will get the HD channels on the "usual" channel numbers: CBBCHD on 613 , CBeebies HD on 614 , BBC Three HD on 115 and BBC Four HD 116. (Virgin will get CBBCHD on 710, CBeebies HD on 711, BBC Three HD on 163, BBC Four HD 164 and BBC News HD 604).

See BBC - Blogs - About the BBC - CBBC HD, CBeebies HD, BBC Three HD, BBC Four HD & BBC News HD launch Tuesday 10 December 2013 for more.
Comments
Friday, 6 December 2013

to Steve P the HD channels on Freesat are BBC1 and BBC2 and ITV, Channel 4 in HD but other HD channels you have to subscribe to sky.

Rob's 171 posts

Rob: Yes...

DVB-T2 - Wikipedia, the free encyclopedia

"It is currently broadcasting in the United Kingdom (Freeview HD, four channels, plus an extra multiplex in Northern Ireland carrying 3 SD channels), Italy (Europa 7 HD, twelve channels), Finland (21 channels, 5 in HD), Sweden (five channels),[1][2] Flanders (18 SD Channels), Serbia (10 SD and HD version of the public broadcaster's channel RTS),[3] Ukraine (32 SD and HD channels in four nationwide multiplexes), Croatia (two pay-tv multiplexes) Denmark,and some other countries."

Briantist's 38,908 posts

Steve P: RT HD and NHK World HD are also on Freesat HD.

Briantist's 38,908 posts

"Angusmast": Hello Brian, I just checked again and the audio channels on the 4 main SD BBC channels in Scotland have now changed to 192kbit/s Joint Stereo. This was while BBC Alba was off-air.

Angusmast's 5 posts

I guess dropping quality in BBC transmissions is becoming a habit. I am suprised they have done it on main channels though. HD sound quality it noticably much better on satellite with dolby encoding stereo or surround.

trevorjharris's 367 posts

trevorjharris: As I recall, Freeview HD can't support 5.1 sound as the second audio path is used for Audio Description.

The changes in Scotland are to allow BBC Radio to be provide on Freeview at the same time as a whole extra TV channel, BBC Alba is broadcast.

Viewers in Scotland can still enjoy BBC One Scotland HD, BBC TWO Scotland HD in perfect quality.

Briantist's 38,908 posts

Actually I believe Freeview HD supports AAC 5.1 surround. Freeview HD could not use Dolby because of of squeezing 5 HD channels in a multiplex.

BBC - BBC Internet Blog: Questions around surround sound on Freeview HD

trevorjharris's 367 posts

Actually the BBC rarely use surround sound. There are some exceptions like the recent Dr Who. Most Sky programs do have surround sound. The surround sound on football matches is fantastic as you feel surrounded by the croud. Surround sound is available fot F1 but the BBC has never transmitted it.

trevorjharris's 367 posts

On the 5th day of Christmas Auntie Beeb took away from me, my HD red channel.
On the 11 day of Christmas people are wondering why they still can't get some of the 10 HD channels.
It is because you are Freeview light.

I see that the red HD channel has now closed on Freeview Light.
Is it also closing on Full Freeview and satellite?

Mark A.'s 374 posts
Mark's:
map
M's Freeview map
terrain
M's terrain plot
waves
M's frequency data
M's Freeview Detailed Coverage

Mark A.: yes. The BBC has cut these services due to the real terms cut in the Licence fee. Just like BBC two daytime...

Briantist's 38,908 posts
Select more comments
Your comment please