On the tenth day of Christmas Auntie brought to me ... five more HD channels

Brian Butterworth
published on
UK Free TV
It would seem the BBC are going to have five HD channels for many UK homes in plenty of time for Christmas.

Here is the evidence. First, YouView is listing the channels from 7am/7pm on 10 December 2013.




And if you look into space, you can see the channels lined on satellite too.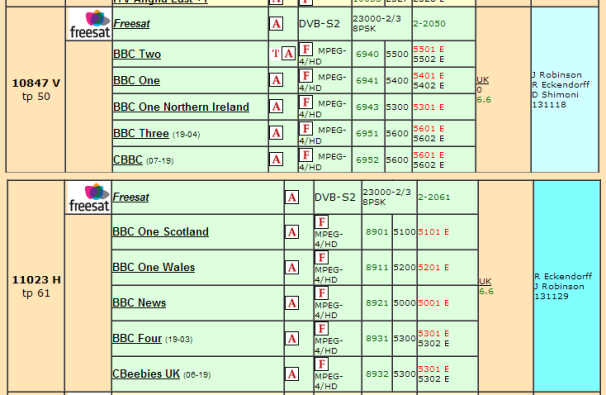 Remember that for Freeview HD viewers, you need to use the Crystal Palace (London), Belmont (Lincolnshire), Black Hill (Central Scotland), Emley Moor (West and South Yorkshire) and Winter Hill (Greater Manchester) transmitters to get BBC FOUR HD, CBeebies HD and BBC News HD.

UPDATE 9/12/13

The channel numbers are:



Sky HD subscribers will get the HD channels on the "usual" channel numbers: CBBCHD on 613 , CBeebies HD on 614 , BBC Three HD on 115 and BBC Four HD 116. (Virgin will get CBBCHD on 710, CBeebies HD on 711, BBC Three HD on 163, BBC Four HD 164 and BBC News HD 604).

See BBC - Blogs - About the BBC - CBBC HD, CBeebies HD, BBC Three HD, BBC Four HD & BBC News HD launch Tuesday 10 December 2013 for more.
Comments
Saturday, 7 December 2013

the bbc has an income of over five million more than any commercial broad caster it can well afford to transmit hd on all channels and stop trying to do everything and stop paying above market rate wages

david's 66 posts
david's:
map
D's Freeview map
terrain
D's terrain plot
waves
D's frequency data
D's Freeview Detailed Coverage
Sunday, 8 December 2013

david: Perhaps the BBC1 regions should be HD rather than BBC4? After all more people watch BBC1, although I don't suppose viewers without HD receivers are bothered either way! To be fair BBC3/CBBC and BBC4/CBeebies are already HD throughout the UK on satellite. With the exception of those whose view of the satellites is blocked by hills, trees or buildings, as with any service, it is a matter of choice whether to obtain the equipment necessary to receive the transmissions.

KMJ,Derby's 1,811 posts

david: I have no idea what you're on about.

Sky has annual revenues of £6,791m which is more or less double that of the BBC at £3,656 ITV plc (which runs 80% of the channel 3 network) had revenues of £1,834, about a quarter of Sky's.

The idea that the BBC pays "above market rate wages" laughable.

I don't know where you got "over five million more" from or what it is supposed to mean.





[1] http://annualreview2012.s….pdf

[2] http://downloads.bbc.co.u….pdf

[3] http://www.itvplc.com/sit….pdf

Briantist's 38,899 posts

@trevorjharris: So, the BBC has spend less than £10k a week getting people to TV studio?

"Human being require transport to appear on live television shock".

Pray tell us what figure would you find "acceptable".

Briantist's 38,899 posts

KMJ,Derby: "To be fair BBC3/CBBC and BBC4/CBeebies are already HD throughout the UK on satellite"

I'm not sure where you've got that from... these BBC services start their official broadcasts on Tuesday.

Briantist's 38,899 posts

Personally I never understood why a purpose built properly fitted out and efficient TV Centre in London where artists and staff are available and transport from theatres, stars homes and other venues to appear in productions was practicable and reasonable was moved to Salford . If a move were considered a cost cutting excercise why not Birmingham, or Bristol for England , Cardiff or Glasgow for Wales or Scotland - Salford was just politics - not practicality. As for programmes; on BBC1 it seems whoever is 'fat controller' hasn't a clue as standards go lower.- as for BBC3 and BBC4 'half channels' only rarely are the programmes worth watching - then it's re-screens of 1970-80 BBC2 programmes !
If BBC wasn't such a sacred cow it would be sold off like Royal Mail and British Rail(ways) and we'd all have a free licence .....

Rog Parsons's 38 posts

Rog Parsons: 13% of the UK population live in Greater London.

The cost of property in London makes in much, much cheaper to have studios outside London and to pay those appearing travel.

£20k a week doesn't get you more than a few square meters of space in London, does it?

Briantist's 38,899 posts

Looking at Office Rent London: Definitive Rental Guide - UPDATED for 2013

You would get ONE room 25m x 25m in London for a year for £520,000 a year.

Seems quite straightforward to me.

Briantist's 38,899 posts

Which is the size of Studio 2 at The London Studios. The London Studios - Wikipedia, the free encyclopedia .

Briantist's 38,899 posts

Rog Parsons: I just realised you wrote "purpose built properly fitted out and efficient TV Centre". I dunno what you're referring to, but before it closed it TVC was a confusing rabbit warren of cooling problems and outdated technology... not to mention being too close to two underground lines.

Briantist's 38,899 posts
Select more comments
Your comment please