On the tenth day of Christmas Auntie brought to me ... five more HD channels

Brian Butterworth
published on
UK Free TV
It would seem the BBC are going to have five HD channels for many UK homes in plenty of time for Christmas.

Here is the evidence. First, YouView is listing the channels from 7am/7pm on 10 December 2013.




And if you look into space, you can see the channels lined on satellite too.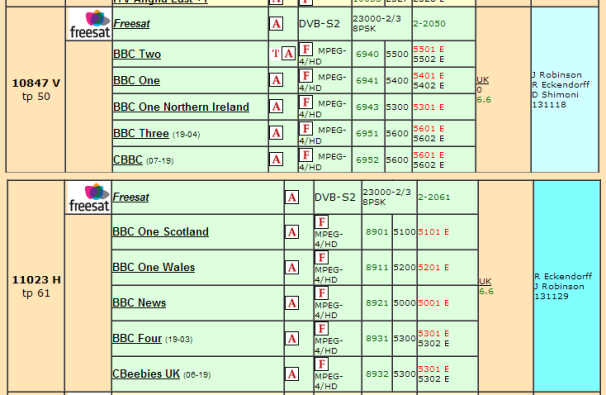 Remember that for Freeview HD viewers, you need to use the Crystal Palace (London), Belmont (Lincolnshire), Black Hill (Central Scotland), Emley Moor (West and South Yorkshire) and Winter Hill (Greater Manchester) transmitters to get BBC FOUR HD, CBeebies HD and BBC News HD.

UPDATE 9/12/13

The channel numbers are:



Sky HD subscribers will get the HD channels on the "usual" channel numbers: CBBCHD on 613 , CBeebies HD on 614 , BBC Three HD on 115 and BBC Four HD 116. (Virgin will get CBBCHD on 710, CBeebies HD on 711, BBC Three HD on 163, BBC Four HD 164 and BBC News HD 604).

See BBC - Blogs - About the BBC - CBBC HD, CBeebies HD, BBC Three HD, BBC Four HD & BBC News HD launch Tuesday 10 December 2013 for more.
Comments
Sunday, 8 December 2013

Returning to the extra BBC HD channels to be available from 10th /12/13 I hope this does not lead to more bandwidth/compression changes which may dilute the existing BBC HD program quality!.
I was viewing BBC HD on a new 65inch 4K TV in John Lewis yesterday & it looked like a reasonable Freeview picture but the sales person was adamant that it was the BBC HD transmission.
I gather after Dec 10th the BBC will have news continuity in HD via the regions ?

Brian Wright's 77 posts

Brian Wright: The national PSB3 HD multiplex can support 5 HD streams, channels1,2,3,4 and 7/73. The new com7 which will reach 70% of the population by the middle of next year are where the new HD channels will be broadcast from.

However I'm not sure what you expect in terms of picture quality when you take a 1920x1080 source and display it on a 65" 3840x2160 resolution screen...

Michael's 358 posts

Michael: I guess it is a question of how close you are to the screen....?

Briantist's 38,908 posts
M
Mike Davison
7:23 PM
Wetherby

Rog Parsons - there's no such thing as a free licence. What else is a Sky subscription? Every channel would become subscription based. I guarantee that the penny would drop that the quality of programmes would become intolerable hopefully leading to the failure of the subscription services and people would clamour for 'the good old days' of the licence fee supported broadcasting service.

Mike Davison's 127 posts
Mike's:
map
M's Freeview map
terrain
M's terrain plot
waves
M's frequency data
M's Freeview Detailed Coverage
M
Mike Davison
7:39 PM
Wetherby

Briantist - I like your figures. It completely demolishes all arguments against the BBC structure and shows how easily duped the British public can be, thinking that we pay highly for the general content of service. All Sky's money seems to go into paying semi-literate soccer players - how non-general is that? If Sky didn't exist and even half of its income was given to licence supported broadcasting the investment in technical and artistic content doesn't bear thinking about. It WOULD be so much better.

Mike Davison's 127 posts
Mike's:
map
M's Freeview map
terrain
M's terrain plot
waves
M's frequency data
M's Freeview Detailed Coverage

Brian Wright: To follow up on Michael's excellent reply - I was showing a customer that very Samsung 4K today, with Skyfall on Sky HD Movies.

It looked very nice indeed, but even with its 8 million pixels, its going to have fill in quite a lot of detail to go from 1080 to 2160, as Michael pointed out. The source is important, but it must also be appropriate, to get the best from the technology.

And, as Brianist points out, you should really be about 16 feet away from that size TV to get the best picture (although you need to get to about 3in from the screen before you see a pixel, quite amazing). On your full HD TV the BBC transmissions look very good, and much better than SD.

Rog Parsons: Re: BBC4 - 'only rarely are the programmes worth watching - then it's re-screens of 1970-80 BBC2 programmes '. Really? Over on Britmovies, BBC4 is generally seen as a national treasure, complete with its own fan club. Perhaps you are watching a different BBC4 from the rest of us? The BBC license fee is a relative bargain, and gives you far more for your money than using a subscription model.

MikeB's 2,579 posts

Remember that the current HD transmissions are at 1080p so displaying them on any screen with higher resolution requires interpolation. Electronics engineers regard that as 'inventing' additional detail to fill in the pixels not being transmitted. Good software can do quite an acceptable job of making it look more detailed but there are many pitfalls, especially with fast panning scenes and so on.
What you are seeing on a 4k screen is 1080p with all the missing bits (3/4s of the detail) added by 'intelligent' guesswork.

MikeP's 3,056 posts

Mike Davison: According to [1], £1,330m of Sky's income is paid out in profit. Their 2013 revenue was £7,235m.

Sky spent £2,487 on programming (including sports rights), £1,1117 on marketing, £673m on subscriber management and supply chain, £405m on transmission, £576m on admin.

Direct networks cost Sky £686m. I think this the provision of broadband.

It's interesting to see that the BBC spends an almost identical amount of money on programmes - £2,443m - but only £222m on distribution, £111 on collection of the LF money.

[1] http://annualreview.sky.c….pdf

[2] http://downloads.bbc.co.u….pdf

Briantist's 38,908 posts

I've done a little picture.




Sky has twice the income of the BBC.

Briantist's 38,908 posts

Briantist: I've also done a write up here --- Does the BBC or BSkyB spend more on programmes? | About UK Free TV | ukfree.tv - 11 years of independent, free digital TV advice !!!

Briantist's 38,908 posts
Select more comments
Your comment please