14 reasons why you should stop moaning about paying the TV Licence every day

Brian Butterworth
published on
UK Free TV
I think I have lost count of the number of times that people have objected to this site being called UK Free TV. But, they say, the TV Licence (c and c, as we are British) costs £145.50 a year.

It is true, of course, as you can find out from TV Licensing (c and s this time). If you have any device that you can watch TV as it broadcast, you need to pay up.

Going into a local store to buy a brand-new off-contract phone recently, I noted with interest that you can also get it for "free", but only if you pay for a contract. This reminds me of the excellent quote from 1984 by George Orwell:

To give a single example. The word free still existed in Newspeak, but it could only be used in such statements as "This dog is free from lice" or "This field is free from weeds" ... Reduction of vocabulary was regarded as an end in itself, and no word that could be dispensed with was allowed to survive.

Last month we looked at Does the BBC or BSkyB spend more on programmes?, so it is only fair to consider the cost of the rest of the free channels.

So here is a graphic comparing the daily cost of TV from the main UK broadcasters: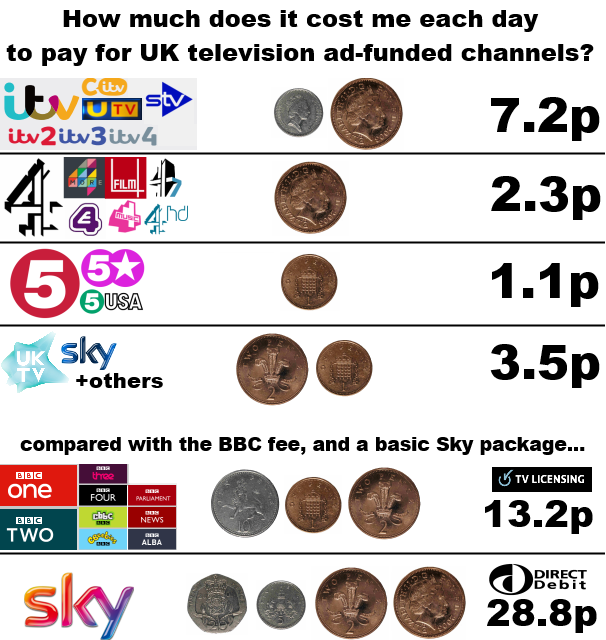 The first row shows the joint total for ITV, STV and UTV. It is worth noting that the Channel 3 broadcasters provide a regional news service on their main channels: however some channels such as itv3 and c-itv are wholly archive.

The second row shows the figures for Channel 4. This channel is a UK-wide service with no expensive regional programmes. The other channels from this broadcaster are archive TV shows and movies.

The Channel 5 services have some first-run UK content, but a large proportion of the output is from US broadcasters. These imported programmes are cheaper to show as they have been funded by their broadcast in other markets: the USA has a population five times that of the UK.

The fourth line is the figure for "all other broadcasters". This includes the likes of UKTV (a BBC/Scripps joint venture) and channels that use BSkyB to sell their advertising time.

It is worth remembering that the above figures for the cost of advertising only include the cost of airtime paid directly to the broadcaster. The real cost of advertising that is passed onto consumers also includes the cost of scripting and producing the adverts and also paying the actors, voice talent and musicians.

I have not been able to come up with a figure for this, so did not include it. Of course, this is passed onto you, the consumer.

For comparison, the BBC fee income has been reduced by 20% (to account money spent on national and local radio stations), and factored to represent the average 2.4 people-per-household in the UK. Also shown is the most-basic £21.50 Sky package.

The BBC still seems good value for money. These commercial broadcasters spend 20% of their airtime on adverts, not programmes. The BBC runs two channels of first-run UK content, with a large network of regional studios.

The "old argument" against the BBC taking advertising still holds: it would clearly put ITV plc out of business in minutes.
Comments
Monday, 13 January 2014
Tuesday, 14 January 2014

As I no longer have to buy a TV licence I suppose I'm not qualified to answer, however having had a quick glance at a list of other European countries' licence costs I consider those of us who have to pay don't do too badly. Whether or not commercial TV can still work as well now that most people have some form of PVR may be of interest. I use two PVRs and record everything! This allows me to skip through adverts, which can't be good news for those paying to advertise, and also avoid party political broadcasts, seeing boring bits on the news such as any mention of football or footballers, etc etc.

Jack Luxon's 33 posts

Jack Luxon: Good point.

Nicking the figures from Wikipdeia[1], I get

Albania £4.82
Romania £9.35
Republic of Macedonia £21.57
Malta £28.55
Montenegro £34.86
Slovakia £34.86
Bosnia and Herzegovina £38.18
Greece £42.83
Poland £43.63
Czech Republic £54.73
Italy £94.21
France £108.73
Slovenia £109.56
Croatia £113.71
Israel £122.01
Ireland £132.80
United Kingdom £141.33
Belgium £143.08
Germany £179.08
Sweden £192.95
Denmark £268.09
Austria £278.17
Norway £297.18
Switzerland £319.55


[1] Television licence - Wikipedia, the free encyclopedia

Briantist's 38,908 posts

Jack Luxon: I had the same thought last night, while watching a recording of '24 Hours in A & E'. Thanks to the PVR's 'next chapter' feature, apart from a couple of seconds of the Honda idents which went with the programme, we watched no adverts at all.

Its very useful for us, but if you are a commerical TV company which needs revenue to both makes programmes and make a profit.

The 'non linear' nature of watching is something covered in a report I linked to during a discussion on the licence fee recently. Although most TV is still watched live, and so adverts are still viewed, increasingly they are recorded or streamed.

Streaming still has adverts (and you cannot fastforward), but PVR's have made the way we used to fastforward on VCR's much easier.

The cost of watching TV in Scandinavia and the German speaking countries is much higher than ours, which puts the licence fee into context...

MikeB's 2,579 posts

Yet another provocative posting from Brianist.

The first thing to say is that it is a criminal offence not to have a TV licence if you watch broadcast television. The BBC will send you to prison if you don't pay. That is draconian.

Many people now avoid paying by only watching catchup tv etc.

The fact that we are all forced to pay the BBC makes it impossible to evaluate if the BBC is good value for money. Sky has over 11 miilion subscribers who clearly think that Sky is worth paying for. We have no idea how many people would choose to pay for the BBC because we are forced by criminal law to pay.

Brianist says

The BBC runs two channels of first-run UK content

Not true the BBC has admitted that 65% of BBC One are repeats.

Rant start

I feel at times the the BBC does an awfull lot of adverts. I am particulary offended by the clips they show of Eastenders of people continuously SHOUTING at each other. I just don't want to watch any of this mindless dribble. The BBC has also been heavily promoting Pure Dab Radios in both adverts and in programs.

Rant end!

The licence fee is an outdated way to finance a broadcasting service.

trevorjharris's 367 posts

trevorjharris: "You cannot be imprisoned for TV Licence evasion although you can be imprisoned for non payment of a fine imposed by the court."

BBC - Press Office - TV Licence Fee: briefing

"Repeats on BBC One will increase, but remain under 10% of all output (the current rate is 8.4%)."

BBC One - Wikipedia, the free encyclopedia

"BBC One - A small reduction in the number of new factual, comedy or entertainment programmes or feature films broadcast after the 10 o'clock news. Replaced by repeat programmes from BBC One and other channels; peak-time repeats would increase by around one per cent overall, but would remain below 10 per cent"

http://downloads.bbc.co.u….pdf

Briantist's 38,908 posts

Just found this

Courts Jail 107 People For Not Paying BBC TV Licence Fines

"The BBC has come under fire after official figures showed that 107 people had been jailed in just over two years for failing to paying fines for not having a TV licence."

"Previously it was revealed that over 180,000 people appeared in court during 2012 over accusations of watching television without paying for a licence, which comprised a tenth of all court cases."

This must be costing a fortune. We could reduce the crime rate by 10% just by getting rid of the licence fee.



trevorjharris's 367 posts

trevorjharris: Yes, as I pointed out above: "You cannot be imprisoned for TV Licence evasion although you can be imprisoned for non payment of a fine imposed by the court."

By your reckoning then everyone should be able to shoplift from Tesco and there be no comeback.

The costs of court are passed on to the sentenced party. It's costing a fortune for people who break the law.

Briantist's 38,908 posts

I enjoy watching these 'cops & robbers' documentaries where we see the Police breaking down doors in order to search premises which are often quite squalid but invariably contain a top of the range TV. Invariably the police find nothing. Perhaps just out of interest they might ask the occupant(s) to show their TV licence, which could be entertaining? I suspect having no TV licence is not considered a criminal offence, but if I was a policeman unable to find anything else I think I would enjoy the satisfaction of shopping someone without a licence.
Of course the dog may have ate it.

Jack Luxon's 33 posts

According to the Daily Mail (yes I know) a third of BBC 1 programs were repeats in 2012. Across all BBC channels it is 2 thirds. The 8.4% is for peak times only (6:30 to 10:30)

http://www.dailymail.co.u…html

trevorjharris's 367 posts
Select more comments
Your comment please