14 reasons why you should stop moaning about paying the TV Licence every day

Brian Butterworth
published on
UK Free TV
I think I have lost count of the number of times that people have objected to this site being called UK Free TV. But, they say, the TV Licence (c and c, as we are British) costs £145.50 a year.

It is true, of course, as you can find out from TV Licensing (c and s this time). If you have any device that you can watch TV as it broadcast, you need to pay up.

Going into a local store to buy a brand-new off-contract phone recently, I noted with interest that you can also get it for "free", but only if you pay for a contract. This reminds me of the excellent quote from 1984 by George Orwell:

To give a single example. The word free still existed in Newspeak, but it could only be used in such statements as "This dog is free from lice" or "This field is free from weeds" ... Reduction of vocabulary was regarded as an end in itself, and no word that could be dispensed with was allowed to survive.

Last month we looked at Does the BBC or BSkyB spend more on programmes?, so it is only fair to consider the cost of the rest of the free channels.

So here is a graphic comparing the daily cost of TV from the main UK broadcasters: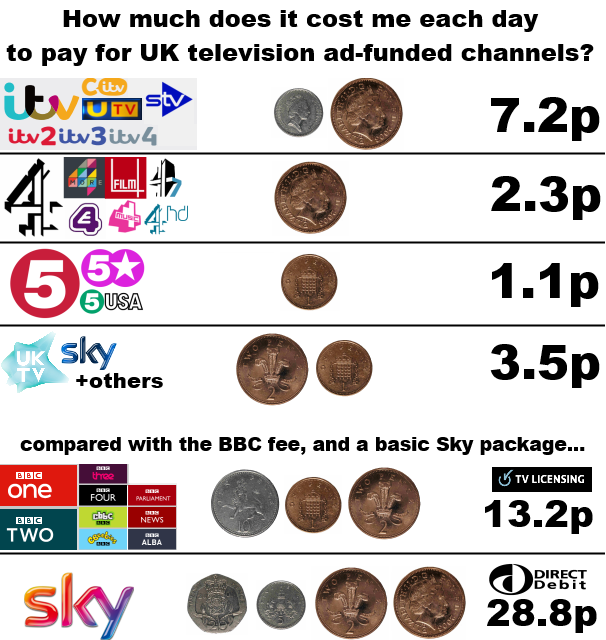 The first row shows the joint total for ITV, STV and UTV. It is worth noting that the Channel 3 broadcasters provide a regional news service on their main channels: however some channels such as itv3 and c-itv are wholly archive.

The second row shows the figures for Channel 4. This channel is a UK-wide service with no expensive regional programmes. The other channels from this broadcaster are archive TV shows and movies.

The Channel 5 services have some first-run UK content, but a large proportion of the output is from US broadcasters. These imported programmes are cheaper to show as they have been funded by their broadcast in other markets: the USA has a population five times that of the UK.

The fourth line is the figure for "all other broadcasters". This includes the likes of UKTV (a BBC/Scripps joint venture) and channels that use BSkyB to sell their advertising time.

It is worth remembering that the above figures for the cost of advertising only include the cost of airtime paid directly to the broadcaster. The real cost of advertising that is passed onto consumers also includes the cost of scripting and producing the adverts and also paying the actors, voice talent and musicians.

I have not been able to come up with a figure for this, so did not include it. Of course, this is passed onto you, the consumer.

For comparison, the BBC fee income has been reduced by 20% (to account money spent on national and local radio stations), and factored to represent the average 2.4 people-per-household in the UK. Also shown is the most-basic £21.50 Sky package.

The BBC still seems good value for money. These commercial broadcasters spend 20% of their airtime on adverts, not programmes. The BBC runs two channels of first-run UK content, with a large network of regional studios.

The "old argument" against the BBC taking advertising still holds: it would clearly put ITV plc out of business in minutes.
Comments
Thursday, 6 February 2014

Quote... "It is true, of course, as you can find out from www.tvlicensing.co.uk link icon TV Licensing (c and s this time). If you have any device that you can watch TV as it broadcast, you need to pay up." ...Unquote

This is not true. You need to be covered by a valid TV Licence if you watch or record TV as it's being broadcast. This includes the use of devices such as a computer, laptop, mobile phone or DVD/video recorder.

You can own as many TVs, computers, laptops etc as you like, you only need a TV licence IF you watch or record live broadcasts. If you only watch DVDs or catch up services or Netflix or Lovefilm etc then you do not need to pay up.

D Dexter's 1 post
Tuesday, 11 March 2014

The television licence is good value for money and is a lot cheaper than most peoples' newspapers/magazines annual bill !!

Wllie Bone's 58 posts
Tuesday, 29 April 2014

The TV licence will be abolished sooner or later. Future generations will scratch their heads, wondering why people were forced to pay for the BBC and not other channels.

Want to watch a channel? Buy a subscription, or don't. Simple as.

Carl's 1 post

Carl: Since brianist did a whole article about the costs of subscription, BBC 2017: The problem with turning Freeview into Payview to keep the 3% happy | BBC 2017 | ukfree.tv - 11 years of independent, free digital TV advice , could you outline how this is to actually work on a practical level? I would suspect that it is not 'simples'.

MikeB's 2,579 posts

Carl
The TV licence is not actually to pay for the BBC but a permit to allow you to operate a broadcast receiving equipment such as a TV set. The money collected goes straight into the general 'coffers' of the government. That they happen to dole out some of the money they collect in taxes, etc to run the BBC is purely incidental.

MikeP's 3,056 posts
Select more comments
Your comment please