Your suggestions (and my corrections) for 2014 please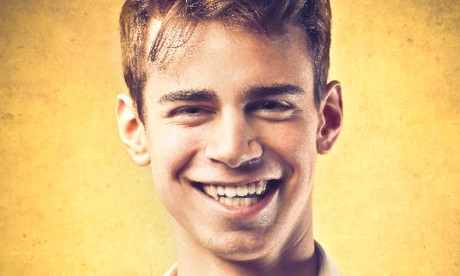 Brian Butterworth
published on
UK Free TV
Firstly, here is a list of some of the "backend" changes I have made to UK Free TV.


Special transmitter details
Caldbeck (Cumbria, England) transmitter
now shows the ITV
Border England
and ITV
Border Scotland
services
.

Ridge Hill (County of Herefordshire, England) transmitter
: I have merged together two entries for
Ridge Hill
(a legacy of the
analogue
ITV-1 service, back in 2006 -
ITV West extended to North Gloucestershire
) and the ITV
West
service is now shown on the same page as all the rest.

Rowridge (Isle Of Wight, England) transmitter
: Thanks to serling work from
Sean
we now have notification from Arqiva about the correct transmission details for com7 and com8 from that
mast
.

Transmitter Meta Tags
If you search on Google and get information up about transmitters from UK Free TV, the "meta" information now shows the correct number of multiplexes and all of their
channels
and powers.

Interfaces with Twitter and Facebook
I have obtained better icons for the sites listed in the
Zeitgeist
section. So, if you look at a "Read This" page, you see a better look, for example
Read this: London Live reveals its bright lights for the big city - Media - theguardian.com
now looks like
When such a page is posted on Facebook, it now keeps the correct large icon: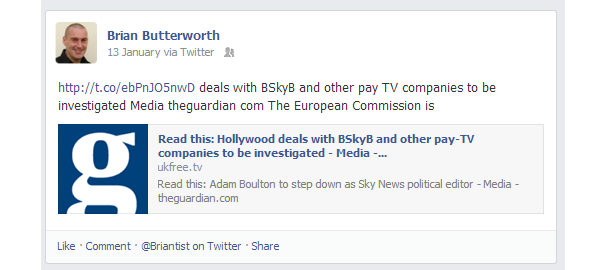 And pages posted on Twitter now get the full format for the extended tweet:
http://t.co/KAbovDRm8o MikeB has posted Mike Dimmick Hopefully certain parties might read your summing up of the BBC 039 s benefits put

— Brian Butterworth (@Briantist) January 15, 2014
Over to you
One in 20 people from the UK visited UK free TV last year. I would love to be able to extend the site to make it useful to more people.
I would love you to tell me how the site could be made even better so we can
help
even more people enjoy
Freeview
,
Freesat
,
Sky
(No
Card
) and online TV viewing.
Comments
Sunday, 26 January 2014

Charles Stuart: Click on "Digital UK tradeview" seen in the selection box at the right hand side of your posting and you will see that 195° is indicated as the bearing for Mendip using your post code and with 196° being indicated on Wolfbanes site, this being seen by opening the undermentioned link.

The other point being, as mentioned by Dave Lindsay its not really that critical, however this mostly applies to reasonably near to line-of-sight situations no mater what distance might be involved but though it can become more critical in difficult reception areas, although the final trimming up is done with reference to a proper signal meter and not a compass bearing.

UK digital TV reception predictor

jb38's 7,179 posts
Friday, 21 February 2014
C
Colin Swan
7:37 PM
Dingwall

On the TV Transmitter regions - overview map page the SKRIAIG Region Transmitter is shown on the wrong Scottish Island.
SKRIAIG is on the Isle of Skye which of course is very close to the mainland and not on the Island of North Uist in the Outer Hebrides which is some distance from the mainland.
Also when I enter my postcode to find my Freeview transmitter I am shown the wrong relay station Fodderty which in no way covers Conon Bridge where I stay at IV7 8HE.
All TV coverage in Conon Bridge comes from Auchmore Wood which is clearly visible from all rooftops!
I hope this information helps you to improve this excellent web-site.

Colin Swan's 12 posts
Colin's:
map
C's Freeview map
terrain
C's terrain plot
waves
C's frequency data
C's Freeview Detailed Coverage
Sunday, 23 February 2014

I have been a member of UK tv for a number of years now and have contributed and have also been interested in other contributors comments etc.

I have asked 9in the past ,but have not had a reply, when I get an email from your site obviously something has triggered this. Usually (from other members sites) an email is received when there has been an answer to one of my comments o an original post.

Today I have received an email but due to the change in layout I cannot find any of MY contributions' and there is nowhere that I can setup my preferences.

Your help will be most appreciated.

Brian Wright

Brian Wright's 77 posts
Thursday, 27 February 2014

How does the Caldbeck transmitter send different news feeds to ITV Border (Scotland) and ITV Border (England)? Are there 2 separate transmitters from the one aerial system?

Colin Swan's 12 posts

Colin Swan: Yes.

The three PSB channels are effectively duplicated. The Scotland variants, I believe, broadcast directionally towards Scotland.

Dave Lindsay's 5,724 posts
Friday, 28 February 2014

Thank you Dave,
Are you sure there are now 2 transmitters at Caldbeck with all PSB channels duplicated except when the Scotland and England news feeds are different?

Colin Swan's 12 posts

Colin Swan: Yes!

See this sample location:

Coverage Checker - Detailed View

Dave Lindsay's 5,724 posts
Tuesday, 12 March 2019

Just one small point. My local site is listed as Gartley Moor. It's actually Gartly Moor.

Thanks.

Ken's 1 post
Wednesday, 13 March 2019

Ken:

Digital UK, who are responsible for the transmitters on behalf of Arqiva, list if at Gartley Moor, see Coverage Checker - Detailed View As I don't live in that area I cannot be sure which is correct.



MikeP's 3,056 posts
Select more comments
Your comment please