Are we going to get BBC local radio on Freeview in England?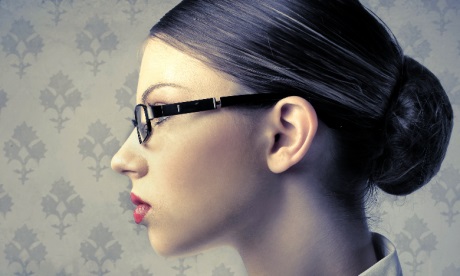 Brian Butterworth
published on
UK Free TV
The BBC standard definition Freeview multiplex operates at a bitrate of 24.1Mbps. That is actually enough to carry over 380 digital radio stations (in monaural 64kbps).

Given that some of this capacity is used for the "national" services for Wales (Radio Wales, Radio Cymru), Scotland (Radio Scotland and Radio nan Gaidheal)) and Northern Ireland (Radio Ulster abnd Radio Foyle) it seems a bit of a shame that Freeview users in England do not get their local radio stations. According to a516digital: BBC local radio spotted testing on Freeview in West Midlands there are tests going on.

I thought it might be useful to think about how this might work in practice.

The BBC can't really sub-region the TV regions to get them down to "county size". This would require doubling (or more) the number of expensive stat-mux points, and making changes to the already-complex Freeview broadcasting arrangements.

So, it seems to me the obvious track is to add the appropriate several stations to each TV region. This could be done with existing equipment and no changes to the broadcast system.

You would end up with something like this:


CAMBRIDGE PSB1
732 BBC Radio Cambridgeshire
754 BBC Radio
Northampton
766
BBC Three
Counties Radio (duplicated)
CHANNEL ISLANDS PSB1
740 BBC Guernsey
743 BBC Radio Jersey
EAST PSB1
738 BBC Essex
753 BBC Radio Norfolk
762 BBC Radio Suffolk (not on
DAB
yet)
EAST MIDLANDS PSB1
736 BBC Radio
Derby
(not on DAB yet)
747 BBC Radio
Leicester
755 BBC Radio
Nottingham
EAST YORKSHIRE AND LINCOLNSHIRE PSB1
742 BBC Radio Humberside
748 BBC Lincolnshire (not on DAB yet)
LONDON PSB1
738 BBC Essex
(duplicate - Don)
749
BBC London
94.9
763 BBC Surrey
766 BBC Three Counties Radio (duplicated)
NORTH EAST AND CUMBRIA PSB1
735 BBC Radio Cumbria (not on DAB yet)
752 BBC
Newcastle
765 BBC Tees
NORTH WEST PSB1
745 BBC Radio Lancashire
750 BBC Radio Manchester
751 BBC Radio Merseyside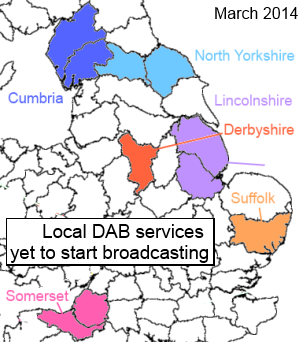 SOUTH PSB1
730 BBC Radio Berkshire
759 BBC Radio Solent
764 BBC Sussex (duplicated)
SOUTH (OXFORD) PSB1
756 BBC
Oxford
SOUTH EAST PSB1
744 BBC Radio Kent
764 BBC Sussex (duplicated)
SOUTH WEST PSB1
733 BBC Radio
Cornwall
737 BBC Radio Devon
WEST PSB1
731 BBC Radio Bristol
739 BBC Radio Gloucestershire (duplicate
Anthony
)
760 BBC Somerset (not on DAB yet)
767 BBC Wiltshire
WEST MIDLANDS PSB1
768 BBC WM
734 BBC Coventry and Warwickshire
739 BBC Radio Gloucestershire
741 BBC
Hereford
and Worcester
758 BBC Radio Shropshire
761 BBC Radio Stoke
YORKSHIRE PSB1
746 BBC Radio Leeds
757 BBC Radio
Sheffield
769 BBC Radio York (not on DAB yet)
An additional thought - now
Sky
won't charge the BBC for EPG listings anymore - and not that Sky had much in the way of radio EPG listings - but it might be possible for the local radio (England) services to make their way onto Sky and
Freesat
.
Comments
Tuesday, 4 March 2014

andrewp: Having done a search on the whole of the internet, I can come up with ONE reference to "Ridge Hill" AND "Points West".

It's in the Freesat BBC Trust consulation, and it says

http://www.bbc.co.uk/bbct….txt

"Winchcombe Business Forum .... I live in Winchcombe, Gloucestershire. We are on the border of TV regions, so it is difficult to receive local news via terrestrial television. We do have a local Winchcombe transmitter,
but this is just a repeater of the Sutton Coldfield transmitter and so carries news from Birmingham (we see news from Cheltenham and Gloucester as being local). Most aerials are either pointed at Sutton Coldfield or, for the few with line of sight, the Ridge Hill transmitter. It would appear that since our local transmitter has only 4 transmission channels it will not be possible for it to carry all channels of Freeview after switchover and clearly if it still carries the same programs as the Sutton Coldfield transmitter (and therefore no local news) then it will still not be used. It would appear that the only way for us to get local news at all is via digital satellite (and BBC Points West). It is worth pointing out that we can't receive local advertising either, which has an impact on businesses. Even now Sky does not show our correct ITV region (ITV West) and you have to add it manually by adding it as an additional channel. "

I'm really sorry to say this, but your posting has an air of "complete fantasy" about it.

There's THIS Wrong Local News - Page 2 - Help & Support Forum

" BBC West Midlands is however the correct region for Cheltenham, and is the only adequately receiveable BBC region as far south as Cirencester."

Briantist's 38,906 posts
Thursday, 6 March 2014

Many areas of the country have a regional and/or local sense of community that is not reflected by the television as the TV editorial areas are based on the service area of a transmitter rather than a defined region such as Yorkshire.

For example if one lives in Scarborough and works just down the road in Bridlington then the BBC local evening news comes from different studios as the coverage of the county is split with BBC local news coming from three studios which are:
' Hull studios (Belmont + relays) for East Yorkshire and Lincolnshire;
' Leeds studios (Emley Moor + relays) for North, South and West Yorkshire (but excluding most of Harrogate/Northallerton/Ripon/Whitby areas);
' Newcastle studio (Bilsdale + relays) for the part of North Yorkshire that covers Northallerton, Richmond and Whitby but the main news coverage is for Teesside, Tyneside & Cumbria.

A county that still has its own identity needs to have a media that is relevant to its communities and that is why the region still has a daily newspaper The Yorkshire Post as well as many local weekly newspapers and commercial radio stations, such as Stray FM and Yorkshire Coast Radio, that cover areas to which people relate. Unfortunately BBC local radio editorial areas tend to be based on administrative counties rather travel to work areas or traditional county boundaries such as Yorkshire and its East, North & West Ridings.

Therefore I would suggest that in order to cover North Yorkshire BBC Radio York to be available via Freeview that it needs to be on North East & Cumbria region as well as the Yorkshire region.

J Peter Wilson's 30 posts

J Peter Wilson: As a fellow Yorkshireman I agree.

I watch BBC Look North (Yorkshire) which carries stories and OBs from Whitby, Northallerton, Kirkbymoorside and other parts of "North Yorkshire" despite the fact that it is impossible, or nigh on, to receive that region via terrestrial means.

I am in Donny and like to hear about these places. But of the Yorkshire coast it is only Whitby, Scarborough and possibly Filey which get a mention. I would like to hear of news from further down including Brid and 'ull.

Dave Lindsay's 5,724 posts
Saturday, 8 March 2014

Erm what about south Cumbria who receive the BBC from Manchester not Newcastle?

Will's 20 posts

BBC tv I mean

Will's 20 posts

I have always been of the opinion that the transmitters and their sites were badly thought out for the Yorkshire region.
For instance;
The Bilsdale transmitter should carry programmes for North Yorkshire, wth the northern part of it's coverage for Durham being mopped up by increased power from Pontop Pike.
The Belmont transmitter was never needed. East Yorkshire and North Lincolnshire could have been catered for with a transmitter at High Hunsley (Where there is an existing FM radio transmitter site).
South Lincolnshire and North Norfolk could have been covered from the Waltham transmitter, if it wasn't so under powered and relatively low in elevation.
I am sure there would have been problems with channel allocation, but not insurmountable ones.
In regards to the local news coverage, at least the BBC try to give some semblance of a regional flavour - ITV have given up!

Mark Jefferson's 4 posts
G
GEM
8:31 PM
Sturminster Newton

Before we all talk about Local Radio on Freeview think about those who do not have a local Radio, Dorset is one county (mine)!

GEM's 14 posts
GEM's:
map
G's Freeview map
terrain
G's terrain plot
waves
G's frequency data
G's Freeview Detailed Coverage
Sunday, 9 March 2014

GEM: Dorset is included in the Radio Solent service area. DAB coverage is sparse at present from Nine Barrow Down and Winterborne Stickland, not sure how effective the FM signal is from Bincombe Hill.

KMJ,Derby's 1,811 posts
Tuesday, 18 March 2014

Received BBC Radio WM 95.6 after doing a scan with my PC Freeview stick and DVBviewer.
I could hear this station come through.
This was received from Sutton Coldfield and labelled "Service 6149".

Matt's 22 posts
Wednesday, 14 May 2014

It's great to see that BBC local radio is now being broadcast on Freeview. However it rather disappoints me to see that BBC Radio WM is only broadcasting in mono on that platform? Can you tell me why?

I don't think it's my audio equipment as all other radio broadcasts via Freeview sound ok, but I've found the audio on BBC Radio WM on there can sometimes sounds very harsh with a lot of scratchy type sounds particularly when they're broadcasting listeners calls live on air. Has anyone else noticed this? I switched to BBC Radio WM on FM at the same time on the same piece of equipment & the audio there sounded perfect.

Do you know if there are plans to put other BBC local radio stations on Freeview?

John Gleeson's 13 posts
Select more comments
Your comment please