BBC 2017: The problem with turning Freeview into Payview to keep the 3% happy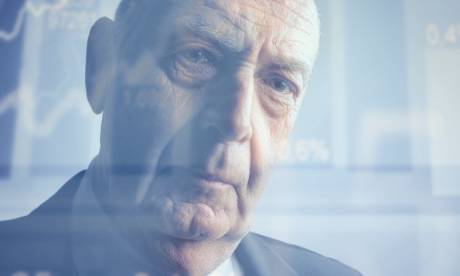 Brian Butterworth
published on
UK Free TV
In my almost all of my previous writings in this BBC 2017 section, I have been looking at either keeping the BBC as it is, or turning it into BBC plc in a near-future without public service broadcasters.

Another possibility is that the BBC keeps the status of being a public service broadcaster.


BBC remains "public service broadcaster", BBC fee opt-out, Virgin/Sky required to charge special low fees
One of the problems for the BBC plc option is that the BBC would be required to pay the going-rate for the encryption (which would be £62 a year). This would mean that the BBC could collect the current level of income by a monthly charge of £14, if the BBC fee was made opt-out. Non-payment of the BBC component of the bill would block BBC
services
.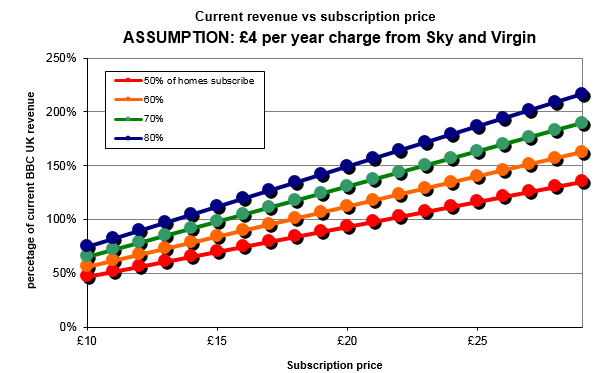 If the payment was opt-in, this might require the fee to be raised to £18 to get 60% of homes on board.
However, there is an "elephant in the room" in this plan. Which are the 10.3 million homes that use
Freeview
alone.
The following is an
Ofcom
diagram showing the take-up of the
digital
TV platforms in the 2002-2011 period.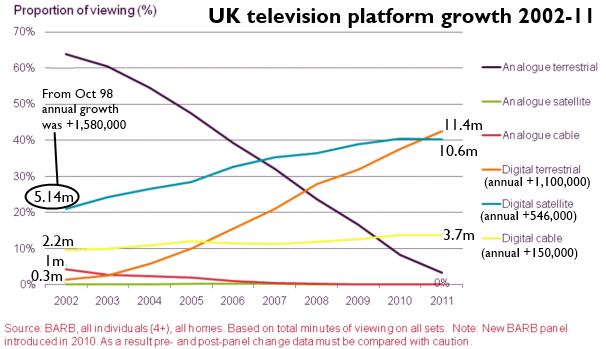 The staggering growth of Freeview, which added 1.1 million homes a year, and the initial launch of
Sky
Digital which managed 1.6 million homes per year were both quite an achievement.
However, you then have to ask how long, using these adoption rates, it would take to convert 10.3 million homes to have pay-DTT. This diagram gives the answers.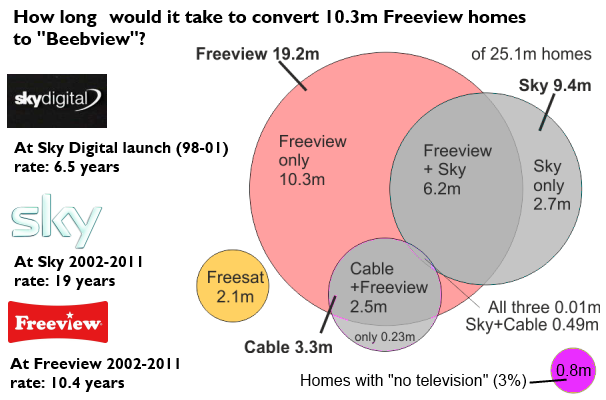 In addition to the timescales there are a number of issues to be dealt with:
Who is going to want to buy a BBC
subscription
box ahead of the time that it can be used? There is no consumer benefit.
If the BBC is not transformed into a cash-rich public company, how can it fund the boxes? With no
prediction
of future profit, who would invest in "Beebview", especially given the scale of the project?
Given the "postcode lottery" of DTT
reception
, a package that also included subscription would be beneficial to those with eight
multiplex
coverage, and useless to homes with Freeview Light's three multiplexes.
Long term internet television boxes could provide an answer, but they still unlikely to see an adoption fast enough.
Who benefits
It seems that even a legislated solution to ensure that Sky and Virgin do not profit from the BBC would still require the biggest-ever technology roll out to encrypt the BBC services on DTT.
It seems that keeping a the vocal minority of 3% who do not wish to contribute happy, would cost everyone else (including Sky and Virgin) "big bucks".
Comments
Wednesday, 2 April 2014

Where do you get the 3% figure from ? My guess is that about 40% would like the licence fee to be abolished.

In all you calculations you make the assumption that the BBC will remain at its current size. Many have the view that the BBC is too big and think it should reduce in size. Another assumption is that the BBC should raise the finance by subscription alone. I believe the BBC would best be financed by a combination of adverts and subscription with one or two free to air channels.


trevorjharris's 367 posts

trevorjharris: in this piece I'm considering a version of the status quo: 3% of homes claim to boot have a tv.

Briantist's 38,906 posts

Look I'm comparing my fact with your guess... Again.

Briantist's 38,906 posts

Another way of looking at is

http://downloads.bbc.co.u….pdf

"As you will read from some of the data in this report, it is encouraging to see that despite the plethora of media choices available to the UK audience nowadays, 97 per cent of the UK population choose to spend an average of over 19 hours a week consuming BBC services across TV, Radio and Online. "

Briantist's 38,906 posts

Or this way http://www.barb.co.uk/vie….pdf

BARB Quarterly Reach - Quarter 4 2013 (Individuals 4+)

TOTAL TV 99.7%

BBC1 98.2%
BBC2 92.8%
BBC 3 78.1%
BBC 4 59.5%
BBC News 41.7%
CBBC 24.7%
Cbeebies 27.1%
BBC 301 12.7%
BBC Parliament 6.8%


Briantist's 38,906 posts

trevorjharris: Once again, you've guessed a figure in your head, rather than using actual data. Its true if you ask in the average saloon bar/Daily Mail readers comments about getting rid of the licence fee, you might get 40%. However, when they try to think up an alternative, it gets difficult....

And we've already been through the advertising problems, there simply isn't enough cash to cover all the outlets. True, Sky manages the neat trick of getting people to pay to watch advertising, but its not easy to see how this would work elsewhere. And its worth remembering that its ad revenue for 2013 was static at £440m, out of a total revenue stream of over £7 billion. And how would the BBC pay for those Free-to-air channels?

MikeB's 2,579 posts

Brian its going to happen in the next 10 years or so anyhow ,why defended a type of funding that`s had its day. If you are so sure people will want to continue with the BBC then subscription ,will prove it, because those who want it, will ,you guessed it subscribe.

Richard E's 42 posts

Richard E: Thanks for your comment.

I'm a little disappointed: In the last two weeks I've game-planned 20 different options for the future of the BBC from 2017, and I have provided extended analysis and I hope a little insight.

But, I have not expressed an opinion, so please don't characterise what I have written as such.

I don't see how I'm supposed to be defending the status quo, honestly. BBC, plc 2017: BBC announcement | BBC 2017 | ukfree.tv - 11 years of independent, free digital TV advice was clearly a game-play of the BBC plc by subscription.

Anyway, as you DO have an opinion, then I'm all ears to understand, if you are correct that subscription is the way ahead, how you expect the 10.3 million homes (with at least 5.2 million PVRs) to switch to subscription.

I'm just interested to know who is going to provide the hardware, the funding and do the installations.

If you can also let me know who will run the DTT subscription system - given that several previous attempts have been total abortions - that would be great too.

I look forward to your explaining "the obvious" to me.

Briantist's 38,906 posts

Thanks Brian , In the 90`s Channel 5 sent people to retune vcr`s ,in some area`s before scart sockets were invented . It was a big task ,but carried out . I am sure a method could be found & agreed to bring in subscription. The funding, for this may have to come from the Treasury or even the Lottery ,to get the technical side of this up & running ,but this is not impossible,I know you are the expert, but the way technology is evolving ,in ten years time we will wonder what all the fuss is about. I agree, I maybe totally wrong , but the future looks interesting at least .

Richard E's 42 posts

Richard E: Oh, I remember preparing the BT bid for that retune: VCRs has been set to use C35 by default C21 (474.0MHz) before switchover | ukfree.tv - 11 years of independent, free digital TV advice


Retuning the key factor for Channel 5 - Business - News - The Independent
thisisfive.co.uk > THE STORY OF FIVE

"Saatchi & Saatchi were appointed to help with the task of retuning around 3 million VCR's. Channel 5 had to visit ten million homes to check all households which could be affected. The retuning campaign cost £5million, with Saatchis responsible for through-the-line advertising. "

As I recall we didn't put in a sensible bid because there was excessive worry about having so many visits to people's homes: it was a easy route for con-men to find their way into vulnerable people's homes.

But .. when a home was visited, if anything was done, and most often it wasn't , then it was a 10 second job with a screwdriver.

It doesn't really compare with setting up a whole new subscription system, sourcing TWO BILLION POUNDS of hardware to fit into people homes. And that's before you remember that people use Freeview on second sets when they have Sky as their primary in 6.2m more homes. Most homes have more than one Freeview TV when they have Freeview.

The hardware costs are just the start of it, if you need to do home installs, they are not cheap.

I don't know if you've notice but The Treasury is rather strapped for cash at the moment, and it would be an illegal use of Lottery funds.

Briantist's 38,906 posts
Select more comments
Your comment please