BBC 2017: The problem with turning Freeview into Payview to keep the 3% happy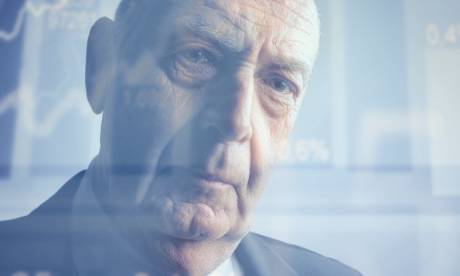 Brian Butterworth
published on
UK Free TV
In my almost all of my previous writings in this BBC 2017 section, I have been looking at either keeping the BBC as it is, or turning it into BBC plc in a near-future without public service broadcasters.

Another possibility is that the BBC keeps the status of being a public service broadcaster.


BBC remains "public service broadcaster", BBC fee opt-out, Virgin/Sky required to charge special low fees
One of the problems for the BBC plc option is that the BBC would be required to pay the going-rate for the encryption (which would be £62 a year). This would mean that the BBC could collect the current level of income by a monthly charge of £14, if the BBC fee was made opt-out. Non-payment of the BBC component of the bill would block BBC
services
.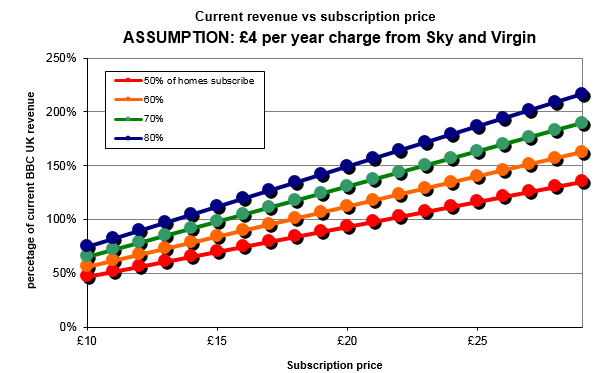 If the payment was opt-in, this might require the fee to be raised to £18 to get 60% of homes on board.
However, there is an "elephant in the room" in this plan. Which are the 10.3 million homes that use
Freeview
alone.
The following is an
Ofcom
diagram showing the take-up of the
digital
TV platforms in the 2002-2011 period.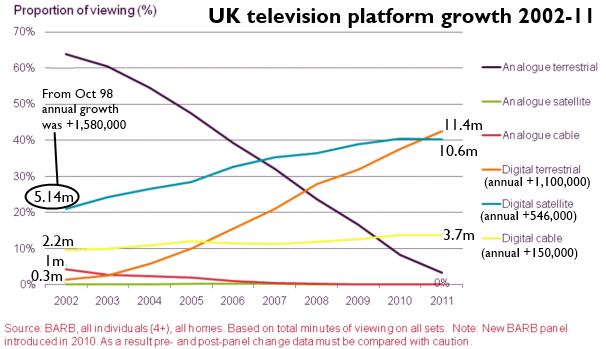 The staggering growth of Freeview, which added 1.1 million homes a year, and the initial launch of
Sky
Digital which managed 1.6 million homes per year were both quite an achievement.
However, you then have to ask how long, using these adoption rates, it would take to convert 10.3 million homes to have pay-DTT. This diagram gives the answers.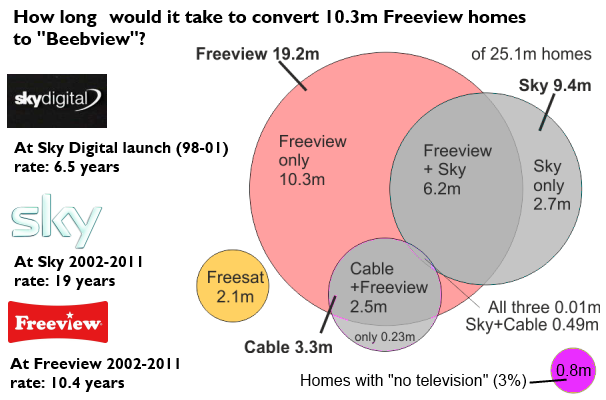 In addition to the timescales there are a number of issues to be dealt with:
Who is going to want to buy a BBC
subscription
box ahead of the time that it can be used? There is no consumer benefit.
If the BBC is not transformed into a cash-rich public company, how can it fund the boxes? With no
prediction
of future profit, who would invest in "Beebview", especially given the scale of the project?
Given the "postcode lottery" of DTT
reception
, a package that also included subscription would be beneficial to those with eight
multiplex
coverage, and useless to homes with Freeview Light's three multiplexes.
Long term internet television boxes could provide an answer, but they still unlikely to see an adoption fast enough.
Who benefits
It seems that even a legislated solution to ensure that Sky and Virgin do not profit from the BBC would still require the biggest-ever technology roll out to encrypt the BBC services on DTT.
It seems that keeping a the vocal minority of 3% who do not wish to contribute happy, would cost everyone else (including Sky and Virgin) "big bucks".
Comments
Thursday, 3 April 2014

Apropos "authorisation". The OED no longer sets the trend, it belatedly follows it. Statistically, "z" has long since been overwhelmed by "s", except in the US and Canada. That said, either must be accepted. As an academic linguist, I use "s". With reference to the BBC and the World Service, I would observe that poor English is far too often heard, both in terms of English usage and of clear articulation. Regional dialects and second-language announcers are most welcome, but clarity of diction is essential to effective communication. Different registers should be observed. Text messages and internet blogs have their own freedoms, which should not impinge on "standard English".

Hold on now while I step down from my soap-box...


michael's 869 posts

michael: I use my old BT corporate style guide "Right for your Reader" as the rule-book for this site.

Briantist's 38,908 posts

michael: It's worth pointing out that BBC World, the TV news service is part of BBC Worldwide and makes of (modest) profit.

The thing that costing lots of money (£255.2m) is the BBC World Service, which is a network of radio stations in *Arabic
Azeri, Bengali, *Burmese, Cantonese, *French for Africa, *Hausa, *Hindi, *Indonesian, *Kinyarwanda, *Kirundi, *Kyrgyz, *Nepali, *Pashto , *Persian ,Portuguese for Brazil ,Russian, *Sinhalese, *Somali, Spanish for Latin America, *Swahili , *Tamil ,Turkish ,Ukrainian, *Urdu , *Uzbek and Vietnamese plus TV services in Arabic and Persian. (* for main service).

I'm guessing when you say that "the World Service is a shadow of its former self" you're judging this by the output of the English Language for Europe?

Briantist's 38,908 posts

MikeB: 'if Sky and Virgin can do it, why not the BBC?' is also done whilst forgetting the BSkyB burned though losses of £2.479 billion [1] from the launch of Sky Digital 1998-2002, and they made no profit to 2007, and a loss again in 2008.

[1] BSkyB - Wikipedia, the free encyclopedia

Briantist's 38,908 posts

Briantist: 'whilst forgetting the BSkyB burned though losses of £2.479 billion [1] from the launch of Sky Digital 1998-2002, and they made no profit to 2007, and a loss again in 2008.'

Absolutely! Although you could argue that News Internationals 'interesting' tax arrangements might have played a role...

Security isn't cheap, which shows again that the subscription model for the BBC means for the moment that the game simply isn't worth the candle.

MikeB's 2,579 posts
Friday, 4 April 2014

Briantist:
I would strongly recommend leaving 3G out of the equation as its coverage is not sufficient to satisfy the viewers in almost all areas, only a mjority of areas can use it and significant numbers cannot. Where I live, rural North Wiltshire, there is no 3G signal at all (shown by a visitor's 3G dongle getting zero signal) and we are by no means unusual.
With the know better coverage of the 800 MHz band, that would possibly give a more complete reception and possibly good enough for this usage - but it will need to be validated by proper field tests. So 4G my have a use after all!

All three of my dictionaries and both computer spell checkers (set to English UK rather than English US) insist on use of the 's' and not 'z'. A school teacher friend tells me the mark down work using the 'z' spellings for English papers. So I go with what I was taught to be correct English spellings and what a current school teacher, who is also an exam marker, recommends. One of my jobs before retirement was as a Technical Author for a world-wide software house in the EDA area and they generally used English US spellings and grammar, so I am well used to the differences but still much prefer the English UK forms.

MikeP's 3,056 posts

Brian, no personal gripes, but the BT guide is probably as reliable as BT, which has over years provided this location with extortionate and abysmal service. My father worked in days where pride in working for the GPO resulted in a good service. Modern management has all but destroyed this, as free-speaking technicians have confided. Regarding English usage, I concur with MikeP.

Apropos BBC World Services : I can follow five of the languages listed. My impression covers all of them. I used to be an avid listener in precarious locations and reiterate my observations over time. Sadly, in many countries the BBC is now (wrongly) perceived to be a propaganda arm of the UK government. This was not prevalent in my earlier years in areas of conflict.

That is, however, subordinate to the issue of the future of all BBC services and their funding. A lot of savings could be made whilst improving overall standards. In the UK, the BBC should, in my opinion, concentrate on being a genuine public service and leave much popular programming to advertising-dependent commercial services. Viewing statistics should not be determinant criteria.

michael's 869 posts
Saturday, 5 April 2014

michael: I don't mean to be rude, but

a) this is my site, I make the rules;

b) I have been a professional (ie, paid) writer since I was in my teens. You might recall I used to write for Personal Computer World back then.

c) I have chosen to use a rulebook that I was given, and treasured, many years ago. As you've NEVER SEEN "Write For Your Reader" (as it's distribution was to "BT Managers Only") I find your dismissive comments rather unworthy of you.

I can assure you that "Write for Your Reader" is neither the product of the GPO (I'm too young for that) or "Modern Management" as I got it around 1991 during the "Project Sovereign" era, when BT was discovering what management was. BT Archives

d) I was told by my writing mentor many years ago to "pick a rule book and stick to it" as consitancy is what matters above all.

Briantist's 38,908 posts

MikeP: The idea of having a cheap GPS+3G chipset in the box is just for the return path for the decryption key access. It's only going to be a few hundred bytes a day. It would use it like the Amazon Kindle's do for "whispernet".

Briantist's 38,908 posts

Briantist

The point is that some areas have *no* 3G coverage at all so any attempt at communication, either way, in that band is bound to fail in unserved areas - and there's enough of those for it to be not worth considering as a 'national' means of decryption control. GPS is another matter but there are still 'not spots' so I would imagine 4G would be a better solution providing it performs sufficiently well in coverage terms durinmg tests. Computer predictions are notoriously inaccurate still (F1 teams are finding that, especially Ferrari last year when wind tunnel results were very different from the predicted information from the computer modelling).

MikeP's 3,056 posts
Select more comments
Your comment please