Can I receive UK free-to-view TV in Southern Spain?

Brian Butterworth published on UK Free TV
You will only be able to get the services on the Astra 2A satellite (and then only Transponders 1, 2, 5, 6, 9, 10, 13, 18, 22, 37) and ASTRA 2B (transponders 14, 17, 21, 25, 26, 29, 30, 33, 34, 38):

ScreenShop
Price-Drop TV
TV Travel Shop
TV Travel Shop 2
TCM UK
CNN International
Travel Channel
Travel Deals Direct
BBC Parliament
S4C Digidol
S4C2
You TV
Goldshield Vitality
Create and Craft
Zee Music
Ideal World
ITV News Channel
QVC UK
Bid-up.TV
Sky News
TV Shop UK
Reality TV
TV High Street
The Shopping Genie
TV Warehouse Select
Shop America
TV Warehouse
Vector Direct
JML Direct
Game Network UK
Yes
Shopsmart TV

You will not be able to get any of the BBC and ITVs are all on the Astra 2D satellite: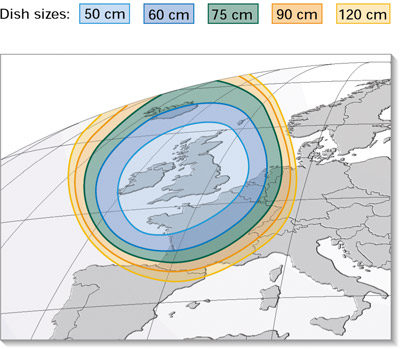 Channel 4 is on Astra 2A: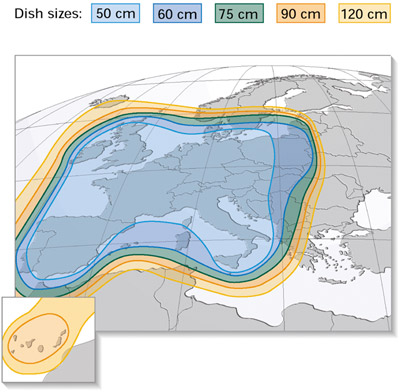 You may be able to get five, but you will need a Sky card to decode it.
Comments
Monday, 31 January 2011

andy: Analogue transmission are now depreciated in Spain, and DVB-T digital services have replaced them.

If you buy a "Freeview" set it is 100% compatible with the services in Spain.

A better idea is a "Freeview HD" set, which will be compatible with future Spanish HD broadcasts.

Briantist's 38,899 posts
Saturday, 5 February 2011

I do not have the room for a satellite dish and currently pay for tv services in the la mata area of Torrevieja. My friend said there was a way to change the digital receiver box (big sat) to another satellite to receive english tv via a dutch satellite - she said it is the same satellite they use to broadcast to the troops in Afganastan - does anyone know what satellite it will be? Thanks

DawN's 1 post

DawN: Your friends is talking utter crud. Sorry.

Briantist's 38,899 posts
Thursday, 10 February 2011

Hi all, moved to Valencia and want to view sky sports and music channels in various rooms.I have just found out that there is no space for a dish on the roof.Does anyone know if I get get this on the internet and what the solution is about multiroom viewing.
I have been told that maybe a few xboxes and a few cards would work.Just would be nice to get some advice about makes and models of equipment.

Mark adams's 3 posts

Mark adams: I'm not quite sure which "this" you are referring to.

Briantist's 38,899 posts

Sorry maybe I'm not very clear but basically I have no dish nor can I install one on the building due to restictions. What other way can I get Sky with just an internet connection.

Mark adams's 3 posts

Mark adams: There is Sky Anytime - Sky Anytime - See something new with Sky Anytime - Find out more - if you want to use it outside the UK you will need a 3rd Party "proxy" service to get around the location restrictions.

Briantist's 38,899 posts

I have a router which I can configure my proxy. Just wasn't sure about the boxes and cards needed.Thanks.

Mark adams's 3 posts

Mark adams: OK.

Briantist's 38,899 posts
Saturday, 12 February 2011

mark:
to get UK TV via internet you will need to use / pay for a VPN, rather than reply on free proxies (you never know who set them up, what they can grab from your connection, and they are here to day, and need chaning tomorrow). Even then, to use the skyplayer you will need to subscribe to Sky TV anyway. and not all channels on sky are on skyplayer.

satandpcguy's 89 posts
Select more comments
Your comment please