Can I receive UK free-to-view TV in Southern Spain?

Brian Butterworth published on UK Free TV
You will only be able to get the services on the Astra 2A satellite (and then only Transponders 1, 2, 5, 6, 9, 10, 13, 18, 22, 37) and ASTRA 2B (transponders 14, 17, 21, 25, 26, 29, 30, 33, 34, 38):

ScreenShop
Price-Drop TV
TV Travel Shop
TV Travel Shop 2
TCM UK
CNN International
Travel Channel
Travel Deals Direct
BBC Parliament
S4C Digidol
S4C2
You TV
Goldshield Vitality
Create and Craft
Zee Music
Ideal World
ITV News Channel
QVC UK
Bid-up.TV
Sky News
TV Shop UK
Reality TV
TV High Street
The Shopping Genie
TV Warehouse Select
Shop America
TV Warehouse
Vector Direct
JML Direct
Game Network UK
Yes
Shopsmart TV

You will not be able to get any of the BBC and ITVs are all on the Astra 2D satellite: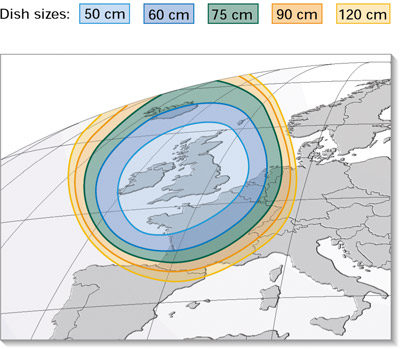 Channel 4 is on Astra 2A: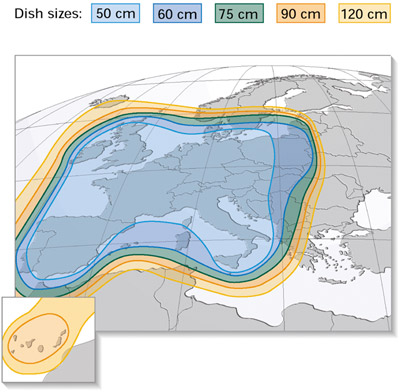 You may be able to get five, but you will need a Sky card to decode it.
Comments
Sunday, 22 May 2011

michael: Are you sure you are aligned to the correct satellite cluster. Other satellites use the same frequencies, but have different serves on them.

Also, Astra 2D, which has the HD channels on it, will require a large dish when outside the UK.

Briantist's 38,905 posts
Friday, 27 May 2011

I have done a realign and now have a few channels but the only normal UK channel is CH4 HD. Astra 2 is th eone loaded into the autosat. Is there anyway to connect to a sat that gives Beeb and ITV?

michael's 2 posts
Saturday, 28 May 2011

michael: This does suggest that your dish is too small to pick up the Astra 2D satellite. This satellite has a "footprint" (service area) that is focused on the UK and to use it outside this area requires a large dish.

Briantist's 38,905 posts

Hi Guys.

I can help with any satellite problems in Southern spain!

Having been here for the last 12 years! And a fully qualified TV engineer, Sky engineer and microsoft and cisco certified.


So experience is the best, Not to sure dish sizes outside of southern spain as I have not worked there, But all there is to know about all sky and freesat! Just ask,

Prosky's 2 posts
Sunday, 29 May 2011

michael: one of the reception maps I have seen (http://www.astra2d.com/images/Maps/astra2d_footprint3.jpg) says that a minimum of a 1.2m dish is required for Astra 2d reception in northern Italy, going to a 1.8m dish near Milan.
BBC1,2,3,4 are all on Astra 2d so you will not get those. BBC Sports streams you should get (freq 12441 v). And if you have a Sky card you can get OITV1 and ITV1+1 on fre 11973v.

satandpcguy's 89 posts
Tuesday, 31 May 2011

Hi folks,I intend to take an old sky digibox out to spain(alicante region) and would like to know if any one can confirm if it will work.It is a pace model 2500s5,I also have a sky freesat card to go with it,is it of any use?,are thetied to the box they were set up with?.Any comments would be appreciated.

GEORDIE MEL's 1 post
Wednesday, 1 June 2011

GEORDIE MEL: It will work if your dish is large enough - you may need a 2 meter dish to be able to pick up the UK channels on the Astra 2D satellite.

Briantist's 38,905 posts
Friday, 3 June 2011

GEORDIE MEL: Yes it will work. But the channels you will get on it are all dependant on the size of dish you have.
(For BBC channels you are looking at anything from 1.8 to 2,4m dish!)

But the FTV sky card will help. It will get some of the encrypted ITV1 regions (on freq 11973 or 12402), and maybe the irish C4s (on 12480) and the "Five" channels on a much smaller dish - maybe 80cm to 1m.

FTV Sky cards are NOT tied to Sky boxes. They can be used in ANY sky box.

The PAce 2500 is not really the best box to use on a "big dish" if you want BBCs. It is a poor performing tuner inside. ANd you can go and make a cuppa as it takes ages to change channels or use the menu system compared tot he newer boxes.

satandpcguy's 89 posts
Wednesday, 8 June 2011

I have recently purchased a villa on a private complex nr La Mata, Torrevieja and would like to receive BBC,& ITV.
I do not want to have to subscribe to a company and therefore assumme that freeveiw is the way to go.
Do I have to have a dish? and what approx cost would it be to have one installed including the box and card (if required).

Ron Bailey's 1 post
Friday, 10 June 2011

ron: you cannot get UK Freeview in Spain. UK Freeview is only in the UK.
If you want to receive your UK channels by satellite, then a dish (maybe a 1.45m, morelikely a 1.8m, or ideally a 2.4m), box and "freesatfromsky" card will be the way to go. If on a community speak to the "president" for permission. For costs and installers best to look at the local papars or local forums (torrevieja.co.uk?).
Or go for a local reboradcaster for a monthly payment.

satandpcguy's 89 posts
Select more comments
Your comment please