What is the Inversion Effect and why does it effect my Freeview TV reception?

Brian Butterworth published on UK Free TV
Under normal circumstances, the signals from each television transmitter can only be received by those homes and businesses that have aerials that have a direct line-of-sight to the transmitter.

(The Inversion Effect is also known as "Tropospheric Ducting")




The part of the signal from the transmitter that is directed upwards simply escapes into space and are lost.

When there is high atmospheric pressure (Met Office - Surface pressure charts) as the sun heats up the ground the warm air gets trapped underneath the colder air higher up. At the point where the warm air gets trapped under the cold air this creates a layer that is, in effect, a mirror for the television signals.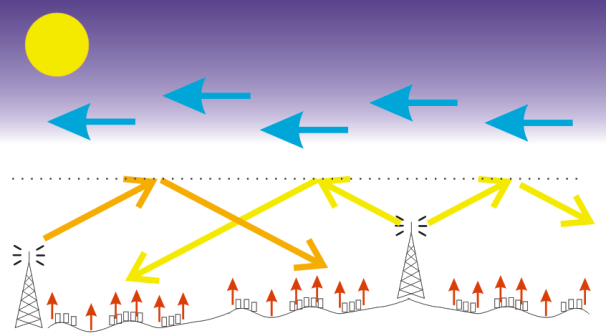 This means that signals that would otherwise be impossible to receive can suddenly effect your television reception.

The digital television signal uses a format called COFDM (coded orthogonal frequency division multiplexing) and this incorporates the ability to ignore reflected digital signals.

However, analogue television signals did not co-operate with each other and the picture quality is reduced. The very weak digital signals that were used before digital switchover for Freeview were badly effected by interference from reflected signals from adjacent analogue transmissions.

I recommend you look at the Tropospheric Ducting Forecast for VHF and UHF Radio and TV page for a current forecast - yellow, orange, red, and pink indicate that conditions are perfect for the effects listed above.
Links to current pressure data
Tropospheric Ducting Forecast for VHF and UHF Radio and TV

Met Office - Surface pressure charts

Comments
Wednesday, 19 June 2013

I'm so fed up with the poor quality of my freeview T.V signal in the summertime. I often get "no signal" on channels including BBC and breaking up at other times (nearly never during adverts most oddly, do they boost the signal then?). Surprisingly though, absolutely I never ever loose the signal for Russia Today or Al Jazeera which are obviously broadcast at a higher signal strength . My high gain newish digital ariel and a signal booster (inside) is at the highest possible point on my house roof and on the longest pole that the chap could safely fit.

m botchin's 1 post

m botchin: Without knowledge of your location, preferably in the form of postcode or nearby postcode such as that of a shop, it isn't possible to give guidance on expected reception possibilities.

However, the Commercial (COM) channels which cary Russia Today, Al Jazeera and others are generally the first ones to show poor reception. Therefore, bearing in mind I have no idea as to the transmitter you are using, either you have too much signal, as suggested by Brian, or your TV is tuned not to the transmitter to which your aerial faces for BBC, at least.

Dave Lindsay's 5,724 posts
Saturday, 20 July 2013
J
John Buglass
8:16 AM
Clacton-on-sea

I wonder if anyone can shed some light upon this puzzle for me, my location is CO152LH I receive Freeview from Dover which can under certain circumstances can be a bit poor but generally it works O.K. My conundrum is about the reception of French T.V which quite reliable with good signal strength and quality, I receive six channels and why, do the French use a more powerful transmitter or is some sort of atmospheric skip.

John Buglass's 1 post
John's:
map
J's Freeview map
terrain
J's terrain plot
waves
J's frequency data
J's Freeview Detailed Coverage
S
Simon Bennett
9:15 AM
Reading

Jeff Harris:

Hi there...I live near Reading...RG5 4DE...we are tuned in to the Crystal Palace transmitter...over the last month, the signal for ITV & Channel 4 channels has deteriorated greatly and has not improved following reset. Freeview is accessed via a Sony TV and Hitachi Freeview box...As I said, reception most of the year is fine. The aerial is in the loft...any ideas?

Simon Bennett's 1 post
Simon's:
map
S's Freeview map
terrain
S's terrain plot
waves
S's frequency data
S's Freeview Detailed Coverage
Tuesday, 23 July 2013
C
Christine Hassin
2:52 AM
Stanley

I live in Stanley, Co Durham dh9 6xq and during the really hot weather lately my freeview was working fine but tonight for some reason the picture quality has deteriorated and keeps giving a message on screen no signal

Christine Hassin's 1 post
Christine's: ...
Saturday, 7 September 2013

A couple of days ago, c 8.0 am, Sky News disappeared on all TVs, only to reappear about 30 mins later. There was heavy mist at the time (it was the same morning as the Isle of Sheppey crash) and I wondered whether that caused the problem. Could find no comment or announcement anywhere.
I am in Harefield, by the canal, and get my signal from Crystal Palace

Mike Gordon's 8 posts
Sunday, 8 September 2013

You would need to have checked other channels on the same multiplex to know.

Steve P's 1,173 posts
Saturday, 28 September 2013

I have had problems for the last few days. This happens on channel itv/itv2/itv3/itv4/ch5/and there plus1 channels. I assume this is weather related. I am in East Anglian. Signal strength 8, signal quality nil. Can this problem only affect one of the 6 multiplexes Is my assumption correct! Is anyone else suffering?

D. Leach's 1 post
Tuesday, 19 November 2013

In summer i had 121 perfect Freeview stations, now i,ve got no BBC channels, and most of the other ones are breaking up, help.

MARK FROST's 2 posts
Select more comments
Your comment please