What is the Inversion Effect and why does it effect my Freeview TV reception?

Brian Butterworth published on UK Free TV
Under normal circumstances, the signals from each television transmitter can only be received by those homes and businesses that have aerials that have a direct line-of-sight to the transmitter.

(The Inversion Effect is also known as "Tropospheric Ducting")




The part of the signal from the transmitter that is directed upwards simply escapes into space and are lost.

When there is high atmospheric pressure (Met Office - Surface pressure charts) as the sun heats up the ground the warm air gets trapped underneath the colder air higher up. At the point where the warm air gets trapped under the cold air this creates a layer that is, in effect, a mirror for the television signals.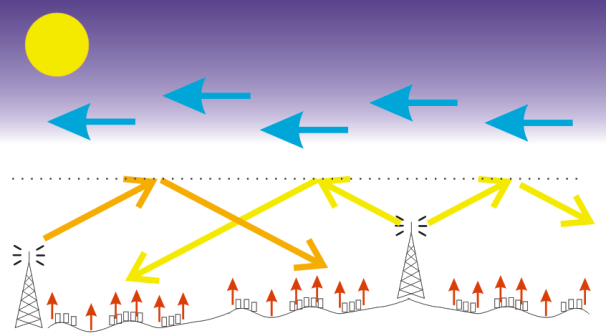 This means that signals that would otherwise be impossible to receive can suddenly effect your television reception.

The digital television signal uses a format called COFDM (coded orthogonal frequency division multiplexing) and this incorporates the ability to ignore reflected digital signals.

However, analogue television signals did not co-operate with each other and the picture quality is reduced. The very weak digital signals that were used before digital switchover for Freeview were badly effected by interference from reflected signals from adjacent analogue transmissions.

I recommend you look at the Tropospheric Ducting Forecast for VHF and UHF Radio and TV page for a current forecast - yellow, orange, red, and pink indicate that conditions are perfect for the effects listed above.
Links to current pressure data
Tropospheric Ducting Forecast for VHF and UHF Radio and TV

Met Office - Surface pressure charts

Comments
Tuesday, 19 November 2013

no bbc channels

MARK FROST's 2 posts
Tuesday, 26 November 2013
I
Ian McLauchlin
3:50 PM
Exmouth

Just an observation, not a question, as others may have experienced the same.
I live in Exmouth and get my signal from the Stockland Hill transmitter. My aerial is in the loft and the signal is amplified by a mast head amplifier, Over the last few days, my Freeview reception has been bad on most channels. After re-tunes on 24 and 25 Nov 13, reception was no better and I lost all but about 20 channels out of over 100.
Today 26 Nov I retuned again and all channels were back again with fairly good reception.
I have no idea what caused the deterioration, but I wonder if the recent cold weather has had an effect . . . .

Ian McLauchlin's 3 posts
Ian's:
map
I's Freeview map
terrain
I's terrain plot
waves
I's frequency data
I's Freeview Detailed Coverage

Hi our tv in the living room has built in freeview and the only way we receive signal is with a wire with an end similar to an ariel which goes where the Ariel would. Its coming from the wall which i will presume must be the from an external ariel. We have tried using internal ariels and we get no signal in any of the rooms with several different ariels...some with boosters and still nothing. The only signal we get is when connected to that wire. The house is rented so were unsure on why this is so. Our postcode is bd80lb i hope you can help us.

natasha's 1 post

natasha :

Indoor aerials never work even in the best of locations (they should stop selling them)

To receive channels on other tvs in the house you will need cables run from the main aerial. As you are only renting you should get permission from the owner, the cost of the work will be your own responsibility if you do get permission.

regards

jamie stevens's 207 posts
jamie's:
map
J's Freeview map
terrain
J's terrain plot
waves
J's frequency data
J's Freeview Detailed Coverage

Natasha: The other thing you could do, instead of getting a rubbish portable aerial (Jamie's right - although they sometimes work), is to use wifi to get on demand prgrammes.

Smart TV's are pretty much standard now, and provided you've got unlimited download limits and a decent speed, you might try something like Roku, Apple TV, etc - in essence, your using your spare TV's as monitors. Sky's My TV is very cheap, less than £15, and includes all the kit to get Iplayer and 5 on demand. Not a perfect solution, but gives you another option.

MikeB's 2,579 posts

natasha : I think that if reception indoors is possible that it will not in any way be unversal across the entire floor. That is, there may be parts of the room where reception is possible and others where it is not.

I suggest that indoor reception from Emley Moor isn't likely because, not only might your location be a bit low down, but the terrace runs in line with the signal. The transmitter is on a bearing of 156 degrees and if you look at the terrace on a satellite image (e.g. Google Maps) you will see that it is just a bit anti-clockwise of being north to south. Thus, the signal path (if you were to "draw" a line between you and the transmitter) would go through other properties - for this reason I think it unlikely.

You "might", however, be able to receive PSB channels from the Bradford West relay transmitter, which is on the roof of the Royal Infirmary.

This is to your north, so if you are to receive it upstairs the most likely place is at one of the rear windows (I assume here that you are on the opposite side to the school).

Go to an upstairs window and point the aerial to the north. The aerial should be vertical (with the elements up/down rather than flat). See if you have a television or box that has manual tuning. Wipe what's stored by running the scan through with the aerial unplugged.

Then go to the manual tuning functions and select UHF channel 55 (BBC from Bradford West) but don't press the button to scan immediately. Instead wait and see if it gives a reading of strength/quality. If it's good then add the channels. Do the same for UHF channel 59 which is ITV, C4, C5 etc.

Bradford West doesn't transmit the Commercial channels (which includes ITV3, Pick TV, Dave and others).

Dave Lindsay's 5,724 posts

natasha : I should add that when you manually tune C55 and C59, as described, that if the reading isn't good enough then move the aerial and see if you can find a spot where the signal is better. Once it's good enough you should be able to press the button to scan (maybe labelled "add channels" or something similar).

Dave Lindsay's 5,724 posts

natasha : Scrap that idea. I've just noticed that your terrace is back to back with the parallel street, meaning that you have no back windows!

The only answer would appear to be to use the rooftop aerial.

Dave Lindsay's 5,724 posts
Monday, 9 December 2013

My tv reception suffers from co-channel interference, which usually occurs during periods of high air pressure, BBC say this is due to signals from other channels transmitting further than usual and therefore overlapping with others, my tv can't cope with this mixture of signal (earlier this year I had no signal for about 4days.) in the BBC explanation no mention was made of the "Inversion Effect" so is there a different way that high pressure causes interference?

In the most recent high pressure episode when the high pressure was often at 1040 and lasted around 7 days I had no problem with interference at all !!
can anyone enlighten me as to why






dave sexton's 1 post

dave sexton: If there was high pressure with no problem, are you sure the problem is with co-channel interference..?

MikeB's 2,579 posts
Select more comments
Your comment please