What is the Inversion Effect and why does it effect my Freeview TV reception?

Brian Butterworth published on UK Free TV
Under normal circumstances, the signals from each television transmitter can only be received by those homes and businesses that have aerials that have a direct line-of-sight to the transmitter.

(The Inversion Effect is also known as "Tropospheric Ducting")




The part of the signal from the transmitter that is directed upwards simply escapes into space and are lost.

When there is high atmospheric pressure (Met Office - Surface pressure charts) as the sun heats up the ground the warm air gets trapped underneath the colder air higher up. At the point where the warm air gets trapped under the cold air this creates a layer that is, in effect, a mirror for the television signals.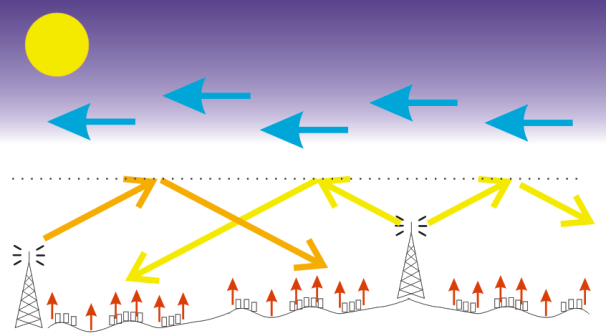 This means that signals that would otherwise be impossible to receive can suddenly effect your television reception.

The digital television signal uses a format called COFDM (coded orthogonal frequency division multiplexing) and this incorporates the ability to ignore reflected digital signals.

However, analogue television signals did not co-operate with each other and the picture quality is reduced. The very weak digital signals that were used before digital switchover for Freeview were badly effected by interference from reflected signals from adjacent analogue transmissions.

I recommend you look at the Tropospheric Ducting Forecast for VHF and UHF Radio and TV page for a current forecast - yellow, orange, red, and pink indicate that conditions are perfect for the effects listed above.
Links to current pressure data
Tropospheric Ducting Forecast for VHF and UHF Radio and TV

Met Office - Surface pressure charts

Comments
Tuesday, 15 November 2011
M
Mark Fletcher
4:26 AM
Halifax

Dave Lindsay.The inversion effect can also occur during daylight hours as well as nightime hours,and can also happen anytime within all four seasons of the year,Spring,Summer,Autumn,Winter.It mostly occurs during anti-cyclonic conditions or high pressure sometimes between high and low pressure,rarely during low pressure weather or cyclonic conditions.It can also occur when it's damp,misty and more so foggy,not just warm/hot sunny weather even when it's freezing/cold sunny weather too and also in winter clear frosty freezing cold nights can create an inversion effect more so within a winter high pressure weather system.

Mark Fletcher's 673 posts
Mark's:
map
M's Freeview map
terrain
M's terrain plot
waves
M's frequency data
M's Freeview Detailed Coverage
Wednesday, 16 November 2011
Stuart O.
11:00 PM
Wrexham

Just wanted to share my experience of the Inversion Effect with other readers.

During high pressure in the days of analogue in my region, signals were always worsened from The Wrekin transmitter though Winter Hill appeared unaffected. Thick horizontal lines would appear on the screen and sometimes become so bad you would lose picture sync and be unwatchable.

Although I do not receive any analogue signals anymore, with the weather being damp and foggy recently, I wanted to see if my TV was able to tune in to any analogue channels.

I did a quick auto search and it found weak but not very watchable channels of ITV1 on 29, BBC1 on 33 and C5 on 35. I checked on this website where these were coming from and they appear to be from Bilsdale-all the way from the North York Moors near Northallerton. These frequencies along with 23 and 26 are all the same frequencies as those that were used by The Wrekin (albeit different services except for C5).

So this not only explains why The Wrekin became worse - because Bilsdale's signals were coming in stronger causing interference. But it is just one small indication of just how far signals can travel in certain weather conditions.

Just the other day I saw some videos on YouTube of BBC radio from Holme Moss near Holmfirth receivable in Germany. The screen on the persons radio were strong enough in that reception was very clear and the radio was displaying the RDS station name.

Stuart O.'s 156 posts
Stuart's:
map
S's Freeview map
terrain
S's terrain plot
waves
S's frequency data
S's Freeview Detailed Coverage
Sunday, 20 November 2011
F
fay
10:50 PM
Abbots Langley

My freeview keeps failing why?? it goes to no signal for no rEAASON NOTHING HAS CHANGED IT USUALLY IS ON ITV CHANNELS

fay's 1 post
fay's:
map
F's Freeview map
terrain
F's terrain plot
waves
F's frequency data
F's Freeview Detailed Coverage
Monday, 21 November 2011

fay: There must be a reason that it reverts to "no signal" If there wasn't, it wouldn't do it!

See this page:

Digital Region Overlap | ukfree.tv - independent free digital TV advice

You appear to be in an area served by both Hemel Hempstead and Crystal Palace transmitters. The former may be stronger at your location, and as such, if your aerial points at Crystal Palace it may have decided to tune to Hemel Hempstead instead.

Where is your aerial pointing?

Dave Lindsay's 5,724 posts
Wednesday, 14 December 2011
Thursday, 9 February 2012

There must be some kind of Inversion Effect going on now. Since yesterday I'm picking up a usable signal from Sutton Coldfield (BBC1 and ITV1), even all the way up here in Yorkshire!

Thomas's 61 posts
Thomas's:
map
T's Freeview map
terrain
T's terrain plot
waves
T's frequency data
T's Freeview Detailed Coverage
Sunday, 26 February 2012

Thomas: Yes, looking at the pressure over the UK BBC Weather : United Kingdom Inversion is a possibility.

Briantist's 38,908 posts
Wednesday, 7 March 2012

Following initial closure of BBC Analogue tV from Whitehawk Hill(Brighton)I can now get about half of the advertised digital channels using only a simple indoor antenna and freeview box.I am about 2.5 km from the transmitter.I expect to get all services following complete change later this month!

jim birkett's 1 post
jim's:
map
J's Freeview map
terrain
J's terrain plot
waves
J's frequency data
J's Freeview Detailed Coverage

jim birkett: Indoor aerials are not suitable for Freeview reception.

I presume you have done a "first time install" as per the instructions today, as multiplex A has moved to C66 also.

Please see the Switchover starts in Hampshire, West Sussex coast plus Brighton and Hove | ukfree.tv - independent free digital TV advice page.

Briantist's 38,908 posts

Brian I know you like rooftop aerials, but what's wrong with indoor if there is enough signal?

And Jim B has plenty!

UK digital TV reception predictor

jim - you are using your indoor ae sideways for vertical aren't you?

Brian - whilst I'm disagreeing with you, and chance of changing the title from "effect" to "affect" ?

Steve P's 1,173 posts
Select more comments
Your comment please