What size dish is required to recieve broadcasts from the Astra 2 satellites?

Brian Butterworth published on UK Free TV
Astra 2A and 2B - North beam
Astra 2A and 2B - North beam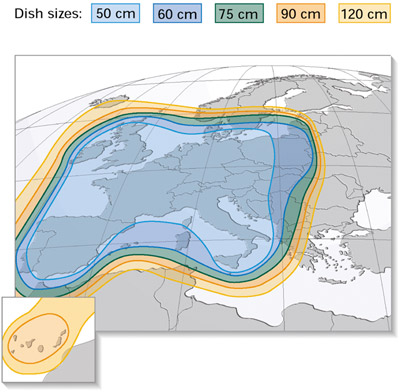 Astra 2D - UK beam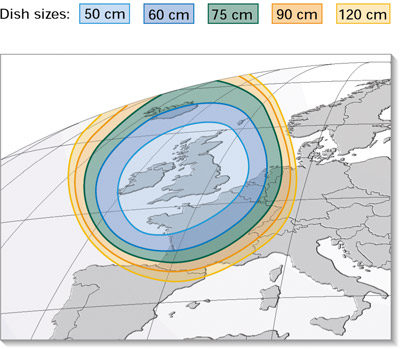 Comments
Monday, 31 January 2011

My satellite dish for my caravan is 39cms. How far into Europe - in particular France - should I be able to receive a signal?

Brenda Robinson's 1 post

Brenda Robinson: Please see the maps on the All about Freesat | ukfree.tv - independent free digital TV advice under "Where can I receive it".

Briantist's 38,905 posts
Monday, 30 January 2012

Hi, I am thinking of insyalling a new dish, say an Astra "D" or lower, to gain a better freeview reception to my freeview LCD TV. Can I not use my existing sky dish by adjusting the direction to the astra satelite? grateful if you can throw any light on this. Many thank. By the way, I know absolutely nothing about this subject at all.

William's 1 post
William's:
map
W's Freeview map
terrain
W's terrain plot
waves
W's frequency data
W's Freeview Detailed Coverage

William: You Sky dish is pointing at the correct satellites already, just use a Freesat box with it. See Upgrading from Sky to Freesat
| ukfree.tv - independent free digital TV advice .

Briantist's 38,905 posts
Wednesday, 28 November 2012

whats da fta transponder and da size of dish suitable for receiving Mauritius Broadcasting Cooperation 3, which shows some football matches?

Jemar's 1 post
Wednesday, 17 April 2013

Is Nth.American Satellite TV reception achievable in Ireland, e.g. ABC or NBC live from Chicago ? Are there many free to air USA channels ? I use ASTRA 28.2 here with my own free-to-air box normally. Do I need to switch to Galaxy or Eutelsat or some other satellite ? Also we have Astra 23.5 and 19.8 +/-. Which is best for us here please. Thanks.

Aidan Colgan's 5 posts

Hi again ! Your areas of reception above show two areas ( Astra 2A and 2B North Beam) which , even using the same dish show different geographical areas of coverage. How come same everything, yet two different areas of reception please.

Aidan Colgan's 5 posts

I'm told that the solid dish does not receive as well as a the porous/pasta strainer dish ? And the oblique (Not fully circular) shape as in the SKY model is also best.Is all this true ? Does it matter ? Thanks

Aidan's 5 posts
Tuesday, 9 July 2013

Hello Aidan,
You asked this a while ago but I thought I'd answer anyway. The Sky issued "pasta strainers" are curved as they receive satellie transmissions from 2 satellites at 28.2east and 28.5east. I cannot for the life of me understand why a satellite broadcaster would have two satellite dishes orbiting space .3 rather than just the one? Maybe it was to annoy people with their own standard round dishes, and to encourage them to sign up to Sky? I don't know

Kevin's 1 post

Kevin:
The Astra satellites at 19.2 E are actually 6 separate birds in co-location orbits, meaning the appear to be in about the same place in the orbit but they are actually a few hundred metres apart. This is usually done to provide more multiplexes so more services can be broadcast. Plus each satellite has a limited power availability so there is a limit on how many transponders any single satellite can provide.
So with Sky needing more spectrum for extra services they have to use more satellites, but there is a limit to how many can be co-located so they use two close locations that can be seen with a single dish, albeit a wider one to cover a slightly wider orbital arc.
The curvature of any dish is designed so that as much of the signal falling on the dish surface is focused into the feedhorn of the LNB.

MikeP's 3,056 posts
Select more comments
Your comment please