How do I change the RF output channel on a Sky Digibox?

Brian Butterworth published on UK Free TV
Press the [SERVICES] button and then press [4] [0] [1] then [SELECT]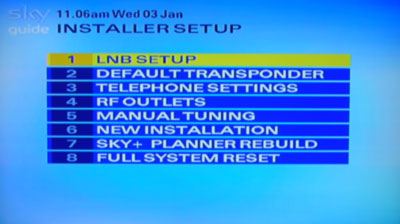 Then press [4] to go to the RF output menu.




You can now change the value so that it does not clash with an analogue TV channel or a Freeview multiplex.


HD and "new EPG" boxes
If you have a HD box, press [SERVICES] button and then press [0] [0] [1] then [SELECT]. Nothing is shown on the TV screen until you press the Select button.
Then use the [RIGHT] arrow button on the remote until this screen is shown, and press SELECT to change the values: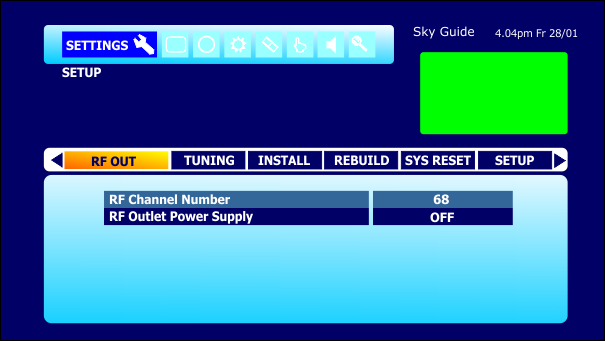 Comments
Sunday, 2 January 2011

can I use the old brown RF cable to my outdoor aerial with digital aerial by just fitting an F connector

Les's 2 posts

I forgot to say I only want it for Frreeview
the new aerial is a high gail multipoll not a dish, thanks. Les

Les's 2 posts

my red eye will not work with my tv upstaires why? my hd is down staires and sky box. there is no light on my redeye, many thanks if you can answer me in laymans terms.

leighton's 4 posts

Hi. The day I had Sky plus installed in my living room, I lost the ability to watch sky on the tv in another room and also found the analogue tv channels in the other rooms had terrible pictures. Sky deny this has anything to do with them despite it happening as th engineer drove off. Does anyone know what I should do to sort it out please?

Nicki's 1 post
Thursday, 6 January 2011

Hi. Any assistance would be appreciated.

I have a Sky+ box in the lounge and a TV with built in Freeview in the bedroom that is connected to a digital aerial.

I want to be able to watch Freeview on the bedroom TV and also to be able to watch Sky in the bedroom via a Sky Eye.

Can I just connect the Sky Eye and coax cable from the digital aerial together with a y-splitter and the connect this to the bedroom TV ?

If not, then how can I achieve this ?

Thanks
Mark

Mark Hemington's 1 post
Saturday, 8 January 2011

leighton: See the bit at the top of the page about the "RF Output Power Supply On"?

Briantist's 38,906 posts

Mark Hemington: If you split the cable, the Magic Eye box will not work.

You should be putting the rooftop aerial into the RF input of the Sky+ box.

Briantist's 38,906 posts
Monday, 10 January 2011

can anyone solve a thudding noise coming from second tv through the magic eye.no sound from first tv but when rf2 connected through magic eye this happens

thanks

Alan's 9 posts
Tuesday, 11 January 2011

Alan: If you disconnect the Magic Eye, is everything OK then?

Briantist's 38,906 posts

Hi Briantist,
no same problem if eye is disconected

Alan's 9 posts
Select more comments
Your comment please