How do I change the RF output channel on a Sky Digibox?

Brian Butterworth published on UK Free TV
Press the [SERVICES] button and then press [4] [0] [1] then [SELECT]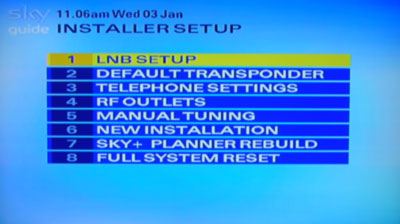 Then press [4] to go to the RF output menu.




You can now change the value so that it does not clash with an analogue TV channel or a Freeview multiplex.


HD and "new EPG" boxes
If you have a HD box, press [SERVICES] button and then press [0] [0] [1] then [SELECT]. Nothing is shown on the TV screen until you press the Select button.
Then use the [RIGHT] arrow button on the remote until this screen is shown, and press SELECT to change the values: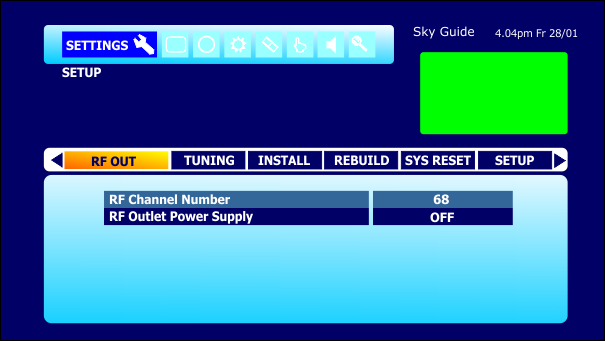 Comments
Thursday, 10 February 2011

Rod: Really pleased to hear the good news that all seems to be OK now as I was beginning to suspect that something was being missed along the line, the reason being that wavy lines on an analogue picture are always an indication of either instability within the system or that another source of RF is intruding either on, or is close to the channel being received, and the fact of you mentioning about how good your freeview picture was, the complete reversal of the usual complaint heard!, made me think that you must have a very strong DTT signal at your location and the reason I enquired as to what station you receive from, you obviously having sussed out my line of thought!

I suppose I could really have shortened your suffering somewhat by just asking you to carry out the test of taking out the Sky boxes "normal" aerial input whilst viewing the offending image, because if the problem disappeared by doing that then it was being caused by the presence of another strong RF signal close to (or even on) the Sky boxes output, but however if it didn't clear up then it was likely caused a modulator problem and to try setting it to a lower channel, because speaking in general terms RF generators lose their power efficiency the higher up the channels they go and a faltering modulator can cause various types of patterns on a screen.


jb38's 81 posts

Briantist: Yes! that facility you provide is very convenient as it saves people looking up lists, although so long as anyone using this info as a guide realises that its always best policy to keep a FEW channels of separation between whatever they set the Sky box RF output to and the actual channels seen used by the multiplex transmitters they receive their freeview from, as if they set it only about one or two channels away either side they can still have a problem dependant on the signal strength of the freeview signal they receive and how good their TV's tuner is at rejecting adjacent channel interference.

jb38's 81 posts

jb38: I keep meaning to write some code to pick the best free channels.

Briantist's 38,908 posts

I dare not try anything new now. I am relaxed and hope the Coast guard services are too.
Thanks both,
Rod

Rod's 17 posts
Friday, 11 February 2011

Rod: That's certainly the best policy! and pleased to have been of assistance.

jb38's 81 posts
jb38's:
map
J's Freeview map
terrain
J's terrain plot
waves
J's frequency data
J's Freeview Detailed Coverage

Briantist: Maybe I am not fully tuned in today so please excuse this query if it appears a bit odd to you, but when you say the best free channels are you referring to aspects concerning reception or is it viewing quality of the programmes?

I personally feel that the site already contains such an absolute wealth of information that navigational skills are increasingly required to find what has been last replied to, the "my settings" - "latest postings" box being something I find myself frequently using.

jb38's 81 posts

jb38: If you look at your location page, for example - Find out how to receive Freeview and Freeview HD | ukfree.tv - independent free digital TV advice - it lists all the "used" frequencies.

What there used to be and I forgot to re-implement it when I rewrote the system, was a simple list of the "unused" frequencies.

The idea was to suggest the "best" of the "free" ones, ie those adjacent to digital multiplexes or two separated from analogue services.

Freeview multiplexes look like "snow" to analogue, so the profile means it's OK to use the adjacent channel.

Analogue generates sideband interference onto the adjacent channel caused by the frame-sync and fly-back peak frequencies in the TV information.

As I can grab the information as XML from the backend, it should be easy enough to do.

But I've also got the radio pages to sort out... and to also regenerate the whole database in 100m zones.

Briantist's 38,908 posts
Saturday, 12 February 2011

Braintist: Ah! now I realise what you are referring to that would be quite a useful addition to the various station listings and a facility which could be pointed to in cases where people experiencing difficulties with their Sky box RF output feeds to other rooms are suspected of suffering from a possible channel (or near) clash with another source of RF, as whoever could then just refer to the spare channel list appropriate to the station they receive their signals from and likewise set their Sky boxes RF output accordingly.

Regarding the suggested channel separation, although I very much agree with "two" being used where adjacent analogue is concerned I do still feel that for guaranteed "lasting" results two should be used as a standard no matter what mode of adjacent transmission is in existence, this because that many of the tuners used in the more mediocre (and unfortunately some not so!) brands of dual standard TV's aren't particularly good and their RF input circuitry is liable to be somewhat swamped (desensitized) by the presence of "any" powerful RF signal on an adjacent channel to the one they were using to pick up the analogue feed from a Sky box, and with the inevitable reduction of the input signal strength that would occur resulting in a deterioration in quality of the analogue picture being viewed.

I feel that this is a type of problem that might well start to show in some peoples installations who use Sky box feeds after the multiplex transmitters in their area's have switched over to high power operation, with this especially so amongst the people who have went slightly over the top in the upgrading of their aerial systems in an attempt to get perfect reception from a multiplex that's only temporarily operating at a very much reduced power, a foolish move in my opinion albeit that I understand their frustration!

On the subject of switchover, I do realise that you have set a very big task for yourself but wouldn't it be prudent to wait until the main part of the switchover process has taken place? of course that is unless you intend to cater for pre as well as actual switchover dates meaning that you provide two sets of channel numbers for each station?

jb38's 81 posts

I've looked through this email thread to try and find an answer to my problem but no luck. I have aerial input into my Sky box in room A as well as the sky input. I use the RF2 (channel 68) output from the Sky box to slave down to my brand spanking new Samsung TV (in room B) with built in Freeview HD. When I autotune my new TV I can get all the Freeview channels but I can't see Channel 68 (ie the sky channels). If I take the coax cable out of my new TV and connect to an older TV with no freeview built in I can see the Sky channels. How can I get my new TV to see channel 68 and hence see both Freeview channels and Sky channels? Help would be much appreciated.

Gary's 2 posts
Sunday, 13 February 2011

Gary: You need to switch the new TV to "analogue mode" and then search for C68.

Briantist's 38,908 posts
Select more comments
Your comment please