How do I change the RF output channel on a Sky Digibox?

Brian Butterworth published on UK Free TV
Press the [SERVICES] button and then press [4] [0] [1] then [SELECT]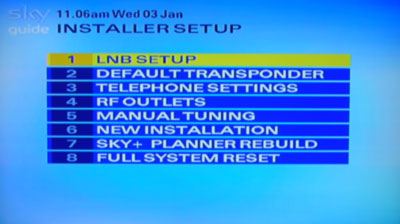 Then press [4] to go to the RF output menu.




You can now change the value so that it does not clash with an analogue TV channel or a Freeview multiplex.


HD and "new EPG" boxes
If you have a HD box, press [SERVICES] button and then press [0] [0] [1] then [SELECT]. Nothing is shown on the TV screen until you press the Select button.
Then use the [RIGHT] arrow button on the remote until this screen is shown, and press SELECT to change the values: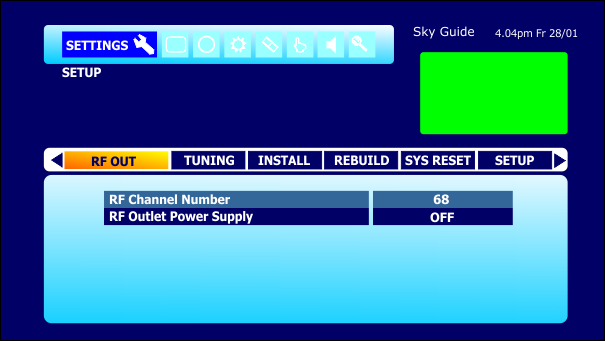 Comments
Saturday, 26 March 2011

Thanks for your help LutonFan, much appreciated. I shall recommend this site to anyone I know who has trouble in the future.

david's 4 posts
Wednesday, 30 March 2011

Hi David,

Once you have tried the coax lead when plugged into RF 1 o/p to your known good set don't do anything except transfer it to the RF 2 o/p. If it does'nt work then the RF 2 o/p is faulty.This check test illiminates any retuning and its obviuos complications of addad unknowns at an early stage.

I hope this helps
Brian

Brian Wright's 77 posts
Wednesday, 13 April 2011

Hello,
I have a digisender that sends sky from our bedroom to the receiver in the kitchen. We also have another receiver in the kids bedroom. The picture is fine in the bedroom but the picture in the kitchen is blighted by interference. We have a loft aerial with a distributor and tv points in most rooms. I was wondering if I connected the RF out on the sky box to the tv point on the wall, would I be able to pick up the signal in the kitchen using the tv point there. Basically, even though there is a terestrial signal being sent to all the rooms, can I reverse feed a sky signal from the bedroom in to the splitter and from there watch the picture on the kitchen tv?

James's 1 post
Thursday, 14 April 2011

James: It should work, but the picture quality may not be acceptable.

Briantist's 38,900 posts

Please could you help me?

I have SKy HD and use RF port on rear of my Sky HD connected to a splitter which is cable to my bedroom and kitchen so I can change Sky channels in these other rooms. Unfoirtunately my other half puled out the coax areal cable from the RF port and the pin from centre of the ariel port that power my RF Out has come out. I tried swapping my RF port out but seems like RF power supply is only avail via port 1?

Can I eeasily re solder a new replacement RF socket to my Sky HD board?

Regards

Neil King

Neil King's 1 post
Friday, 15 April 2011

Neil King: I can be very hard to fix this kind of problem, and any such action will invalidate your warranty.

You are correct, only one port has the power output to drive the Magic Eye device.

Briantist's 38,900 posts
Thursday, 5 May 2011

my magic eye will not work in my study. I can connect my TV in the study to the RF port without teh magic eye and it works ok but when I connect the magic eye it will not work. I am not getting a power light on the magic eye when connected to my study but if I put it on the cable behind the main TV it lights up ok

Jim Hince's 1 post
Tuesday, 10 May 2011

i haved moved house from the north east to gloster and i still get tyne tees news and bbc north east how can i change this

lawrence's 1 post
Wednesday, 11 May 2011

lawrence: The services you get depend on the address registered with Sky, please phone them up and let them know you have moved.

Briantist's 38,900 posts
Thursday, 12 May 2011

I have a Sky HD box in my lounge HDMI'd to the lounge TV. No problem. I have coax wired the RF 2 to my bedroom tv aeriel inout and can get SkyHD there too. I added a magic eye to the coax in-line upstairs turned the RF2 power on the Sky box on so I can use the Sky remote upstairs and all works fine. But I have now put my lounge HD Box in a vented but closed cupboard and so I put a magic eye in-line downstairs too. That lights up ok and works but it then stops the upstairs magic eye working. It seems I can only have one magic eye either up or down. Is the an easy solution?

Kenpblue's 1 post
Select more comments
Your comment please