How do I change the RF output channel on a Sky Digibox?

Brian Butterworth published on UK Free TV
Press the [SERVICES] button and then press [4] [0] [1] then [SELECT]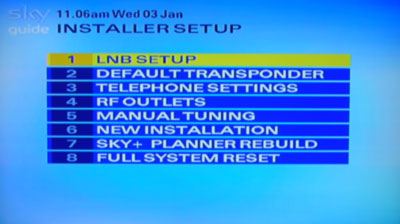 Then press [4] to go to the RF output menu.




You can now change the value so that it does not clash with an analogue TV channel or a Freeview multiplex.


HD and "new EPG" boxes
If you have a HD box, press [SERVICES] button and then press [0] [0] [1] then [SELECT]. Nothing is shown on the TV screen until you press the Select button.
Then use the [RIGHT] arrow button on the remote until this screen is shown, and press SELECT to change the values: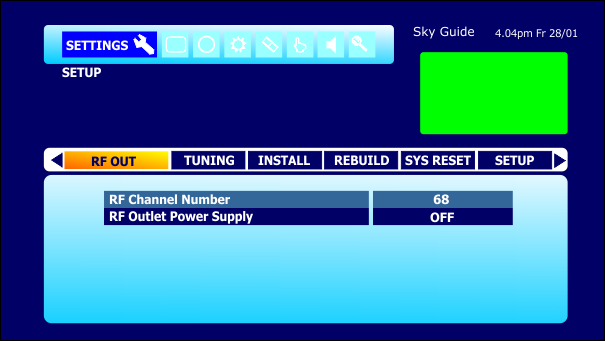 Comments
Friday, 13 May 2011

Kenpblue: You can't connect more than a single Magic Eye to the RF2 output.

Briantist's 38,907 posts

Can anybody help me ? My magic eye was working fine in my bedroom until we moved the tele. I still have a picture from the sky + box downstairs I still have a light on my magic eye. Just the remote will not work....... Can anybody help me on this?

Chris's 2 posts

Chris: What exactly do you mean by "moved the tele"?

I presume the remote still works directly to the Sky box?

Briantist's 38,907 posts
Saturday, 14 May 2011

Its a little 19" tele on the wall with a swivel bracket. The light went off on the magic eye so I moved it to the right. I couldn't get the light back on so I bought another magic eye plugged it in the light came straight on but the remote still won't work?

Chris's 2 posts

Chris: Sounds very strange to me. Unless it is the batteries in the remote, of course.

Briantist's 38,907 posts
Monday, 16 May 2011

I can't get sky hd on my portable - it was ok when i had sky+. I have put coax into RF2 and the magic eye lights up on the portable, but I can't work out how to connect sky hd to this set and I can't get any programmes just a message saying go to services. Can anyone help?

Rosemary's 1 post
Tuesday, 17 May 2011

Rosemary: You probably need to run an "autotune" on your portable set.

Briantist's 38,907 posts

The free vew is working ok on my Sky digibox but the local weather and local news is coming from Yorkshire instead of Cumbria can it be changed thanks Kenny

Kenny Simpson's 1 post

Kenny Simpson: You will need to contact Sky and let them know your viewing card is associated with your current address.

Briantist's 38,907 posts
Friday, 20 May 2011

i have been told by a colleague at work that it is possible to watch sky tv on a digital tv in my kitchen that is not connected to my Sky+ box by cable and not using a sky magic eye( i have this solution in another room)
Is this possible?

Martin N's 1 post
Select more comments
Your comment please