How do I change the RF output channel on a Sky Digibox?

Brian Butterworth published on UK Free TV
Press the [SERVICES] button and then press [4] [0] [1] then [SELECT]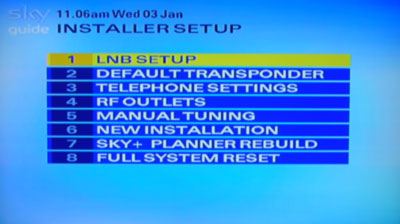 Then press [4] to go to the RF output menu.




You can now change the value so that it does not clash with an analogue TV channel or a Freeview multiplex.


HD and "new EPG" boxes
If you have a HD box, press [SERVICES] button and then press [0] [0] [1] then [SELECT]. Nothing is shown on the TV screen until you press the Select button.
Then use the [RIGHT] arrow button on the remote until this screen is shown, and press SELECT to change the values: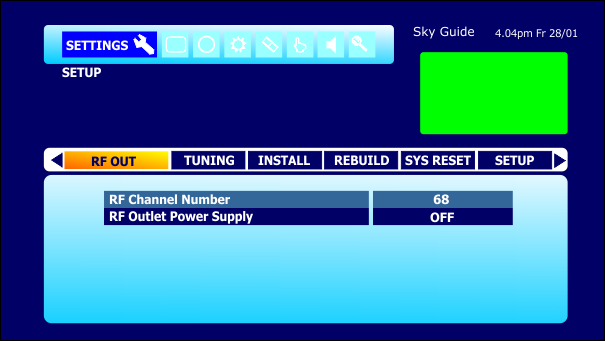 Comments
Saturday, 21 May 2011

Martin N: Yes, just connect it up using a standard aerial cable. The Magic Eye is only required if you want to change channels using the Sky remote.

Briantist's 38,907 posts

I have followed the instructions in the manual and using your information turned the RF power supply on. I just cant get the secong tv to tune into channel 68. Do you know of any reasons why this isn't working?

Simon Alcock's 1 post

Simon Alcock: If you are intending feeding your Sky boxes analogue RF1 output to a second analogue TV then the RF power should normally be left set to OFF as its not necessary.

It should also be remembered that if you are using a dual standard TV (analogue / Freeview) as the second set it must be tuned whilst its set for analogue tuning or nothing will be received.

jb38's 7,179 posts
L
Lisa
10:38 PM
Stoke-on-trent

Briantist
Thanks for your suggestions
You are a mine of helpful info!

Lisa

Lisa's 3 posts
Lisa's:
map
L's Freeview map
terrain
L's terrain plot
waves
L's frequency data
L's Freeview Detailed Coverage
Monday, 23 May 2011

i have a rf2 output to a 4 way amp that supplies 3 tvs with magic eye,2 tvs are working fine but 1 is showing picture and sound but no supply for magic eye. i have swapped tv connectors around and the amp is fine on all outputs.
its just 1 where there is no supply to power magic eye but there is a picture and sound. can anyone help please. thanks H

harry pollard's 2 posts

I had a sky + box that fed my tv in lounge and a coaxial going to a booster that fed another 3 tvs in bedrooms.I upgraded today to a sky+ HD box, I wired everything back up as before , but now only one of the other tvs will work [ they are all old analogue tvs ] Ive tried changing all the coaxial cables round but no joy.I also set the HD box to rf power on.
Any help please.

pete's 2 posts

sorted problem it was a bad joint connecting coax in loft area, what i didnt know was why i had picture and sound and no 9v supply didnt realize you could have it connected and still not get a 9v supply.

harry pollard's 2 posts

I have a sky hd + box conected to my lounge tv via a hdmi cable,and a tv in my bedroom with a sky eye conected via coaxil cable to the RF out put.everything was fine till i tryed to connect a third tv in the kitchen using a aerial splitter.the sky eye stopped in the bedroom and the reception got noticable worse.Has any one got a solution to this problem.

martin's 1 post
Tuesday, 24 May 2011

martin: If you use a Magic Eye, it must be connected as a single device to the RF2 output, if you connect up anything else to RF2 the Magic Eye will not function.

If you want another RF connection, use the RF1 output for it.

Briantist's 38,907 posts

harry pollard: I'm pleased to hear you found the solution to your issue.

Briantist's 38,907 posts
Select more comments
Your comment please