How do I change the RF output channel on a Sky Digibox?

Brian Butterworth published on UK Free TV
Press the [SERVICES] button and then press [4] [0] [1] then [SELECT]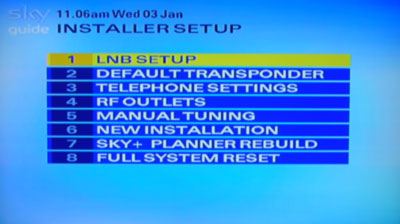 Then press [4] to go to the RF output menu.




You can now change the value so that it does not clash with an analogue TV channel or a Freeview multiplex.


HD and "new EPG" boxes
If you have a HD box, press [SERVICES] button and then press [0] [0] [1] then [SELECT]. Nothing is shown on the TV screen until you press the Select button.
Then use the [RIGHT] arrow button on the remote until this screen is shown, and press SELECT to change the values: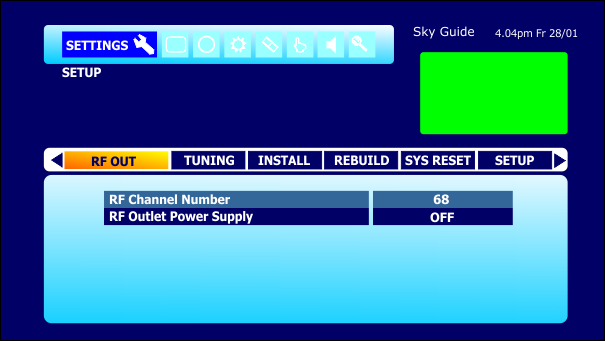 Comments
Saturday, 30 July 2011

Hi ive recently connected my sky box in the lounge to the one in the kitchen the TV LINK light is on and i get a picture but my new sky remote doesnt work on the magic eye? it works on the sky box? any help would be appreciated

simon's 1 post
Tuesday, 2 August 2011

simon: Check that you have used the RF2 output and that the "RF outlet power supply" is on, as at the top of the page.

Also ensure that there is only one device connected via the Magic Eye link, and if there is you should check there is no short in the cable to the set.

Briantist's 38,899 posts
Thursday, 4 August 2011

jb38: Marmitek kit is working fine up to now. New TV is a Samsung LE19D450. I think I got that right, I'm not at home just now so that's from memory. Just to let you know that I signed up for updates from the site and I find each e-mail gripping reading, carry on the good work!

Alan's 5 posts
Sunday, 7 August 2011

I have just connected cable into RF2 and switched on in sky settings and connected it to magic eye on new samsung 32" tv in bedroom - picked up on analogue perfectly and works great. cannot pick up any built in freeview channels now when i switch source to digital. what do i need connector wise to put both into same tv. I have digital aerial in attic for other tv's in house?

Mark's 1 post

Mark: This will likely be because you have not plugged the Freeview aerial into the Sky boxes aerial input socket, as this will pass through the Sky box picking up the Sky boxes modulators analogue signal in the process, then feeding both analogue and digital signals to your various TV's.

Of course I take it you have ensured that the Sky boxes RF output signal isn't going to clash with any of the digital channels you are receiving? unable to advise on this as you haven't given your post code.

jb38's 7,179 posts
Monday, 8 August 2011

I am using a magic eye to control and view tv in the bedroom,the problem is that no matter how i set the picture size on the tv when viewing sky the picture is to big,i am viewing on a 27" Sony widescreen tv

John's 1 post

John: Using the SETTINGS/PICTURE menu on the Sky box, set the appropriate screen aspect ratio 16:9 or 4:3 for the "Secondary" output.

Briantist's 38,899 posts
Wednesday, 10 August 2011

Hi. Please could you tell me how to change the analog output on a Sky+HD Terrabyte box from Channel 68 as I need my two Sky boxes on different analog outputs. Thanks. David

David's 1 post
Monday, 15 August 2011

David : It's covered in some considerable detail at the top of the page under 'HD and "new EPG" boxes'.

Briantist's 38,899 posts
Wednesday, 17 August 2011

Hi there

I have Sky+ HD in my lounge with an RF feed up to the bedroom connected via a Magic Eye

For some reason when I woke this morning the Sky picture is very fuzzy (channel 6 on the analogue) whilst channels 1-5 are clear.

I've had messages about auto retuning the tv due to changes etc which have been done but didnt think this would affect the Sky picture upstairs??

Any help REALLY appreciated

Colin's 4 posts
Select more comments
Your comment please