How do I change the RF output channel on a Sky Digibox?

Brian Butterworth published on UK Free TV
Press the [SERVICES] button and then press [4] [0] [1] then [SELECT]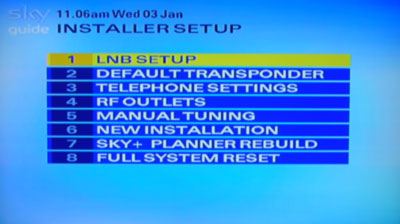 Then press [4] to go to the RF output menu.




You can now change the value so that it does not clash with an analogue TV channel or a Freeview multiplex.


HD and "new EPG" boxes
If you have a HD box, press [SERVICES] button and then press [0] [0] [1] then [SELECT]. Nothing is shown on the TV screen until you press the Select button.
Then use the [RIGHT] arrow button on the remote until this screen is shown, and press SELECT to change the values: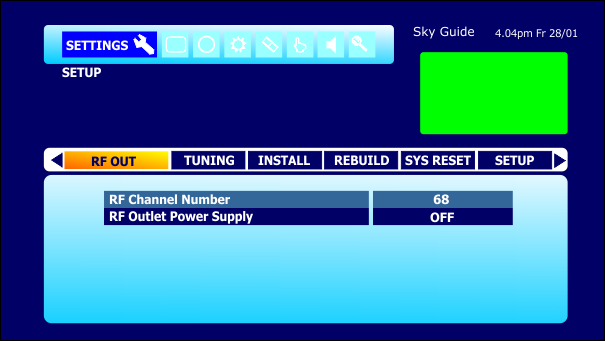 Comments
Wednesday, 17 August 2011

oh, just seen that the Tacelston transmitter had a change this morning at 6am which would affect me.

Would that mean I need to retune sky output (or something else) at all??

Colin's 4 posts

Colin: Yes, probably you would need to retune the Sky box output. It's probable that it is now on or adjacent to a channel being used for digital TV.

The moves were: Mux B from C58 to C66; Mux C from C61 to C68. These changes were made to avoid interference from high-power services from the Waltham transmitter.

You may have to do this again when Tacolneston switches over in November. Obviously the other five channels will disappear then because all analogue is switched off, with digital services starting up in place of three of them.

I would recommend using a frequency at the low end of the range somewhere between 21 and 30, so it avoids Tacolneston completely.

Mike Dimmick's 2,486 posts

Great - thanks mike

Just so I am clear, I change the RF channel on the sky box to something like 21/30 AND also retune the tv upstairs?


Colin's 4 posts

quick note to say thankyou.

changed sky to 21 and retuned the tv and hey presto...all working again

Thankyou so much!

Colin's 4 posts
Thursday, 18 August 2011

I have just set up Philex SLx4B (27875R) and distribute to 3 bedroom tv's from my Sky HD amstrad box. It has worked reasonably well since I set up 2 months ago albeit the sky picture quality was just about viewable but the freeview channels were good. Yesterday evening the sky channel quality was unviewable. This seemed to coincide with a message on the screens to retune the tv's at the end of August. I checked all the connections, replaced leads between rf2 and amplifier but no improvement. I rechecked sky box and altered rf2 channel from 35 to 30 to see if this made a diffence, retuned all televisions but no improvement. Postcode is cb4 2pa. Do the experts on here think the problem is with the output of rf2 from the sky box. In reading this thread it seems that the Amstrad box isn't the best for the magic eye operation. Can I test the rf2 with multimeter and is it 9v I should be getting. Any help much appreciated.

Mark's 3 posts
Mark's: ...

Mark: Just to check, you do have "RF Power Supply" as "ON" in the menu?

Briantist's 38,899 posts

Hi, my inlaws have been effected by the Tacolneston issue mentioned above. However, after reading the above advice about changing the RF output we cannot access the parts of the menu screens to change it. There is no facility within any menu to access RF OUTPUT?
We are wondering if this is because the Thomson Skybox is at least 10 years old and so old it does not have the technology within to deal with this issue?

kuffman's 1 post

kuffman: Are you sure you are not hesitating when pressing the sequence?, as after pressing services the "4-0-1-select" has to be done as an even consecutive action with no hesitations between any of the actions or it wont work, so dont look at the screen whilst carrying it out.

jb38's 7,179 posts

Hi
thanks for all the info. due to the tacolneston issue i have just changed my sky rf output channel from 68 to 69 and re tuned.now up and running again
thanks again for all the info

PAUL DAVIS's 1 post
Friday, 19 August 2011

PAUL DAVIS: I'm pleased to hear that fixed the problem for you.

Briantist's 38,899 posts
Select more comments
Your comment please