How do I change the RF output channel on a Sky Digibox?

Brian Butterworth published on UK Free TV
Press the [SERVICES] button and then press [4] [0] [1] then [SELECT]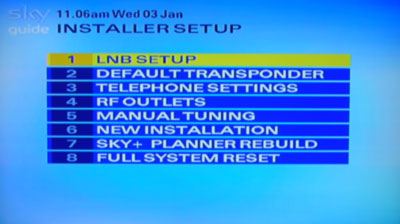 Then press [4] to go to the RF output menu.




You can now change the value so that it does not clash with an analogue TV channel or a Freeview multiplex.


HD and "new EPG" boxes
If you have a HD box, press [SERVICES] button and then press [0] [0] [1] then [SELECT]. Nothing is shown on the TV screen until you press the Select button.
Then use the [RIGHT] arrow button on the remote until this screen is shown, and press SELECT to change the values: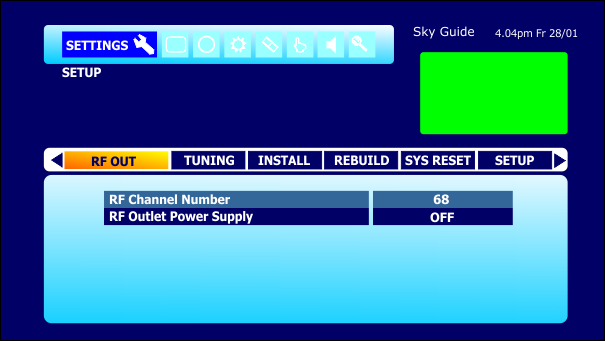 Comments
Thursday, 1 September 2011

Sue: I take it that you are scanning the TV whilst the TV in question is set on analogue and not digital?

If you have then whats been said does obviously not apply, so do you get a picture without the magic eye in line? that is with the co-ax straight into the TV, although to do this test use the Sky boxes RF1 output to avoid the possibility of the TV shorting out the magic eye's voltage, as that can happen with some TV's.

jb38's 7,179 posts

Hi, I have tried to find the answer to my problem within the above forum, but to no avail.

I have bought a Dion freeview box to connect to an upstairs TV, as we have just lost our analogue signal (Waltham). I have a Magic Eye attached to this TV, which comes directly from the RF2 output on the downstairs Sky HD box, and I have been able to watch Sky with no problem.
I have connected the freeview box to the TV and it has gone through it's set-up mode ok, but my question now is, can I still connect the Magic Eye to the new freeview box (or the TV, whichever) so that I can switch between freeview/Sky? Or is that not going to be possible? Am I only going to be able to watch the freeview channels going forward?

So far I have retuned the Sky RF2 channel to no. 21 and have retuned the upstairs TV so that it picks up the channel when it goes through it's auto-tune. But I am not sure of where the aerial lead/magic eye needs to be plugged in and whether it needs a splitter.

Any tips on what I do next would be appreciated.

Thanks



Greg's 2 posts
Greg's:
map
G's Freeview map
terrain
G's terrain plot
waves
G's frequency data
G's Freeview Detailed Coverage

It's OK, I've sorted it.

Greg's 2 posts
Greg's:
map
G's Freeview map
terrain
G's terrain plot
waves
G's frequency data
G's Freeview Detailed Coverage

JB thank you.

I must clarify that the magic eyes are being used on digital TVs in the bedroom and kitchen and the freeview box is another bedroom. When the freeview box is in use, the magic eyes in the other rooms do not work. There is no magic eye in direct use with the freeview box. The configuration of the aerial is that there is a 4 way splitter in the loft giving the 4 aerial connections.

I would welcome your further advice.

Sally

Sally's 2 posts
Friday, 2 September 2011

Hello, I have changed my sky digi box to the sky plus hd box but not my sky tv package. my magic eye was working fine on the old box but I cant find the RF output option on the new box to change. The 401 select code doesnt work for me either just takes me to the box office page? Any idea how I can make it work? Women and technology dont mix too well :( Thanks Emily

Emily's 1 post

Emily: See "HD and "new EPG" boxes" at the top of the page...

Briantist's 38,899 posts
Saturday, 3 September 2011

When we first moved into our home we had Sky installed so that we could view whatever channel we were watching in any room in the house.At the same time we were still able to view terestrial channels via the analogue reception.
Now that analogue has been switched off in our area, is there a way that I can use a freeview set top box in the same way (ie pipe both Sky & Freeview into every room). The problem we have is that the children monopolise the SKY and at present we are limited to watching whatever they choose in every room!

Colin's 1 post

Colin: You haven't mentioned your location, so an expected signal strength check cannot be made, however the answer is yes if your Freeview reception is OK.

You do exactly the same as before but feed the Sky boxes RF1 output into your Freeview boxes aerial socket, then the Freeview boxes RF output is fed as normal into the other sets.

The points to note being, you have to verify that the Freeview box you purchase has a built in RF modulator, secondly that the Sky boxes RF output channel doesn't clash with any of the Freeview channels being received, keep it about 2 away, and finally that the Freeview boxes RF output doesn't clash with the Sky boxes similar.

In operation your other rooms will be able to receive Freeview channels directly, as they pass through the Sky box and also the Freeview one, or if an analogue only TV is used in one of the rooms via the RF outputs from both the Sky box and the Freeview one. (in effect two analogue channels, with Freeview on one Sky on the other)

You will of course still have to place other dual standard TV's in use on analogue to receive Sky.

jb38's 7,179 posts

Colin: Just an addition. Place the Freeview box first in the chain rather than the Sky one, as its best that the Freeview device gets the best signal from the aerial, although it would work perfectly OK the first method described so long as you have a good signal.

jb38's 7,179 posts
Wednesday, 7 September 2011

Hi, please help me I'm very confused! I have just wired up my sky+ box with coaxial cable to tv in my bedroom. Tuned into Chanel 27 have picture and sound (not brilliant quality but Im guessing this is because its a basic cable). I have a magic eye which lights up but remote will only work if bedroom tv Is off. Also if bedroom tv is on the remote will not work at all even in the room that sky box is in. I have tried taking out the magic eye and only using coaxial cable but this also stops remote from working. I know I can't use control from bedroom without magic eye connected but have to turn bedroom tv off to work the remote. Could it just be the cable that needs replacing? Also if you could tell me the best channel to use that would be great. Im in dunstable lu5.

michelle's 1 post
Select more comments
Your comment please