How do I change the RF output channel on a Sky Digibox?

Brian Butterworth published on UK Free TV
Press the [SERVICES] button and then press [4] [0] [1] then [SELECT]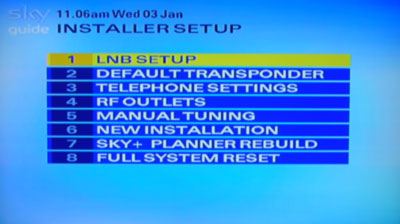 Then press [4] to go to the RF output menu.




You can now change the value so that it does not clash with an analogue TV channel or a Freeview multiplex.


HD and "new EPG" boxes
If you have a HD box, press [SERVICES] button and then press [0] [0] [1] then [SELECT]. Nothing is shown on the TV screen until you press the Select button.
Then use the [RIGHT] arrow button on the remote until this screen is shown, and press SELECT to change the values: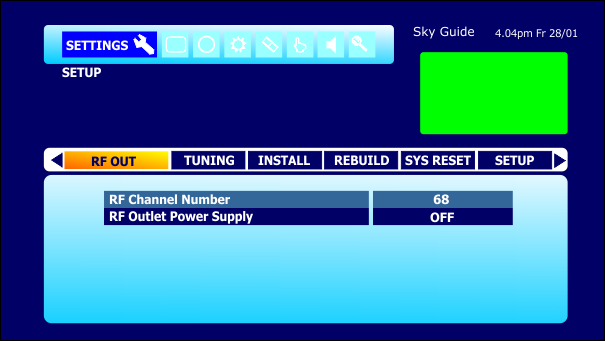 Comments
Thursday, 8 September 2011

michelle: I'm confused too, but thought you should know someone saw your question!

By "Magic Eye" I presume you mean something that commands a skybox elsewhere from the bedroom. I presume there is some box that connects the eye to the coax?

Can't understand how bedroom TV would STOP a remote working. As Sky?

Steve P's 1,173 posts

Steve P: Yes, I'm really puzzled by this. The only thing I can think is that there is a fault in the "Magic Eye" device itself.

Briantist's 38,907 posts
Friday, 9 September 2011

I meant to say "Ask Sky?" !

Magic Eyes can be very tricky - I had trouble getting one to work with a particular remote, but forget the detail.

Steve P's 1,173 posts

Steve P: I was talking to a Sky engineer the other day and he said that the "Magic Eye" had been depreciated by Sky about two years ago.

This was for two reasons: they are problematic after switchover (being analogue), and Sky prefer to sell people the extra-£10-a-month Multiroom subscription.

Briantist's 38,907 posts

I've lost the 9V supply from my RF2 on my old sky+ box. It was only feeding a TV in my bedroom. Is there anything Ican buy to inject a 9V dc supply onto my coax cable to enable my magic eye?

Thanks

Paul777's 1 post

Briantist: Magic Eye also relies on signals travelling back up the coaxial cable (reportedly a modulated carrier at 47 MHz). Splitters need to be able to pass those signals back to the Sky box.

I don't quite see why it only works if the bedroom TV is off, though. Perhaps when it is on, the TV is also trying to supply power on the aerial cable, and that throws off the power supply to the Magic Eye receiver?

michelle: See if the TV has an 'aerial power' or 'antenna power' option. If it does, try turning it off.

(Pet peeve: 'Deprecated' means not really supported any more, planned to be phased out. 'Depreciated' means a reduction in value over time.)

Mike Dimmick's 2,486 posts
Saturday, 10 September 2011

Mike Dimmick: Yes, I have a dim recollection of someone showing me how the Magic Eye return signal worked when the original boxes first came out - it is not the most "high tech" of solutions, but it works.

Briantist's 38,907 posts

Mike Dimmick: Remote eye signals I've measured with an oscilloscope use a carrier frequency of 7MHz, amplitude modulated corresponding with the IR LED flashing from the Sky remote (shortest pulse lengths around 0.6ms).

Jim F's 141 posts

michelle: The Sky remote eye can somtimes pick up interference from inside the telly - you may find that you need to have a shortish length of coax cable to connect the remote eye to the TV aerial input (which enables the remote eye to be further from the TV set). Having the remote eye plugged directly into the TV does sometimes give trouble.

Jim F's 141 posts

Paul777: You could buy a reconditioned Sky+ or SkyHD box to save having an additional item taken up a 13A socket.
What you're asking for is a power supply similar to that used for powering a masthead amplifier (coax connectors with 12V DC on one side that connect to the aerial, but in your case needs to go to the magic eye. The other DC blocked side needs to go to the Sky box RF2 connector).
I've not seen a masthead power supply with a 9V output, and 12V is more than the specified 9V from the RF2 socket - but I have seen this arrangement work in exactly your situation. However, I can't say I've tried this with every make of magic eye.
Losing the 9v power from the RF2 output is a relatively common failure for Sky+ boxes.

Jim F's 141 posts
Select more comments
Your comment please