How do I change the RF output channel on a Sky Digibox?

Brian Butterworth published on UK Free TV
Press the [SERVICES] button and then press [4] [0] [1] then [SELECT]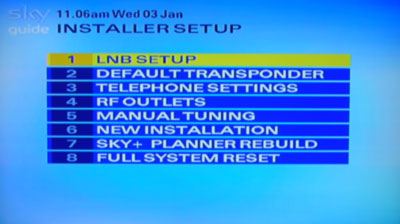 Then press [4] to go to the RF output menu.




You can now change the value so that it does not clash with an analogue TV channel or a Freeview multiplex.


HD and "new EPG" boxes
If you have a HD box, press [SERVICES] button and then press [0] [0] [1] then [SELECT]. Nothing is shown on the TV screen until you press the Select button.
Then use the [RIGHT] arrow button on the remote until this screen is shown, and press SELECT to change the values: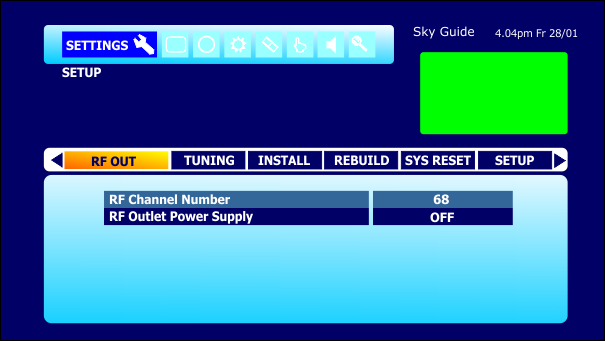 Comments
Monday, 26 September 2011

Surely teenage son should be a whizz at this stuff, leaving mum to wiggle decouously?

Steve P's 1,173 posts

Teenage son gone to college, mum at home cos blinkin car failed MOT at weekend..... why does non of my equipment work, I must have upset a technical bod in a previous life!

Can't even find the services menu on new box, there is a settings menu which includes things like the picture, sound and signal and they don't give manuals now, just a little leaflet.... aaaaahhh. What's RTFM, is this on the services menu that's not there? and I do find it, what do I do with it when I get there?

Am I rambling.... oh yes! - I'm just hoping this will be cheaper and quicker to fix than the bloomin car :(

Nicky's 5 posts

OK, teenage daughter just explained RTFM!! see where you were going with that; so I'm a numpty where jargon is concerned, but can live with that as long as I can get this stupid thing working :)

Nicky's 5 posts

Nicky: Plus, it would have been of assistance to know what type of box you were referring to, although "services" could indicate that you are referring to a Sky device? maybe not though!

jb38's 7,179 posts

Nicky: Just noticed that you posted a question yesterday. With regards to the Digi-sender has it been plugged into the Sky boxes scart socket or the TV's? because if it was the latter then thats why the TV has to be left on, which it shouldn't need to be if the Digi-sender was plugged into the Sky box.

Or is it that you dont you have an aerial connection on the upstairs TV and thats why the Digi-sender its plugged into the lounge TV?

jb38's 7,179 posts

Nicky - I think you should call Sky.

Steve P's 1,173 posts

Thanks everyone for your responses. I called the sky chap and he came round today.

Apparently the problem was that we were trying to use the old remote on the new box and he said these won't operate the new HD sky boxes.

So there you have it. He actually gave me an additional remote for the upstairs tv, yup, you heard me correctly... gave it to me at no cost - I really wasn't expecting that one, I've obviously been forgiven for all my previous life high-jinks!

Thanks again for all your help.

Nicky

Nicky's 5 posts

Nicky - you are very charitable.

It was surely the job of Sky to provide what you needed in the first place?

Steve P's 1,173 posts
Saturday, 1 October 2011

Hi Everyone
i have a second digi box in another room with its own sat signal but have a
tv ariel point plastered in the wall so i cant get a scart to my tv can i watch sky tv from the rf output ?

many thanks
Andy

Andy Bladen's 1 post
Sunday, 2 October 2011

We have 2 tvs with built in Freeview both working of the same aerial, the 1 downstairs is great and get all the channels the 1 upstairs only gets a select few even after retuning many times - does this need a Freeview booster box??

SAMANTHA's 1 post
Select more comments
Your comment please