How do I change the RF output channel on a Sky Digibox?

Brian Butterworth published on UK Free TV
Press the [SERVICES] button and then press [4] [0] [1] then [SELECT]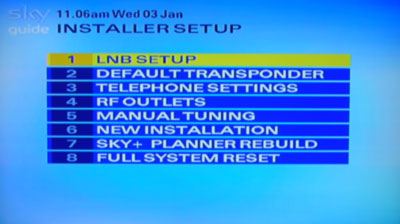 Then press [4] to go to the RF output menu.




You can now change the value so that it does not clash with an analogue TV channel or a Freeview multiplex.


HD and "new EPG" boxes
If you have a HD box, press [SERVICES] button and then press [0] [0] [1] then [SELECT]. Nothing is shown on the TV screen until you press the Select button.
Then use the [RIGHT] arrow button on the remote until this screen is shown, and press SELECT to change the values: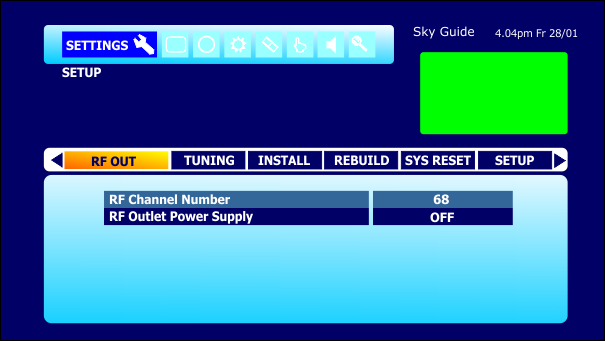 Comments
Sunday, 2 October 2011

SAMANTHA: TV's and boxes all have different sensitivities as far as being able to pick up stations are concerned, and you would be much better feeding your aerial lead into a two way powered splitter, then connecting a TV to each of the splitters output sockets.

Doing it this way guarantees that each set gets the same signal.

jb38's 7,179 posts

Sam - the "Caps Lock" key is centre left of your keyboard.

Move whichever is easier to the other room and see if it is the set or the aerial feed that is the problem.

For any more help need to know what aerial you haave and how it conneccts to the TV; and your postcode.

Steve P's 1,173 posts
Friday, 7 October 2011

aerial is on roof connected to sky+hd box have cable going from rf2 through tv rf plate to splitter can get sky upstairs downstairs freeview downstairs but not upstairs

petr lauchlan's 1 post

pl - So you have a dish AND a conventional TV aerial on roof, connected to sky box, then forwarded?

Where is sky box? Downstairs I presume?

I do not know if sky boxes forward the incoming aerial signal on RF2 or not.

I presume upstairs TV has a freeview box/built in?

Try what happens with upstairs TV downstairs and v-v.

Steve P's 1,173 posts

I have just had sky hd installed. I have the magic eyes working fine to my other tv's in the house so i can see what is on sky from the main tv. However, these other tv's, i also had hooked up to digiboxes, these are now no longer working and do not pick up a signal, so its whats on sky or nothing. All was fine until I had hd put in. Can anyone suggest what is causing the problem. My other tv's are quite old and are not hd sets and my digiboxes are cheap ones and not freeview hd ones.

Sean's 1 post

Sean - sounds like the TV aerial (as distinct to the sat dish) is no plugged in to the new digibox; or perhaps that it does not forward that signal as the old one did.

Steve P's 1,173 posts
Monday, 10 October 2011

i bought a new 19inch technika tv for a bedroom i have sky multiroom and iget a good picture with my sky box however i tried to line up freeview and it shows o strenghtsignal if i get rid of sky how do i get a signal as i have built in freeview on my hd ready tv

ron corsar's 1 post

Ron - for freeview you need a conventional aerial, not a dish.

Steve P's 1,173 posts
Sunday, 16 October 2011

During the process of moving house the rf socket on my TV has broken, the set has built in Freeview etc along with a single scart, s-video, rgb & HD inputs. Will my old Pace Sky box (ds-440n) convert the rf signal so I can feed the tv through the scart input and still enable me to pick up a standard DTV signal? The new house has no sky dish, so I wont have an LNB input.

Stuart H's 1 post

Stu H - Dunno for sure but doubt it. Sky box no reason to have DTV tuner.

It really can't be hard to mend/replace a coax socket. Or just solder/twist a bit of coax onto the wire inside.

Steve P's 1,173 posts
Select more comments
Your comment please