How do I change the RF output channel on a Sky Digibox?

Brian Butterworth published on UK Free TV
Press the [SERVICES] button and then press [4] [0] [1] then [SELECT]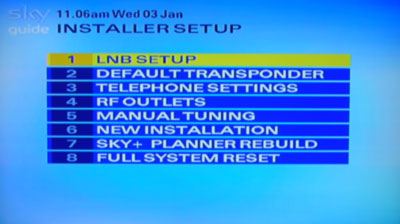 Then press [4] to go to the RF output menu.




You can now change the value so that it does not clash with an analogue TV channel or a Freeview multiplex.


HD and "new EPG" boxes
If you have a HD box, press [SERVICES] button and then press [0] [0] [1] then [SELECT]. Nothing is shown on the TV screen until you press the Select button.
Then use the [RIGHT] arrow button on the remote until this screen is shown, and press SELECT to change the values: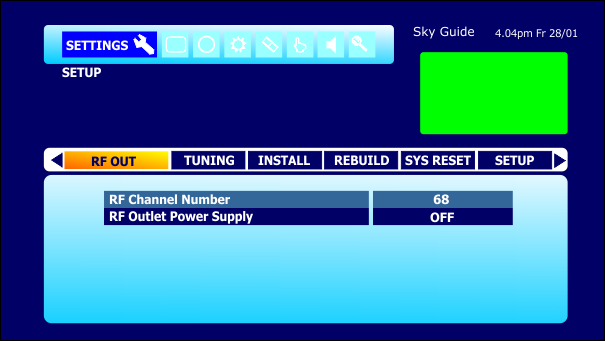 Comments
Saturday, 12 November 2011

hi i have a magic eye set up in the bedroom tv running from the rf2 outlet on my sky+ box and there is no light on the eye box. what am i doing wrong

stephan's 1 post

stephan: The first obvious question would be "if" on the box you have went into the engineers menu and selected "power on" for that output.

This done by pressing "Services" then "4 - 0 - 1 - select" in a smooth sequence, or if a later box "Services" then 0 - 0 - 1 - select", the smooth sequence easier achieved if NOT looking at the screen whilst doing so.

If though you have already done that, then it can indicate a short circuit somewhere on the coax line, check the plugs in case a strand of wire from the screen is bridging onto the inner connection. Just have a check though that the TV being used is compatible for use with a magic eye, as some aren't, this done by observing if the eye lights up when you remove the TV's aerial plug.

jb38's 7,179 posts
Sunday, 13 November 2011
M
Mandy
7:44 PM
South Shields

I have just bought a samsung full HD tv with built in Hd freeview. I also have a sky + box which I have connected by scart to the tv but I cannot receive any HD freeview channels. Have tried manually tuning to no avail. There is no signal at all whilst searching. Please can you help?

Mandy's 1 post
Mandy's:
map
M's Freeview map
terrain
M's terrain plot
waves
M's frequency data
M's Freeview Detailed Coverage

Mandy: Have you managed to tune in the other Freeview channels? Are you using a rooftop aerial?

When manually tuning the HD channels, it is C63.

Dave Lindsay's 5,724 posts
Dave's:
map
D's Freeview map
terrain
D's terrain plot
waves
D's frequency data
D's Freeview Detailed Coverage

Mandy: Assuming you're using a rooftop aerial, then disconnect all other items from the TV. If the aerial goes into the Sky box and then out, for example, to another box and then out of that into the TV then do the following: Connect the TV's aerial connection straight to the incoming aerial lead so it doesn't go via the Sky box and anything else you may have under your TV. Then try tuning the TV.

Dave Lindsay's 5,724 posts
Dave's:
map
D's Freeview map
terrain
D's terrain plot
waves
D's frequency data
D's Freeview Detailed Coverage

hi, we have an old pacific tv in the bedroom, have just swapped an HD+ box[daughters] for a HD only, as there is no `other` ariel outlet on the hd box[worked ok on the hd+] is there a way to connect the new HD box to the pacific tv, thanks

neville H's 2 posts
Tuesday, 15 November 2011

neville H: You would normally use the SCART connection, if there is no HDMI on the TV.

Briantist's 38,907 posts

neville H: hi briantist, thanks for your reply, think the scart idea is out as the tv is in the room above and, apparently over the distance the signal claritywould be drasticaly reduced, apart from having a whopping black cable running up the lounge/bedroom wall, i have however dug out and old sky box, and as we have a spare cable running from an updated dish i will utilise that and just have terrestrial channels on the old pacific tv for the time being, thanks again

neville H's 2 posts
Saturday, 19 November 2011

Hello, I hope someone can help and apologise if this has been asked before.

I have a sky HD box with a magic eye through to my TV bedroom and was working fine. This was until I recently plugged in a cable between RF1 out and the tv which sky is plugged into as I wanted to also use the freeview on this tv when there is multi recordings on sky.

If I take the cable out of RF1 the magic eye starts working again. I can still see the picture when both are plugged in but cant use the remote.

Any ideas?

heygizmo66's 1 post
Thursday, 24 November 2011

I have two old analogue tv's in the house both of which are fed through the sky box. I have now lost all channels on these except sky, I was under the impression these would still be ok after the digital switchover, I have tried re-tuning without success. Do i have to buy two freeview boxes to get these working again?
I live in the Talcolneston area & lost the channels on Wednesday.

Michael's 1 post
Select more comments
Your comment please