How do I change the RF output channel on a Sky Digibox?

Brian Butterworth published on UK Free TV
Press the [SERVICES] button and then press [4] [0] [1] then [SELECT]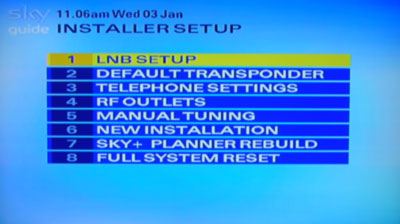 Then press [4] to go to the RF output menu.




You can now change the value so that it does not clash with an analogue TV channel or a Freeview multiplex.


HD and "new EPG" boxes
If you have a HD box, press [SERVICES] button and then press [0] [0] [1] then [SELECT]. Nothing is shown on the TV screen until you press the Select button.
Then use the [RIGHT] arrow button on the remote until this screen is shown, and press SELECT to change the values: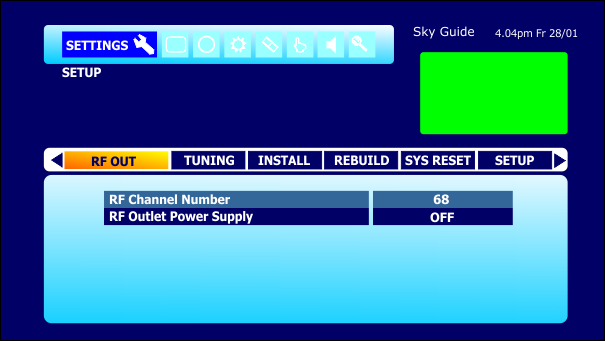 Comments
Wednesday, 28 December 2011

My second TV, connected to Sky box by Digilink, had worked fine for years, but a few days ago the Sky picture was covered in 'snow'.
Not sure why this had suddenly happened, maybe due to constant Freeview re-tuning?
Anyway, followed the instructions on this brilliant website and changed RF signal from 50 to 40, retuned second TV's analogue signal, and problem solved.
Now have brilliant picture. Many thanks!

Charles Peters's 1 post
Wednesday, 4 January 2012

have fed rf 2 to second tv.picture ok,but no sound.can you help?

roy's 1 post
roy's:
map
R's Freeview map
terrain
R's terrain plot
waves
R's frequency data
R's Freeview Detailed Coverage

roy: Taking it that the second TV being used is a UK model and not an European one, the problem you mention is nearly impossible to be caused by anything except from the device that is supplying the RF signal.

Try temporarily connecting the Sky boxes RF2 into the aerial socket of the TV that is likely to be sited near to the Sky box and connected by a scart lead to it, then set that TV on analogue (if dual standard) and give it an auto tune to pick up the Sky boxes RF signal, this obviously for purposes of verifying if the RF from the Sky box contains audio "if" you don't have a second TV to use as a test.

This said though assuming that you have verified that the second TV's audio works on other than the analogue channel being used for picking up the Sky box.

jb38's 7,179 posts
Thursday, 5 January 2012

have been dealing with this forum but in the wrong section.my problem is i cant tune my tv.i have an lg 42pq3000 model which does have analogue.only problem is that it doesnt find anything on auto tune or manual tune.i have tries rf2 number 68,60,32 and 37as stated by other members.but nothing. i have checked my sky eye and it lites up at back of sky box and also lights up before i plug in to tele via the coaxial,so presumin that the connections ok.so should it just pick up via auto tune? and when you try to manual tune there is loads sub headings such as storage system band and chanle.any idea how to set this up.pulling my hair out

ross walker's 20 posts
Friday, 6 January 2012

I have an Thompson SKY+ box Model 132-168
Is it possible and what is the proceedure for running a second television from it

DCH's 1 post
Saturday, 7 January 2012

I have had a magic eye relaying my Sky box via RF2 for some years now without any problems. I have a new Sky+ box I'd like to use to replace the old Sky box but my problem is that accessing Service 4 0 1 doesn't bring up the hidden menu to switch on the 9v feed to the magic eye. When I put back the old box the magic eye works fine again. I've done a firmware update but still no hidden menu. Any ideas??

Davy's 1 post

Davy: Have you tried pressing "services" then "0 - 0 -1 - select" in quick succession, best done without looking at the screen then you should see the hidden menu.

If though you have the latest Black coloured Amstrad Sky+ HD box model DRX595, then unfortunately these do not have RF modulators built into them and so an external one has to be used.

jb38's 7,179 posts
Sunday, 8 January 2012

Can anybody help on the following , we have the digital aerial connected to the sky box aerial in , then another cable from the sky box rf1 into the tv and we get freeview without any issues , so i wanted to get freeview upstairs but when i connect a cable in the rf2 of the sky box we only get a snow analogue picture and no digital up stairs

Lee's 6 posts

Lee: You should really just split the RF1's output and feed it to the upstairs TV, that is taking it that you aren't using RF2 because you are using a magic eye controller, however you should go into the Sky boxes hidden menu, accessed by pressing "services" then in a quick even succession "0-0-1-select" and check that RF2's power is selected to OFF.

That said though, the RF output on a Sky box isnt strong and so only one of the sockets should be used, and as the Freeview signal is slightly attenuated by going through the Sky box you have to have a reasonable signal strength to start off with.

Unable to check the latter as you havent supplied a location. (pref: post code)

jb38's 7,179 posts
Monday, 9 January 2012

Thanks for your help, I will try that. We have not switched over to freeview in our area yet so the signal may not be strong enough. I will buy a splitter and let you know. Is there a better way to do it without the SKY box? best regards Lee

Lee's 6 posts
Select more comments
Your comment please