How do I change the RF output channel on a Sky Digibox?

Brian Butterworth published on UK Free TV
Press the [SERVICES] button and then press [4] [0] [1] then [SELECT]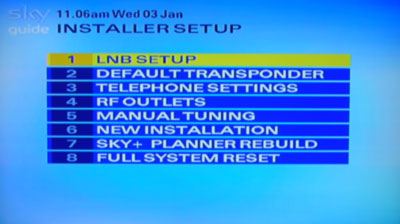 Then press [4] to go to the RF output menu.




You can now change the value so that it does not clash with an analogue TV channel or a Freeview multiplex.


HD and "new EPG" boxes
If you have a HD box, press [SERVICES] button and then press [0] [0] [1] then [SELECT]. Nothing is shown on the TV screen until you press the Select button.
Then use the [RIGHT] arrow button on the remote until this screen is shown, and press SELECT to change the values: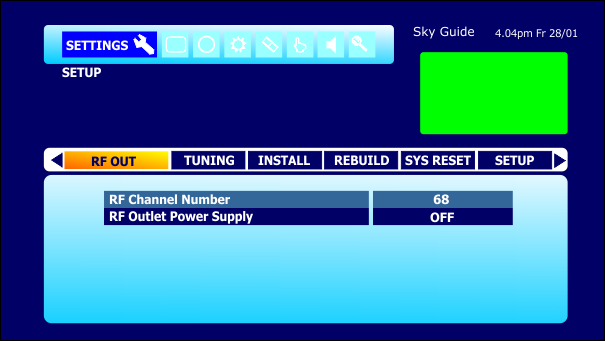 Comments
Friday, 28 January 2011

hi jb38,
sorry for a stupid question but how do i check other analogue channels?

Alan's 9 posts

Alan: Well the question was based on the assumption that as the second TV was being used to pick up the "analogue" RF output from the Sky box on one of its channels it would also be used to view other non Sky analogue channels as well, that being the commonly done thing "if" a persons Sky box has a normal aerial connected to its "aerial in" socket.

This is a very convenient way of doing things for people with analogue bedroom TV's, as the normal aerial signal passes through the Sky box from its "aerial in" to "RF out" but along with an additional channel from the Sky box modulator (just like another channel!) this enabling people to either select to view the Sky box channel or just choose any of the other normal analogue broadcasts, (BBC / ITV etc) however now you have asked this question it could suggest that the second TV is just being used as a single channel monitor for the Sky box and you don't actually have a normal connected anywhere?

It should be appreciated that you haven't mentioned anything about your set up except the problem, and so an element of guess work based on normal procedure has to be involved.

jb38's 81 posts

Can anybody tell me how to get this to work on my sky V+ HD box please

Gordon's 4 posts

Gordon: Should you be making this request with reference to the procedure described in the previous posting (to Alan) could you please clarify the type of box being referred to, (1) Sky HD box, or (2) Virgin V+ box.

It should be said at this point that the Virgin V+ box involves purchasing either a video sender or a separate modulator to feed to other rooms, plus what is actually possible being dependant on whether its an old version or bang up to date model involved, the older version being somewhat easier!

jb38's 81 posts

jb38,
thanks for reply,i have sky hd box in front room with 2 cables running into it.from this i connected my cable(approx 20-25feet) to the rf2 out and straight into my second tv in bedroom.is this correct??

Alan's 9 posts
Saturday, 29 January 2011

Alan: Yes! what you have done is quite correct if the second TV is being used purely as an extension for viewing Sky programmes, however if the two cables you refer to includes the sat dish input then it doesn't appear you have a normal aerial connected to the Sky box "aerial input" socket, this being necessary to enable your second TV (or even main TV fed from RF1) to view other analogue TV channels.

Of course I do appreciate that you may possibly reside in a freeview only area where the analogue signal has been switched off, or that its just that you do not have an operational normal aerial and view entirely via satellite, this being why you cannot test the second TV's analogue reception.

Sky box modulator is the prime suspect though! and so the test referred to in one of my previous replies (Jan 27th / 3.32PM) should be carried out and if this proves OK then the second TV is at fault, although you should "up" the channel you are using for the Sky box RF output and likewise re-tune your second TV so that it picks up the new channel setting, as this procedure could possibly help alleviate the problem in either device. (second TV or the Sky box)


jb38's 81 posts

Hi JB38, It was a sky+hd box that I was reffering to. I had the normal SKY V+ and was using a magic eye to a second TV. I swapped it out for the SKY V+HD now my magic eye doesn't work. Can you help please?

Gordon's 4 posts

Gordon: The most likely reason is that the RF2 output socket is not powered up and to do this you will have to enter the engineers menu.

You select - "Services" then press (in reasonably quick succession) 0-0-1 and then "Select", the menu should show RF outlets (power and channel) so just switch the power on.
(Older Sky boxes used 4-0-1 then select)

Bye the way only the reason I queried the actual box type was because V+ refers to a Virgin cable box, Sky is only Sky+HD.

jb38's 81 posts

Thanks JB38, sorry to confuse you with the V+. I have turned the RF power on and it says channel 68, however, it still isn't working. can you think of anything else?

Thanks again

Gordon's 4 posts

Gordon: Are you sure your lead to the other TV is connected to RF2 as its the only one that gets powered, RF1 never does even although the menu suggests otherwise.

I am also taking it that you can actually view on the other set and that its just the magic eye that doesnt work? as when you swapped boxes over the second TV would have to be re-scanned unless you knew what the RF output channel was on your other box.

jb38's 81 posts
Select more comments
Your comment please