How do I change the RF output channel on a Sky Digibox?

Brian Butterworth published on UK Free TV
Press the [SERVICES] button and then press [4] [0] [1] then [SELECT]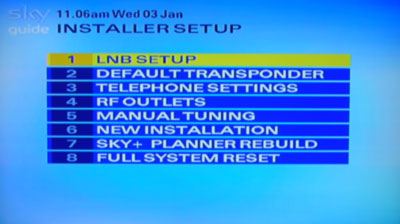 Then press [4] to go to the RF output menu.




You can now change the value so that it does not clash with an analogue TV channel or a Freeview multiplex.


HD and "new EPG" boxes
If you have a HD box, press [SERVICES] button and then press [0] [0] [1] then [SELECT]. Nothing is shown on the TV screen until you press the Select button.
Then use the [RIGHT] arrow button on the remote until this screen is shown, and press SELECT to change the values: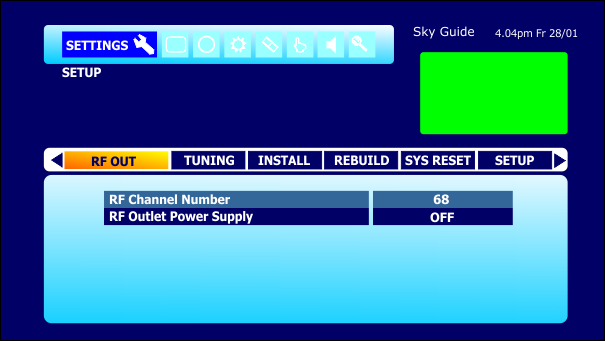 Comments
Friday, 15 June 2012

I have retuned my tv with the sky eye fitted to it ,I USED TO GET SKY ON CHANNEL NO. 8 BUT NOW THAT i HAVE RETUNED THE TELE i CAN'T GET CHANNEL 8.Can you tell me how to set it back to no.8

Lesley's 2 posts

I don't know if my first message was clear!! but the tele that I use in another room from the sky box (which has the eye box fitted to)I had to retune the tele cause of this change over. Before I used to get the sky on no.8 but now I press no 8 on the remote control it won't keep on it so now I can't get sky on the tele. Is it possible for you to tell me how I can reset it please.

Lesley's 2 posts

Lesley: There is the possibility at switchover that "may" mean that you have to adjust the output of your Sky box, this being that a digital signal may have come on air on the same frequency you are using for your Sky box. This, as I say, is a possibility but you should go step by step.

If you have carried out an automatic tuning on the analogue side of the TV, the Sky box may have been put under number 1 if that is the only analogue signal to be found, as well it might. I would just leave it under analogue number 1.

Failing that, unplug the incoming aerial lead to the Sky box and then try again with tuning the TV. Then plug the aerial lead back into the Sky box. Then go back to the TV and see what the picture from the Sky box looks like. If it is snowy, then you know that there is a new digital signal coming down your aerial lead on the same frequency and you will have to change it using the instructions above.

Knowledge of your location (preferably by post code or nearby post code, such as a shop) will be helpful in working out a new channel to use, should you find that it is interfered with by a digital signal.

Obviously always ensure that the Sky box is powered on and not in standby so that it is putting out an analogue signal.

Dave Lindsay's 5,724 posts
Friday, 22 June 2012

Hi. We have a tv upstairs of which the aerial comes down the wall to a booster box.
How can we connect sky which we have downstairs to the tv upstairs?
Thank you.

Catherine Burns's 2 posts
Saturday, 23 June 2012
G
gary frobisher
4:56 PM
Peterborough

hi there iv got a sky magic eye i installed it today i have done everything the instructions have said got a picture on second tv its not a clear picture i have no led light on the eye and the remote dont work can someone please help my postcode is pe4 7pt

gary frobisher's 3 posts
gary's: ...

Gary a few things to check first there are two parts to coax inside solid core and out side brade the brade should not touch the inside that should be held back by the clamp in the plug. If your plug has a small screw remove it they can cause a short. Does the coax run direct from the sky box to the magic eye if it has an amplifier between is it a bypass amp if not the amp will have to be changed to one with a sky bypass one last thing is the power on from the receiver and is the coax in the rf2 hope this helps.

Mazbar's 384 posts
G
gary frobisher
6:08 PM
Peterborough

Mazbar have done as you you suggested redid my plugs got a better picture but still no red led light on my eye i have no amp or booster is a straight lead through from my sky +hd box to magic eye and yes my coax is in the rf2

gary frobisher's 3 posts
gary's:
map
G's Freeview map
terrain
G's terrain plot
waves
G's frequency data
G's Freeview Detailed Coverage

Gary one last thing to try put a slight kink in the center core to make sure you get a good conection. You might also check the coax have you put it under carpet if so make sure the carpet grippers havent gone into the coax .

Mazbar's 384 posts
G
gary frobisher
7:25 PM
Peterborough

now have a decent picture on my 2nd tv still no led light on my sky eye and sky remote not working does any1 have any ideas please

gary frobisher's 3 posts
gary's:
map
G's Freeview map
terrain
G's terrain plot
waves
G's frequency data
G's Freeview Detailed Coverage

Gary the only thing to do is re check all plugs, and then switch the power off to rf2 save it then switch it back on. This is what i would do at a customers house you could have something realy silly wrong, if you carnt get it to work you might have to call out someone and pay there call out charge if you do dont use a 0800 number or a local number that you think isnt right they are paid for numbers and they are not local.

Mazbar's 384 posts
Select more comments
Your comment please