How do I change the RF output channel on a Sky Digibox?

Brian Butterworth published on UK Free TV
Press the [SERVICES] button and then press [4] [0] [1] then [SELECT]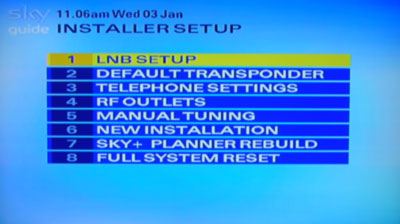 Then press [4] to go to the RF output menu.




You can now change the value so that it does not clash with an analogue TV channel or a Freeview multiplex.


HD and "new EPG" boxes
If you have a HD box, press [SERVICES] button and then press [0] [0] [1] then [SELECT]. Nothing is shown on the TV screen until you press the Select button.
Then use the [RIGHT] arrow button on the remote until this screen is shown, and press SELECT to change the values: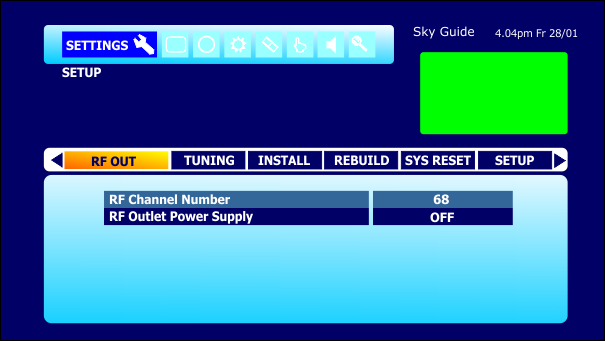 Comments
Saturday, 29 January 2011

I think i have a similar issue. RF2 out is set to on and i can control by Sky box with the use of my magic eye however see no picture on my second tv. I then disconected my magic eye and found i couldnt get a signal to my second tv unless i turn my sky box off.

So it would seem i cant get a sky picture on my second tv while my sky box is on! Please help.

NMF82's 1 post

Hi JB38, I can still watch the SKY on the 2nd tv, however, I cant use the remote control as the magic eye doesn't work. I just assumed the channel number was set by SKY. Can you please advise what i need to do?

THanks again

Gordon's 4 posts

Gordon: If you can see Sky on the second TV without having carried out a re-tune then the old box must also have been set to 68 the default channel, although you can set that to any channel you please to avoid clashing with an analogue broadcast channel then re tune the TV so that it follows the change.

However as far as your problem is concerned, if you have coupled up things correctly and made sure that no slackness exists in the co-ax connections (most important!) for test purposes I suggest you couple the magic eye directly into the RF2 output on the Sky box and see if the eye responds to commands, keep the eye behind the TV so that the Sky box doesn't directly pick up the control and by-pass the eye.

You are not alone with your problem as numerous people experience problems with magic eye units, this especially so when they change boxes as they can be quite critical devices which in many cases just work and no more at the best of times, that is even when used in a perfect continuous cable run without any links.

jb38's 81 posts

NMF82: Bit of a baffler this one! you shouldn't be able to get anything on your second TV with your Sky box off unless you reside in an area with an exceptionally strong analogue signal enabling it to filter through the Sky box in the same it does if a booster is switched off.

Leaving the magic eye off, try using the Sky boxes RF1 (not 2) output to feed your second TV and see what results you get, if its not very good give your second TV a re-scan to make sure it is locked onto the Sky boxes output, and once that is established reconnect the eye as before as well as changing the second TV's feed back to RF2 and check the results.

Just for my info, do you view other analogue TV stations on the second TV by having an normal aerial connection into the Sky box?


jb38's 81 posts
Monday, 31 January 2011

I am having the same problem, since i changed box's from sky+ to HD am not getting a picture on the second tv but am able to change chanels, i have changed the RF chanel number but so far no luck and help greatfully recieved..

jayd46's 1 post

jayd46: When you say you changed the channel number are you referring to the sky boxes RF1/2 output channel number? the default usually being Ch68, and that "if" you did alter this in the engineers secret menu you followed this action by carrying out a retune on the "analogue" TV you are using to pick up the RF2 output's channel change.

If you have done all the aforementioned and it still doesn't work try it without the eye in line but using the Sky boxes RF1 output, an update on results being appreciated.

By the way "analogue" was highlighted because many people have the misconception that as they are using a Sky digital box the RF signals sent to other TV's are also digital, which of course they aren't as they are analogue! this mistake usually made by people who use small dual standard LCD TV's in a bedroom and forget to select analogue on them before scanning, as if they don't nothing will be picked up even although the magic eye will work.

jb38's 81 posts

I've updated the text and images to reflect the Sky HD box menus.

Briantist's 38,908 posts
Tuesday, 1 February 2011

Briantist: Good clear illustration! and something I am sure will be of great assistance, as to use the old adage "a picture is worth a thousand words".

jb38's 81 posts

jb38: Thanks. I do try to do as many as possible. I've got a whole heap of things to add, but I seem to spend an awful lot of time answering questions...

Briantist's 38,908 posts
Monday, 7 February 2011

i am unable to set my sky box to rf 2. Have used the sequence 4 0 1

John's 1 post
Select more comments
Your comment please