How do I change the RF output channel on a Sky Digibox?

Brian Butterworth published on UK Free TV
Press the [SERVICES] button and then press [4] [0] [1] then [SELECT]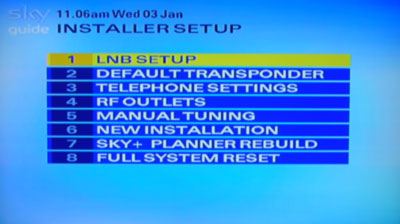 Then press [4] to go to the RF output menu.




You can now change the value so that it does not clash with an analogue TV channel or a Freeview multiplex.


HD and "new EPG" boxes
If you have a HD box, press [SERVICES] button and then press [0] [0] [1] then [SELECT]. Nothing is shown on the TV screen until you press the Select button.
Then use the [RIGHT] arrow button on the remote until this screen is shown, and press SELECT to change the values: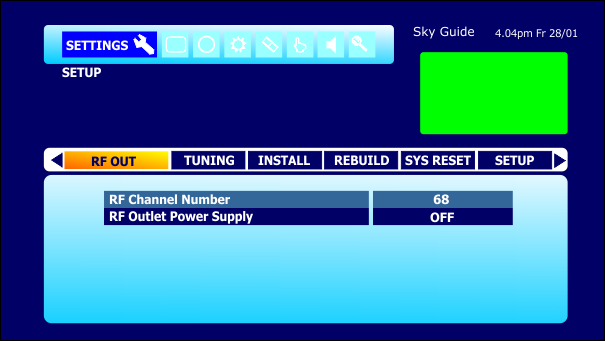 Comments
Tuesday, 4 February 2014

Teresa: Meant also to say, make sure your secondary TV is set on "analogue" when you are carrying out the tuning procedure as the RF output of I.O. device is analogue and not digital.

jb38's 7,179 posts
Wednesday, 5 February 2014

Jb 38 thanks for info and will try that.thanks scott

scott's 2 posts
Tuesday, 3 June 2014

connected a scart lead from my hd box to my tv now my io link has stopped working have checked the rf out let and it is on

colin's 1 post

I went to RF Outlets screen and turned RFOutlet power on

I then changed the RF Channel No from 68 to 21 and the screen went blank, just
thousands of black dots and I can't get back in again to change the RF Channel no back to 68?
Please can you help me

RAY CARHART's 1 post

RAY CARHART: If the TV you were viewing is the one connected into the Sky boxes RF outlet socket? then go into the TV's tuning menu and select "analogue" followed by carrying out an auto-tune to recover the Sky boxes RF output signal.


jb38's 7,179 posts

RAY CARHART : Further to that said, "if" the TV in question is fitted with a scart socket then select AV input on the TV whilst its scart input is coupled into the Sky boxes scart output and this will allow you to alter the settings on both devices without the RF coupling being involved.

jb38's 7,179 posts
Friday, 20 June 2014

BT12 4DS
Roof aerial

Hi there. Just this week I had a new Virgin superhub fitted (broadband & phone deal). My freeview was working fine, then turned on the tv last night and nothing. Tried rescan, but to avail. Have you any idea what's wrong?

Michael's 2 posts
Michael's:
map
M's Freeview map
terrain
M's terrain plot
waves
M's frequency data
M's Freeview Detailed Coverage

Michael: Since I have the same Virgin package, I can assure you that your hub and your Freeview have nothing to do with each other, and it could just be that your unlucky in that your aerial has a problem the day after you got it!

However, there is one thing that does occur to me. Most Virgin broadband fibre tends to come in at the front of the house, and since this is likely to be the lounge for many, you might have your hub right next to the TV (mine is). In all the excitement of setting up the new phoneline/hub, etc, its possible to loosen the aerial leads from their sockets.
If you switched on the TVlast night, and got 'no signal', then the TV is telling you there is a problem with the aerial. Its quite possible that the aerial lead is loose in the socket, or has just dropped out. Have a look. If everything is fine, then check the rest of the system.

MikeB's 2,579 posts

Michael: Looking at your location - within sight of the Divis transmitter - you are likely to find that a piece of wet string will do, at least for test purposes!

If you have no signal then do you use any form of powered booster, as it could be that this has failed? If you do I would be inclined to try using an unpower splitter because the signal should be very very strong.

Dave Lindsay's 5,724 posts
Monday, 23 June 2014

Michael: First of all, thanks MikeB. You were right in identifying a loose (twisted) aerial connection. Fiddled around a bit and rescanned and got channels back. I had initially tried this but perhaps was not fastidious enough. Secondly, cheers to Dave Lindsay. The aforementioned lead runs into it. I have all my British channels back by turning it off at the power socket, but at the expense of RTE and the rest from down South. It's a case of either or at the minute until I can get my aerial guy down to see if the booster has died or, if something else has gone wrong with it. Thanks again gents. You were both a great help.

Michael's 2 posts
Select more comments
Your comment please