How do I change the RF output channel on a Sky Digibox?

Brian Butterworth published on UK Free TV
Press the [SERVICES] button and then press [4] [0] [1] then [SELECT]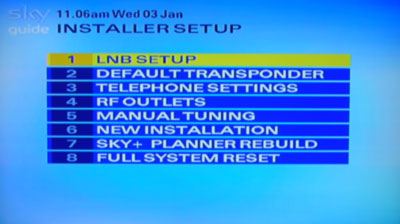 Then press [4] to go to the RF output menu.




You can now change the value so that it does not clash with an analogue TV channel or a Freeview multiplex.


HD and "new EPG" boxes
If you have a HD box, press [SERVICES] button and then press [0] [0] [1] then [SELECT]. Nothing is shown on the TV screen until you press the Select button.
Then use the [RIGHT] arrow button on the remote until this screen is shown, and press SELECT to change the values: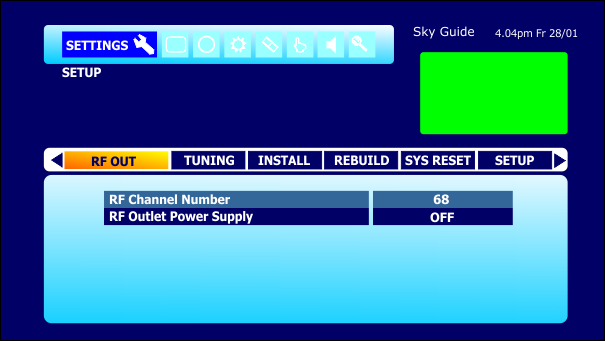 Comments
Saturday, 31 January 2015

Abbey: Good news then!!, pleased to see that you have managed to resolve the magic eyes I.O. port problem.

Thanks for the updating us on this.

jb38's 7,179 posts
Sunday, 8 March 2015

i have purchased an LG 32LB580v tv and cannot get my magic link to connect through, is there something i am missing, all i get are the digital channels

peter's 2 posts

peter : At the time of purchasing TV, did you opt to pay the extra for the "magic" remote and also the Bluetooth dongle that matches it? as the pointer facility will not work with the standard remote.

Of course that is "if" you are referring to this feature?

jb38's 7,179 posts

jb38: I have the dongle but haven't used it as i'm connected by wi fi. I have the magic remote but don't see if that would help. The prob i have is that the only input that comes up is antenna, which automatically links to the digital channels/freeview and not the magic link. The link is on , light showing red but doesn't seem to appear. I went into the retailer i purchased it from and they were more clueless than me, if thats possible

peter's 2 posts

peter: Unfortunately, my hands are somewhat tied at this present time by not having access to the full manual, but have a study at the 3rd and 4th down in the link under the help library section and see if this sheds any light on the matter.

LG 32LB580V Support: Find Manuals & Warranty Info | LG UK

jb38's 7,179 posts

peter: To be fair, I wouldn't have a clue either, and I dont think its anything to do with the TV, as such (the dongle is a bluetooth one which connects to the magic remote if you've bought one seperately - it comes in the packet).

The first thing you are going to need is an analouge tuner. Now, according to Richer Sounds website, it does have one, although where I work, it just says Freeview HD. On the other hand, it seems to say nowt at all about any tuners on the LG website, and since I know that TV also has a generic sat. tuner in the back, its not much help.

Assuming it does have an analogue tuner, your problem seems to be picking it up. A quick google found this:


Connecting new LG Smart TV to Sky box as 2nd TV


That makes (sort of) sense. The main tuner is Freeview HD, so is not going to pick up the analogue signal. Since I dont have an LG TV, I'm not familiar with the setup (although MikeP actually has exactly the same model TV), but hopefully the manual can help. It seems 'cable' is what it wants, not the main tuner. I'm not surprised you didn't get too much joy from where you went for help, because I suspect that with Sky multi-room, Sky Eye is less popular than it once was.

Your not alone. There is a huge guide on Sky Eyes on AV Forum: The Definitive SkyLink Magic Eye Guide | AVForums



MikeB's 2,579 posts
Monday, 9 March 2015

Peter

My TV is a 32LB585v which has no analogue tuner but does have facilities for digital terrestrial, cable and satellite reception. You may want to look at LG 32LB580V Support: Find Manuals & Warranty Info | LG UK to download the User Manual for your TV set, save the download to disk and extract the contents - it's all in html format so can be read in your browser after the extraction completes.

My model has a DVB-T2 tuner for HD and can get satellite HD serrvices as well.

I have the 'magic remote' but we don't use it and we don't have any other 'dongle' either, so I'm afraid I can't be of much help with that aspect of your question.

I do know that when I need to tune/retune our set I have to select which tuner system I want to tune. It can be either just the Freeview, or the Freeview plus Cable or the Freeview plus cable plus satellite (and there can be more than one satellite setting!). The USer Manual helps but is not entirely descriptive so you have to work it out between the manual and the screen menu displays on the set.

If you definitely want an analogue tuner, then there are some available from on-line sellers but almost all of them are designed for use via a USB socket on a PC so may not work on the TV as the resolution may not match.

Hope that helps a little?

MikeP's 3,056 posts
Tuesday, 10 March 2015

peter: There is analogue tuners on all lg TVs. First make sure your sky is on, then go to auto tune on your lg it will have a box that says digital only do not tick it just go to next and allow it to do a full tune this should find your sky channel. At the top of the remote there is a button that says tv/radio press this it will go between the digital, digital radio then the analogue that is where the sky will be.

mazbar's 384 posts

mazbar: Thanks for that - I was wondering about the setup. I assumed they did have an analogue tuner, but connecting it and setting up is a different matter.

MikeB's 2,579 posts
Wednesday, 11 March 2015

mazbar:
Maybe the software differs as mine does not even try to tune any analogue signals in Bands 4 and 5! Even if I have none of the options (Digital, Cable, Satellite) selected! It doesn't even try to tune then. Plus LG make no mention of any of these models having an analogue capability. If I select just one of the mentioned options, that is all it tries to tune, so by selecting all of them it tries to tune all connections but still does not show any scan for analogue signals on channels between 21 and 68 that were used for the analogue transmissions. It finds all the digital signals available locally, all the satellite signals being received by the 60 cm dish and looks at the 'cable' option but as we do not have a cable connection it finds nothing.
This response based on a recheck this morning having read your comment.

MikeP's 3,056 posts
Select more comments
Your comment please