How do I change the RF output channel on a Sky Digibox?

Brian Butterworth published on UK Free TV
Press the [SERVICES] button and then press [4] [0] [1] then [SELECT]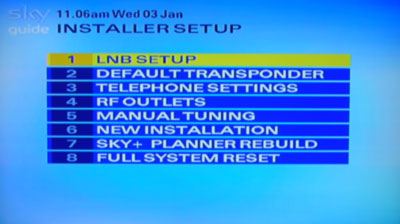 Then press [4] to go to the RF output menu.




You can now change the value so that it does not clash with an analogue TV channel or a Freeview multiplex.


HD and "new EPG" boxes
If you have a HD box, press [SERVICES] button and then press [0] [0] [1] then [SELECT]. Nothing is shown on the TV screen until you press the Select button.
Then use the [RIGHT] arrow button on the remote until this screen is shown, and press SELECT to change the values: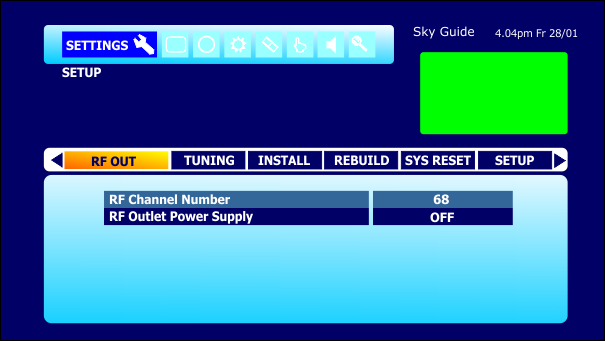 Comments
Wednesday, 11 March 2015

MikeP: I have the 42 inch version and ger an analogue picture on my main sky perfect you might need a professional to set it up right for you ;-)

mazbar's 384 posts
Thursday, 12 March 2015

Mazbar
I am a retired 'professional'! I don't follow why you mention Sky as that is a digital satellite service, unless you are using a Sky box with an RF output and you are refering to that 'local' source being seen on your TV?

MikeP's 3,056 posts

MikeP: I'm using rf2 to feed the whole house I have 2 lg TVs each picks them up on the analogue channel 35, picture is perfect and magic eyes work just fine. I mention sky as that is now the only thing that outputs an analogue signal. That is what the other person wanted to know.

mazbar's 384 posts

Mazbar
Other equipment outputs RF signals and some later Sky 'boxes' do not unless an 'add on' modulator is fitted.

MikeP's 3,056 posts

MikeP: Yes but the point is lg TVs have a analogue tuner in them

mazbar's 384 posts

MikeP / (Mazbar) : I feel that the confusion surrounding the issue of analogue reception on these LB580V models is basically down to the fact of this mode not being specifically mentioned in either the set menu, or indeed the manual, even although the model "is" capable of analogue reception, as verified today by LG's technical department.

I think that the secret of successfully storing an analogue channel is for the analogue source to be there in the first place, as mentioned by Mazbar, i.e: coupled into the Sky boxes RF1/2 output socket (or I.O. port modulator) and with said Sky box (or modulator) switched on and outputting a signal.

The second stage being "not" to select any particular mode to scan, as doing so would then restrict the box from going through the "full" scanning mode which includes analogue tuning, albeit that this mode, or anything received in same, is only revealed (TV/ Radio button) once something has been captured.




jb38's 7,179 posts
Wednesday, 25 March 2015

where can i get softcam keys for all.
most of my chanals say no or bad signal or scrambled.
100 cm dish. technomate 5420 hd sat box.

Regards Tony.
7.53 am. 3/25/15.

tony's 1 post
Tuesday, 19 May 2015

Hi all.
I've just had a new sky box fitted as the old one gave up the ghost. I had a channel changer on my upstairs tv.

It looks the same but I haven't got the rf out option and I'd like to change the channels on the upstairs tv.

Hope you can help.

Ian

Ian Steel's 3 posts

Ian Steel: If you are referring to a late edition Sky+HD box? then these devices are not fitted with RF modulators, therefore the way of getting around the problem is by purchasing a device called an I.O port modulator. This is effectively an external RF modulator which is connected into the I.O port on the rear of your box and which performs exactly the same as the previous internal same.

These devices can be obtained from a variety of suppliers such as e-bay or Amazon etc, the undermentioned links used purely to illustrate the type of device I am referring to.

GLOBAL iO-LINK TVLINK RF OUT REPLICATOR MODULATOR FOR SKY HD - Turbosat International Ltd

Triax IO Link RF Output FOR SKY HD BOX USE 370419 | eBay

If though you are not referring to the aforementioned? then please give the model number of the box in question.


jb38's 7,179 posts
Wednesday, 20 May 2015

Wow, thanks for the quick answer.
The box is made by Pace and Model number is 1.3.54 version number 9F0C02.

I'm pretty sure it's not HD as Sky had to have several goes to register it.

There are 2 RF outlets on the back below another co ax ariel inlet.

I now have a picture upstairs but the changer light isn't on and I can't change channels.

Many thanks for your time.

Ian

Ian's 3 posts
Select more comments
Your comment please