How do I change the RF output channel on a Sky Digibox?

Brian Butterworth published on UK Free TV
Press the [SERVICES] button and then press [4] [0] [1] then [SELECT]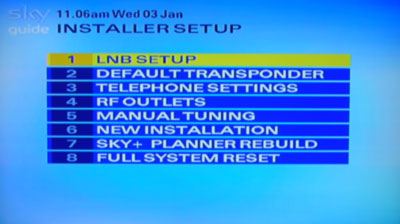 Then press [4] to go to the RF output menu.




You can now change the value so that it does not clash with an analogue TV channel or a Freeview multiplex.


HD and "new EPG" boxes
If you have a HD box, press [SERVICES] button and then press [0] [0] [1] then [SELECT]. Nothing is shown on the TV screen until you press the Select button.
Then use the [RIGHT] arrow button on the remote until this screen is shown, and press SELECT to change the values: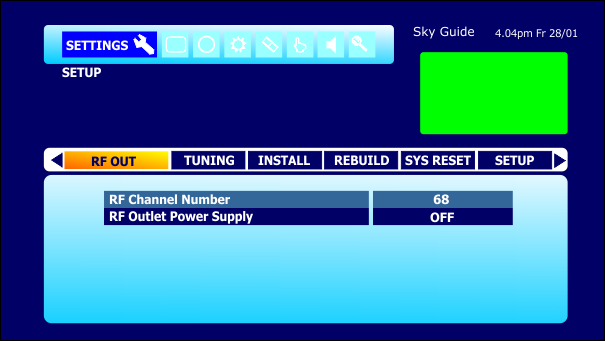 Comments
Tuesday, 8 February 2011

Thanks both. The issue was never the operation of the channels etc or the volume etc it was simply that the SKY pictures are nowhere near as good on the second and third TVs and I think Briantist has it spot on. The RF output must degrade.
My last question is whether you like or dislike the wireless senders and whether I will geta better picture using one than using the coax cable connection to the second and third TVs for SKY only channels?

Rod's 17 posts

Rod: If I could just jump in as far as this question is concerned, the RF output is as Briantist has said only of less quality because you are viewing in analogue, however as far as using a wireless sender is concerned although you "might" get a slightly better picture over what you get from the Sky boxes RF output simply because you are by-passing its RF modulator, it should be pointed out that this is all its doing! and although the picture quality will possibly show a slight improvement the image you will be viewing is still in analogue, this because the wireless senders input is taken from the Sky boxes "analogue" output scart sockets and likewise its output goes into your TV's similarly analogue scart input sockets.

jb38's 81 posts

Thanks JB, so what I understand is that unless I get a better picture using a sender which is not certain, I can expect that the second and third TVs will always have a lesser SKY signal than the primary TV which is connected to the decoder by HDMI. The question then is by how much. I have a wobbly reception of SKY on TV2 and TV3 but both, like TV 1 have excellent Freview pictures. Only SKY reduces on 2 and 3.
Any ideas please?

Rod's 17 posts

Hi,using a sky + box i had a coax cable running into the loft where it went into a booster/splitter and then sent sky to all the tvs in the house operated by the main sky box so we all had the same channel on at once,following an upgrade to sky + hd box i am unable to get a decent picture anymore.i activated the rf out scoket but the quality is poor,i rang sky who said thats because its a hd box which they have modified to prevent people like me doing this sort of thing,is that true. do i now need to buy 6 magic eyes.

lee's 2 posts

Same prob with picture quality. Yes you need the eyes to change channels and manage the decoder but what bugs me is the picture quality on TVs 2 and 3. Can't understand waht SKY are telling you though. It's obvious that we all want out TVs available throughout the house and it in no way challenges multiroom it just offers us SKY in seperate rooms on same channels
But, are we all OK with a lesser SKY only picture quality on TV2 and TV3 when Freeview is perfect on all TVs on same coax cables?

Rod's 17 posts

Rod: Well I would estimate that the quality via a wireless sender would be roughly nearly halfway between what's obtained using the RF and viewing Sky directly, although a good way you could verify with reasonable accuracy what it would be like is to place one of your secondary TV's beside the Sky box and couple both together with a scart lead, then whatever result you get will be very nearly the same (or should be!) if you use a wireless sender.

jb38's 81 posts

jb38, Thank you, so simple really. I will do that.

Rod's 17 posts

jb38 : Fascinating. The pic quality is very good when connected by Scart to SKY box, so my wobbly picture must be the coax connection which goes from Rf output up to the attic, splits in a box powered to gain strength and down the cavity into kitchen and separately to a bedroom . My next step must be to try a wireless sender, hoping that Currys will let me bring it back if it doesn't work!

Rod's 17 posts
Wednesday, 9 February 2011

Rod: A HDMI-Cat5 line driver might be a good option, if your remote set can take HDMI.
HDMI Extender Free Delivery : Maplin
- they are only £30 and all you need it "cat5" cable.

Briantist's 38,899 posts

Rod: Yes! as analogue has always been capable of very good quality when direct cable links are used because low powered RF signals of the analogue variety can be very vulnerable to all sorts of interference or instability that degrades the picture quality, that said though I did mean to add that when you were carrying out the Sky box scart to 2nd TV scart in test to also do similar with the RF connection between both, as this would then verify the quality (or not as the case may be) of your RF cable distribution system plus the analogue picture quality of your second set, as if its a freeview set with also an analogue reception capability (as most are) then in my experience the analogue performance in some of these sets isn't always quite as good as a purely analogue TV.

The route Briantist has mentioned of using an HDMI extender is obviously a lot more complex to arrange and which might make it not so practical a proposition in many households, but however its virtually a guaranteed performance way of doing things, whereas when dealing with wireless senders this cannot always be said to apply, basically because they are also vulnerable to picking up various forms of interference from things like microwave ovens, broadband lines, Wi-Fi devices etc, however many people do have great results from them with the quality obtained being virtually the same as though taken directly from the Sky boxes (or TV's) scart output.

If you do go along the Digisender line chose a 5.8Ghz operating frequency type "to try out" and not a 2.4Ghz one, as the latter type operates at only a stones throw off frequencies used by M/V ovens etc, "try out" really meaning that Argos although having less choice of devices is possibly a more flexible source of supply rather than Curry's.

jb38's 81 posts
Select more comments
Your comment please