How do I change the RF output channel on a Sky Digibox?

Brian Butterworth published on UK Free TV
Press the [SERVICES] button and then press [4] [0] [1] then [SELECT]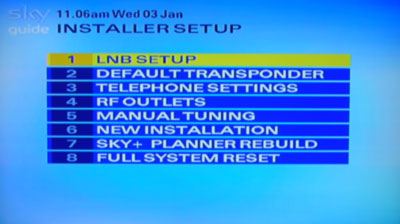 Then press [4] to go to the RF output menu.




You can now change the value so that it does not clash with an analogue TV channel or a Freeview multiplex.


HD and "new EPG" boxes
If you have a HD box, press [SERVICES] button and then press [0] [0] [1] then [SELECT]. Nothing is shown on the TV screen until you press the Select button.
Then use the [RIGHT] arrow button on the remote until this screen is shown, and press SELECT to change the values: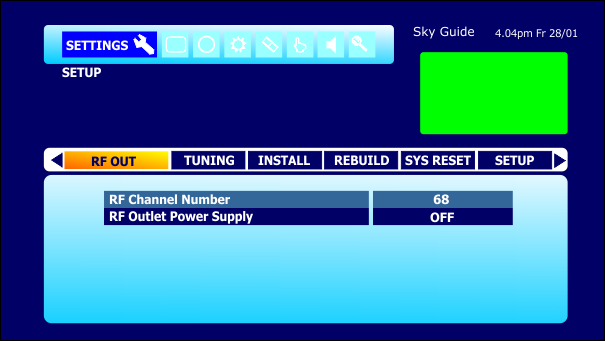 Comments
Wednesday, 20 May 2015

Ian: Try the following.

Make sure that you have the coax to the other room connected into the boxes RF2 outlet and "not" RF1.

(1) Press : Services then 4 (picture highlighted)

(2) Press : 0 - 0 - 1 - Select (this will take you into the installers menu)

(3) Select : 4 - then press on RF outlets.

(4) Finally : Ensure that RF2 power is switched on.

(By the way, when you press 0 - 0 -1 - Select, do it in continuous fashion)

If the Sky link light is still off, try connecting it straight into the Sky boxes RF2 outlet.

jb38's 7,179 posts
Friday, 22 May 2015

Hi Jb38.
Yes, that's got it.

Many thanks for your time and help.

Regards,
Ian.

Ian's 3 posts
Saturday, 6 June 2015

I have a normal (not HD or HD +Sky box} sky box, can I use this box connected to a arial in the loft to receive non subscription TV, my area is fully covered for Free TV

Hill's 1 post

Hill: No! as you are referring to two completely different operating systems, insomuch that satellite reception can only be achieved via a dish, whereas aerials are only suitable for use with "freeview" devices.

jb38's 7,179 posts
Monday, 8 June 2015

I dont know if iam asking the right question on here so here goes. Iam thinking of getting rid of sky and going for a BT package with tv, could i still use my satelite dish with this or would i have to install another aerial..thanks

Clare's 2 posts

Clare: You will ned an aerial - the BT box is basically a Humax PVR, which is Freeview. Easiest thing is to swap out your Sky box for a Freesat PVR - the Humax is basically the goto box. The current model is the 1000S, has a 1 gb hard drive, and costs about £209. It also gets you Freetime, which is catchup TV. You can buy a wireless dongle for it if you need it, but the 1010S (the white one) is around thirty quid more and has the wifi bult in.

If you want BT Sports, you'll need their box, or use their app or via PC.

MikeB's 2,579 posts
Tuesday, 9 June 2015

Thankyou

Clare's 2 posts

Sudden weak RF signal output from Sky HD box (Amstrad). The Sky signal is fine and so is the Freeview signal but we have extended the Sky output to other rooms using the RF output. It has benn fine for a number of years but suddenly the RF output is poor. We have had 4G recently turned on but as our Freeveiw is fine we're mystified. I have tried a 4G filter on the RF input on the Sky box with which has given a tiny improvement on one (closest) of the four addition TVs the RF output feeds. Any help would be very much appreciated.

Brian Porter's 5 posts

Brian PorterIt is possible that the RF output from your Sky box is set to be within the band used for 4G. Can you check what the RF channel setting is and let us know please? Use the instructions at the top of this page to guide you. Any channel number from 60 upwards could have problems with 4G interference.

MikeP's 215 posts
MikeP's:
map
M's Freeview map
terrain
M's terrain plot
waves
M's frequency data
M's Freeview Detailed Coverage
Wednesday, 10 June 2015

Brian Porter : The best way to test if 4G is responsible for your problem is simply by temporarily removing the aerial from your sky boxes "aerial input" socket.

If the problem vanishes, then it could be that either 4G is responsible, or that your Sky boxes RF modulator is set on a channel used by a Freeview transmitter, unable to advise on the best channel to use as you haven't provided your location, this preferably being in the form of a post code or one from nearby, i.e: a shop / post office.

jb38's 7,179 posts
Select more comments
Your comment please