How do I change the RF output channel on a Sky Digibox?

Brian Butterworth published on UK Free TV
Press the [SERVICES] button and then press [4] [0] [1] then [SELECT]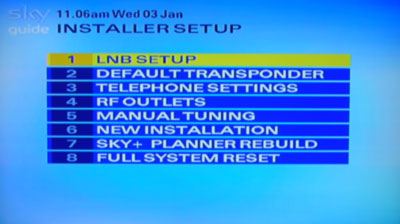 Then press [4] to go to the RF output menu.




You can now change the value so that it does not clash with an analogue TV channel or a Freeview multiplex.


HD and "new EPG" boxes
If you have a HD box, press [SERVICES] button and then press [0] [0] [1] then [SELECT]. Nothing is shown on the TV screen until you press the Select button.
Then use the [RIGHT] arrow button on the remote until this screen is shown, and press SELECT to change the values: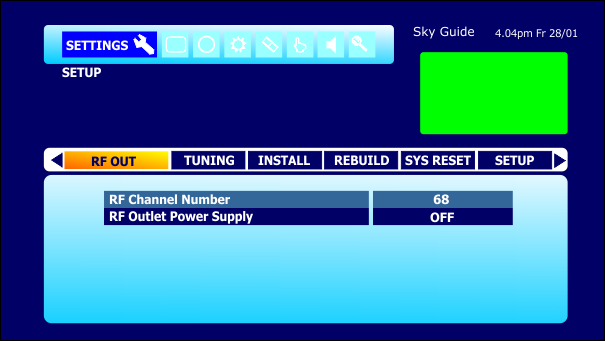 Comments
Wednesday, 9 February 2011

or move house?

Sarcastic Alex's 27 posts

jb38, many thanks for that. Apart from moving house which would mean the same problem in a new place, I think I will try the 5.8ghz digisender as that is going to be easier in the first instance than an HDMI extender particularly as I'm not a bit bothered about HD i the kitchen, we only wnat to watch Planner things which we have nmissed while we eat.
I will try Argos though don't quite understand why they might be more amenable to a 'trial'

Many thanks again to both of you, JB38 and Briantist

Rod's 17 posts

ps I suppose the HDMI extender must have CAT5 cables, I suppose it wont work with coax even though I would not expect HD pictures? Would it boost the signal sufficiently through the coax to TV 2 and TV3?

I mean would just fitting a Cat5 line driver improve the signal without completely recabling?

Thanks again

Rod

Rod's 17 posts

Rod: CAT5 cable is a quality multi stranded cable comprising of four twisted pairs of wires and is the type of cable commonly used for Ethernet as well as HDMI extensions, with it basically being used for the latter because its considerably less expensive for long cable runs over using HDMI cable, however unless a person is acquaint with fitting plugs to multi-stranded cables the job can be a bit daunting to some.

When I mentioned Argos what I was really subtly meaning was that although I don't necessarily approve of this type action, but its much easier to return a faulty item (or at least alleged to be!) to them over than doing same at Curry's, as its almost guaranteed that they will not be near so co-operative in this respect.

Before you purchase anything though I would carry out the direct RF coupling test between the Sky box and your second TV's input as was mentioned in my earlier posting, this just to verify that your secondary TV's are OK on a direct analogue RF input and that the picture quality problem is definitely connected with your cabling, as I do have elements of doubt about this.

To clarify another point I was thinking about, what station do you receive your Freeview signal from?

jb38's 81 posts

Hi again JB38, this is getting more interesting. I get Frreview from Midhurst transmitter in W Sussex.
The scart lead to the SKY decoder gives a perfect SKY picture which I would like on the same tv in the kithchen location. Howevere there is no sound when connected through scart?

The coax cable when connected close to the SKY box has the same ripple effect on the picture I get when it's in the kithchen which demonstrates that its not the length of the cable throufg the attic etc etc its much closer to the RF output or is the RF output. The power is on on RF but now I am closer but its one step forward and one back.
Any ideas please. Thank you

Rod's 17 posts

ps Now have sound as well through scart.

Rod's 17 posts

Summary: The only fault I now have is the SKY picture which is ripply when connected through Rf output close to and further away through coax.
Perfect SKy through Scart and perfect Freeview at all times
Is the prob in the SKYbox RF output or is there a weakness in the sky signal which is fine to main tv via HDMI but not strong enough for RF output?
Signal 1 strength is about half way along and quality is two thirds along bar; signal strength input 2 is a bit more that a quarter of bar. But on main tv all seems fine

Rod's 17 posts

Rod: Thanks for carrying out that test as it somewhat confirmed my suspicion that the cabling wasn't causing the problem, what I would like you to do though is to change the Sky box RF output channel to anywhere in the 30's and try a second set test again after having retuned the 2nd (or 3rd) TV, no need to try it beside the Sky box though now that you know it isn't the cabling.

By the way the RF output level on the Sky box is impervious to being affected by anything received by the box, but what I would like to know is whether or not you can see any speckles on the analogue picture in the back ground of the wavy lines? as that would indicate a weak signal, but so as not to be influenced by picture content try the tests whilst the Sky box is on anything in the service menu with the blue background, as that shows up speckles better.

If however speckles are not observed on the 2nd TV's analogue picture then that is inclined to indicate that the RF output strength is OK on the Sky box, this then leaving the possibility that either (1) the actual box has an instability defect in its modulator or (2)its output is too strong for the particular TV you are feeding it into to, this being verified one way or another by trying a third TV, but only if its of a different brand to the second.

Re: the signal strengths mentioned, I assume that you referring to the signal strength indicators on the Sky box inputs?

jb38's 81 posts

JB38, thank you. Fantastic !
You are my new best friend, and my wife is delighted that I can stop taking TVs apart.
I retuned to chanel 36 and low and behold it is perfect on all 3 TVs. How simple, how strange. What I have discovered from your questions to me is that Midhurst uses channels close to channel 68 and it was indeed stupid to tune in there.
I now have the problem resolved. Thank you again very much indeed.
And yes I was referring to the Sky box iputs but nothing matters now.Have a nice evening.

Rod's 17 posts
Thursday, 10 February 2011

jb38/Rod: If you put a postcode into the box at the top right, you can see a list of all the possible TV transmission frequencies used at your location to help find a free one for this very purpose. You press "by frequency".

Please remember that C36 is used for RADAR at the moment, and remember this
Save Our Set-top: TV receiver sparks £20,000 helicopter rescue - Scotsman.com News
?

Briantist's 38,899 posts
Select more comments
Your comment please